In affectionate remembrance
An open letter to Bangabandhu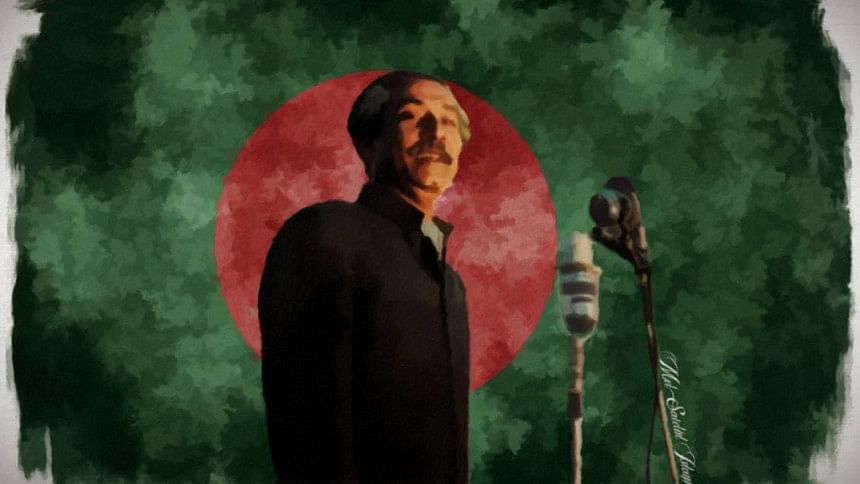 Dear Bangabandhu:
How time flies!
It's hard to believe a full 45 years have passed since you became the victim of one of the most barbaric political murders in living memory.
The grisly event is vividly etched in my memory because it happened literally next door. You and I were neighbours, by a fluke of coincidence. I was a teenager on August 15 1975, living with my parents at Sobhanbagh officers' colony, a stone's throw from your residence.
The sound of gunfire in the middle of the night filled us with a terrible foreboding. When the news finally reached us, we were spellbound with shock.
It wasn't just you. Your entire family, including your recently-wed, pregnant daughter-in-law, your little boy Russell—nobody was spared. The brutal killing spree did not end there. Later, it extended to the unconscionable slaying of four leading Awami League leaders in jail—Tajuddin Ahmed, Mansur Ali, Syed Nazrul Islam, and Quamruzzaman. The bloodletting is a measure of the cowardice of your assassins. So deeply did they fear the power of your reach that they felt impelled to kill as indiscriminately as they did.
For an extended period thereafter, the nation lived through a period of an enforced, surreal amnesia. Public discussions of our independence movement were devoid of the very mention of your name. It's like reading Homer's "Odyssey" without Ulysses!
Those days are mercifully gone. No one can bury the truth forever. Today, the entire nation is celebrating your birth centenary.
It's heartbreaking that you had to leave us so soon after independence. The country was still in ruins, staggering to get back on its feet. Nine months of slaughter, pillage and rape by the occupying Pakistanis left a devastated economy in its wake. Internationally, Bangladesh had to grapple with hostile geopolitical forces led by vindictive US Cold Warriors.
Forty-five years after your death, we live in a country that you would not recognise.
You will be happy to know that Bangladesh is no longer pooh-poohed as an economic basket case. We're not rich yet, by any means, but Bangladesh is beginning to impress the world.
"Bangladesh defies economic and political gravity. Since its 1971 war of independence with Pakistan, the country has been known for its tragedies," The Nikkei Asian Review wrote in a December 2018 article.
"Yet, with remarkably little international attention, Bangladesh has also become one of the world's economic success stories. Aided by a fast-growing manufacturing sector—its garment industry is second only to China's—Bangladesh's economy has averaged above 6 percent annual growth for nearly a decade.
"From mass starvation in 1974, the country has achieved near self-sufficiency in food production for its 166 million-plus population. Per capita income has risen nearly threefold since 2009, reaching USD 1,750 this year. And the number of people living in extreme poverty… has shrunk from about 19 percent of the population to less than 9 percent over the same period," according to the World Bank.
Yet as your daughter, Prime Minister Sheikh Hasina, remains laser-focused on bringing Bangladesh out of the least developed nations group, considerable challenges remain.
It's a toxic mix of intolerance, political gridlock and corruption that are beginning to cast a pall.
What will surely pain you deeply is the complete loss of civility in political discourse. I remember the time when Maulana Bhashani, on the warpath against your government, was on a fast. That did not deter you from dropping by to visit the veteran leader. The Maulana, to his credit, received you graciously.
Such niceties are unimaginable today. Political divisions have degenerated into a vicious, tribal, take-no-prisoners cage-fight. (Sadly, this is a global phenomenon. In the US, where I live, or in the UK over Brexit, polarisation is every bit as bad.)
Add to that the disturbing tales of white-collar financial shenanigans. Crooks loot banks and leave the country scot-free. This must displease you particularly, because I remember how you used to rail bitterly against grifters. ("Chatar dol" was your earthy Bangla sobriquet for them.)
The nation has recently been roiled by the death of Major (Retd) Sinha Rashed Md Khan, who was shot dead by police. The incident betrays an appalling lack of accountability of the powers that be. The government, to its credit, responded swiftly, but the rising tally of extrajudicial deaths is a disquieting reminder of how serious the problem is.
Must single-minded pursuit for growth dispense with democratic niceties? It used to be the US rationale in its Cold War heydays when it backed dictatorships in Latin America and East Asia. It does work occasionally. South Korea and Taiwan are examples. Singapore is essentially a one-party state with a thriving economy.
Yet there is a huge danger lurking in that seductive siren call. Loss of accountability, corruption, political gridlock tend to be progressive. Left unchecked, they can eat into the body politic of a nation. What if we dispense with democratic niceties for the sake of economic growth, and end up losing both?
That is the reason, my dear Bangabandhu, I think that rather than all the hoopla surrounding your birth centenary celebrations, the best way to honor you is to give our undivided attention to ensuring better, accountable governance so that our economic success can endure.
I feel a bit like Cordelia in Shakespeare's King Lear, but effusive protestations of love go only so far. Anything less than substantive reflection and effective action towards achieving your dream (and ours)—your beloved sonar bangla­—fails to do justice to your sacrifice.
May you rest in eternal peace. Wherever you are, Bangabandhu, there will always be a place for you in our hearts.
Ashfaque Swapan is a contributing editor for Siliconeer, a digital daily for South Asians in the United States.