Resolve the dispute over MRT Line-5
RHD and DMTCL must work in coordination, give priority to public interest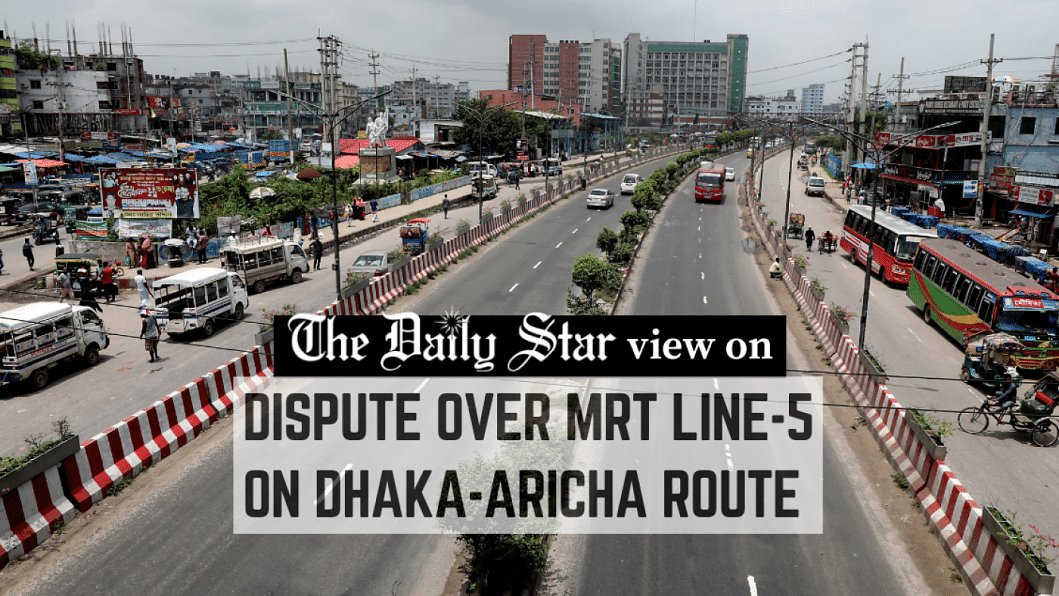 We are concerned to learn about the dispute between the Roads and Highways Department (RHD) and the Dhaka Mass Transit Company Ltd (DMTCL) over the construction of a metro line on the Dhaka-Aricha route. Reportedly, the DMTCL is set to implement the 20km Mass Rapid Transit (MRT) Line-5 project (northern route) – which will connect Hemayetpur and Vatara via Gabtoli, Mirpur, and Gulshan – without considering the reservations raised by the RHD authorities. The RHD engineers fear that if the project is implemented with its current design, the Dhaka-Aricha highway may experience long tailbacks and increased road crashes. Moreover, it will also obstruct the future expansion plan of the highway conceived by the RHD. However, the metro rail authorities have claimed that they prepared the detailed design of the proposed line considering all technical aspects and the RHD's future plans about the highway. Such contradictions between the statements of the two agencies under the same ministry is problematic.
Reportedly, the RHD had raised their concerns about the project design back in 2021. At that time, they had particularly asked the DMTCL to bring some changes to the design of the route between Hemayetpur and Aminbazar, asking them to move the line either to the south or take the line underground. But the DMTCL authorities did not pay heed to the proposal. Such lack of coordination between the two agencies is unacceptable, and only reflects the lack of a comprehensive plan for the infrastructural development projects centring Dhaka and its adjacent areas, as transport expert have said.
Since the physical work of the Tk 41,239 crore project will start soon, we urge the RHD and DMTCL authorities to discuss the issues and bring the necessary changes to the design of the MRT Line-5 project. The road transport and bridges ministry should also give the two agencies the necessary directives in this regard. After all, what will be the point of building such a megaproject, spending thousands of crores of taka, if it only increases the chaos on this busy highway instead of improving road communication?