RMG growth: Battling the challenges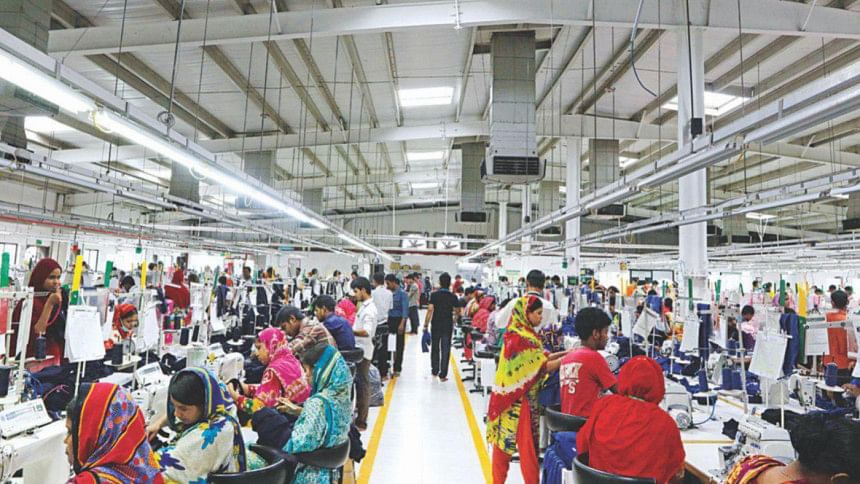 Export of Bangladeshi readymade garments (RMG) has been declining since the past four months. There are reasons to believe that Bangladesh's weaknesses compared to rival producers in the area of product development and diversification have contributed to this falling trend in garments exports. Bangladesh is deemed to be a "sellers' market", where the buyers come, place purchase orders and then import garments. But nowadays, the buyers have many viable alternative sources, as the productivity and product diversity of countries like India, Pakistan, Sri Lanka, Vietnam and Cambodia have been boosted in recent times.
With the exception of a handful, most garments manufacturers in the country lack any research and development (R&D) set-up. But the R&D teams in the factories of competitor countries are usually stronger. The local factories usually take three to four months for product development (from design to sample preparation). But countries like China spend only 15 to 30 days for the purpose. Lack of efficiency and weak productivity have become critical factors, as a result of which average production cost unnecessarily goes up, thereby offsetting the advantage of lower labour costs in Bangladesh.
The comparative standing of countries weak in product development is bound to deteriorate in the coming days. It is however encouraging that the BGMEA has started some work on the issue. The rising wages is another factor relevant for the sector's competitiveness. The average monthly wage of a garments worker in the country was USD 35 a decade ago. But the wage has risen substantially since then. It is likely to rise even further in the coming months, which would entail additional expenses for the entrepreneurs. But the buyers are not interested in paying additional money for their purchases. Consequently, there is no alternative to improving productivity and product development if the growth trend is to be sustained.
Another element of unpredictability in RMG business has been the recent proliferation of online trading. Many buyers prefer to do business online now instead of undertaking physical visits. Therefore, the nature of business is fast changing and smaller establishments are competing with bigger ones on equal footing through the world wide web for attracting buyers. The shapes and forms of retail marketing are therefore undergoing significant changes. However, the big buyers usually maintain consistency in their sourcing and typically do not make sudden or erratic moves.
Bangladesh's status with respect to safety in factories was precarious a few years ago. But things have improved a lot in this domain. The capacities of factories have also increased substantially, standing at a much higher level now compared to competitor countries. Besides, the local entrepreneurs have demonstrated their resilience time and again in the face of natural and man-made adversities. They do not step back when the buyers ask for anything challenging. Another positive feature of Bangladeshi RMG establishments is their environment-friendly attribute. They also enjoy good reputation in the area of timely delivery and consistent quality of products. Overall, Bangladesh still remains a lucrative destination for the RMG buyers globally.
However, in the past our entrepreneurs engaged workers after installing garment machineries, and then automatically received purchase orders from the buyers. Their businesses thrived in this way.  The entrepreneurs then took it for granted that business would naturally come once machines were installed and workers were deployed. But this premise is not working anymore with respect to the buyers. Now it is the turn of the entrepreneurs to make offers to the buyers. Product development and diversification have therefore become crucial as the fashion trends worldwide undergo changes frequently.
There has been much discussion since long regarding RMG diversification. But, shirts, trousers, jackets, t-shirts and sweaters still remain the main items in the export basket of Bangladeshi RMG sector. There has also not been much improvement with regard to value addition. Greater product diversification has therefore become essential for improving the situation. The manufacturers also need to watch the latest trends in the European and American markets for devising their marketing and production strategies. Many expatriates now work in managerial roles in our RMG factories, which in most cases are unnecessary. Instead, experienced and skilled designers, and product development personnel should be recruited from abroad. Money should also be invested in larger proportion in the area of product development.
Bangladesh's main rival in the RMG arena is still China. But whereas China caters to 33-36 percent of the global market, Bangladeshi exports account for only 6.4 percent of the total. That means, there is a huge gap between the two top exporters. Bangladesh can improve her share only through constant product development and diversification, and concomitant value addition. As for Vietnam, which is now almost at par with Bangladesh, the investors are mostly from China. Many Chinese investors have factories in Vietnam in addition to those they run in mainland China. As a result, the benefits of product development in China also trickle down to Vietnam. This makes the job of sourcing by buyers easier in Vietnam. This is the main reason why Vietnam is doing so well in RMG exports in recent times.
At present around 50 percent of the demand for woven fabric in local RMG factories have to be met through imports. It entails lot of time and money. The lead time for RMG manufactures would have decreased considerably if the fabric was produced locally through enhanced investments in the sector. The value addition in RMG would also have increased as a result. There is, as a result, a good case for focusing on product development in the textiles sector as well. The local factories will have no option but to continue importing high-end textiles from abroad if appropriate investments are not made for producing high-end textiles locally. This is neither desirable nor cost-effective, and the government as well as textile entrepreneurs should take initiatives on an urgent basis for attracting investments in the sector.
Dr Helal Uddin Ahmed is a retired Additional Secretary.
Email: [email protected]