Healthcare as social justice
A doctor with a mission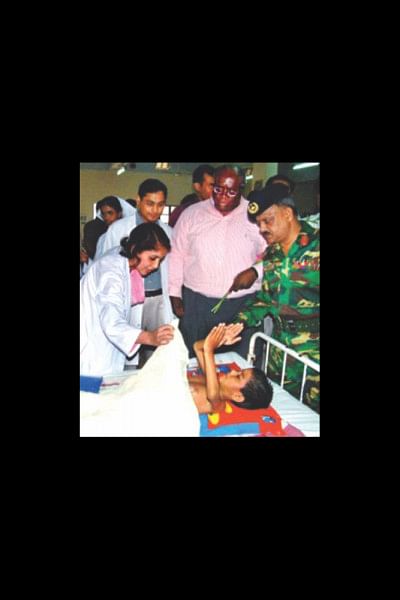 After a hot day in May 2014, it was well past midnight when Aleya Begum brought her two-day-old baby boy to the Chittagong Medical College Hospital (CMCH). They came from East Ratili, Sonagaji, Feni, a small town located about 90 km north of the port city of Chittagong. The baby was born with a number of birth defects. He didn't have an anus and it was suspected that he had kidney and urinary system malformations. Alauddin, the baby's father and a poor rickshaw puller, had pretty much abandoned the family. Aleya's in-laws could barely conceal their wish for the newborn to die. 
But a mother's love is a sublime mystery. Aleya could abandon neither her baby, nor the hope to keep him alive. She desperately sought help from the Department of Pediatric Surgery at CMCH. But, as it often turns out, government hospitals in Bangladesh are not the most compassionate places in the world. In Bangladesh, a government hospital provides a condensed version of that country's challenges: the population burden, class divisions, tenuous bureaucracy, characteristic chaos, congestion, desperation, and an uncertain commitment to public service. 
However, once in a while, unsung heroes emerge and make a difference. While Aleya pleaded for someone to save her baby boy's life, no qualified surgeon was available to take on such an arduous challenge. A hospital intern called Department Head Dr. Tahmina Banu at her home, and Dr. Banu rushed to the hospital.
The infant's body was a medical battlefield, and winning the battle required not only surgical skills, but also compassion for the disenfranchised. Dr. Banu embodied both. Her professional ethics conflated healthcare with a firm belief in social justice, that is, no one should be denied access to healthcare because they can't afford it or based on class or social stature. Surrounded by junior doctors and nurses, Dr. Banu constructed an artificial opening from the infant's colon through the abdominal wall for the passage of stool. After a few more subsequent operations, the baby boy eventually had a new lease on life!
The history of the Department of Paediatric Surgery at CMCH is an inspiring story of one doctor's defiance against all odds: government bureaucracy, lack of resources and specialists in paediatric surgery, and, above all, virulent male chauvinism, particularly in a medical field dominated by male doctors.
Dr. Banu spearheaded the creation of CMCH's Paediatric Surgery Department in 1993. The following year, a 15-bed unit dedicated to paediatric surgery was established within general surgery. An operation theatre was created for children in 1995; and in 1998 there was a separate paediatric ward. This department not only served patients from all corners of the country and alleviated the anguish of parents with sick children, but it also trained young doctors in a growing field.
Motivated by her mantra, "healthy children, healthy nation," Dr. Banu persuaded the hospital's administrators to support her mission of providing specialised healthcare for children. At the same time, she also summoned the help of private Bangladeshi citizens - from novelist Humayun Ahmed's ex-wife Gultekin Khan to anonymous housewives, from Muhammed Zafar Iqbal to Bangladeshis living abroad - who donated funds and medical equipment, a rather unusual pursuit for a government hospital. Although many bureaucratic obstacles remain, this has been a shining example of a public-private partnership with a social mission. 
Dr. Banu also invited many top paediatric surgeons from around the world to visit her department and offer their professional services, including Warren T. Snodgrass (USA) Akio Kubota (Japan) and Benn Ure (Germany), among many other notable surgeons. These renowned doctors not only performed complicated operations for free, they also shared their knowledge and trained local doctors. Today, medical students from all over the world serve as interns at CMCH. 
Dr. Banu's work goes beyond fixing malformed or mutilated bodies. In 2003, Sharmin, a motherless seven-year-old girl from Madarsha, Rangunia, was hit by a truck on the Chittagong-Cox's Bazar Highway. When she arrived at the Department of Pediatric Surgery, she was bleeding profusely and had ruptured internal organs. Dr. Banu performed multiple reconstructive surgeries, and Sharmin survived. 
Dr. Banu continued to play an active role in Sharmin's life, paying for her education and advising her father not to marry her off at an early age. (Alas, she became a bride at the tender age of 17.) For Dr. Banu, Sharmin was more than a patient. She was a little girl who deserved an education and a right to grow up with basic human dignity. 
Under Dr. Banu's leadership, the Department of Paediatric Surgery also plays a pivotal role in pursuing medical research, by organising international seminars. In 2005, the department hosted the inaugural international conference of the Federation of Associations of Paediatric Surgeons of SAARC (FAPSS), and delegates included leading surgeons from the USA, Spain, Italy, Iran, Australia, Singapore, and South Asia. 
The following year, the department participated in Operation Smile, aboard the US Navy's seagoing hospital, Mercy, near the Chittagong coast.
An international workshop on fetal and neonatal surgery was organised in 2009.And, a live operative workshop on hypospadias was held in 2011. 
While challenges remain, the CMCH Paediatric Surgery Department demonstrates how personal initiatives matter in social advancement. From its modest beginning, the department now includes nine surgeons and 55 beds. On any given day, doctors examine more than 100 paediatric patients and admit 20, on average. In 2013, the department consulted with 5,987 patients and operated on 2,105. 
Dr. Banu has also created an Outreach Community Programme. She leads a mobile paediatric surgery team to remote areas of the country, providing service to impoverished communities with little access to quality healthcare. Last year, I accompanied the mobile team to see its work firsthand at the Rangamati General Hospital. It was a spectacle to behold! 
From dawn to dusk, more than 200 parents lined up to have Dr. Banu and her team examine their children. Going around the hospital and talking to many patients, I felt hopeful for a better and more humane Bangladesh, one in which community service would become a professional mandate.
Last August, former US Ambassador Dan Mozena visited the Department of Paediatric Surgery at CMCH. Ambassador Mozena was touched by one individual's dedication and commitment to help aggrieved parents and their sick children. And, he was deeply moved by the stories of ordinary people who were donating money to Dr. Banu's Poor Fund, to buy milk or food for the children during their postoperative period or to cover their transportation costs to return home from the hospital.
Other stories included those of poor parents who would bring hens, rice, or even doves to show their gratitude to the doctors who had helped save the lives of their children. 
Today, the Department of Paediatric Surgery at CMCH is a little oasis within the characteristic grim atmosphere of public hospitals. The walls are painted in bright colours and adorned with children's stories. Balloons and festoons hang from the ceiling. And, there is even a colourful play corner, where poor sick children can lift their spirits and play with toys, often rare items in their own households.
An alumna of Dr. Khastagir Government School and Chittagong Medical College and trained as a paediatric surgeon in Dhaka, Australia, and the US, Dr. Banu's life is instructive in multiple ways: Don't wait for the state to build your life, and do your part to develop yourself and help the society to which you belong. Cynics may dismiss these trite statements as naively idealistic. Yet, Tahmina Banu reminds us that certain values are universally necessary for building a good society.

The writer teaches at the School of Architecture and Planning, Catholic University of America, Washington, DC, and is the author of Impossible Heights: Skyscrapers, Flight, and the Master Builder (2015) and Oculus: A Decade of Insights Into Bangladeshi Affairs (2012).