International Day of Persons with Disability
A city for all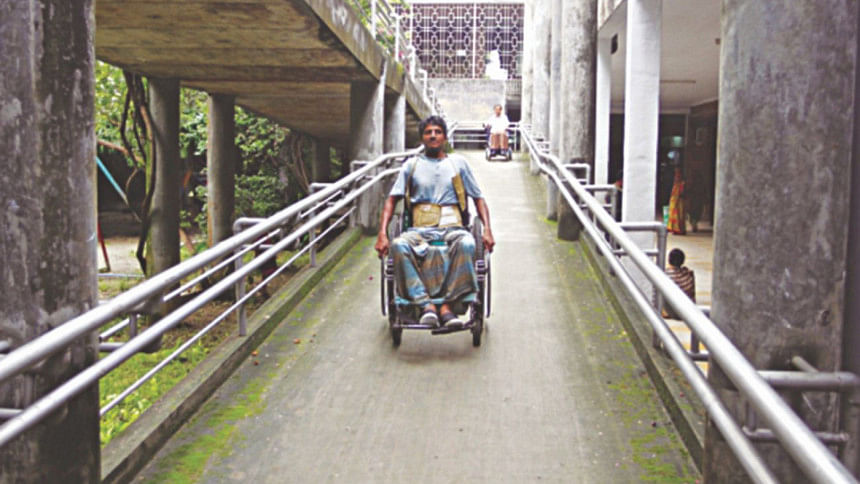 Imagine you are a on a wheelchair. Or you cannot see. What can you do with your life if you live in Dhaka or any Bangladeshi city for that matter? The short answer is: nothing. You seldom go outdoors—when you do, you are at the mercy of others. None of the public spaces in our cities has been designed with your needs in mind. Be it bus stops, railway stations, shopping complexes, public buildings or toilets, you feel short-changed by the poorly planned infrastructure and public spaces. Mosques, temples, churches and pagodas that are, by principle, supposed to welcome all are not accessible to you. Barriers to free movement include uneven access to buildings, poor signage, narrow doorways, inadequate bathroom facilities, narrow and poorly maintained pavements and lack of traffic control, among others. Such built environments are full of uncertainties, anxieties and dangers for you. Dr Roxana Hafiz, professor,  Department of Urban and Regional Planning at BUET, says, "Due to lack of facilities and accessibilities, a lot of disabled people cannot get out and have to remain at home; they are condemned for life."
Historically, people with disabilities in this country have been provided for through solutions that segregate them, such as residential institutions and special schools. Developed countries have taken a more interactive approach recognising that people are often disabled by environmental factors as well as their bodies. Cittaranjan Das, Additional Chief Engineer of Public Works Department says, "We have to widen doors in buildings and install ramps and disability-friendly toilets. In some disabled rehabilitation centres, we are already doing it."
Most modern cities are creating Barrier Free environments or Universal Design in order to meet the needs of people of all ages, sizes and abilities.  Universal Design is the design of products and environments to be usable by all people to the greatest extent possible, without the need for adaptation or specialised design. Dr Hafiz says, "As life expectancy rises and modern medical science increases survival rate of people with disabilities (arising out of illness, significant injuries, birth defects, ages and/or status in life) – universal design offers improved living conditions and better quality of life to these people as well as others."
If you are at a Mass Rapid Transit station in Singapore, chances are you will see someone on an electric wheelchair coming down a ramp and before you know it, he has zoomed past you into the nearby supermarket. You will be impressed by the way people with restricted physical conditions can move about with incredible speed in their powered wheelchairs. The ticketing machines have buttons low enough for wheelchair passengers to reach. Entrance lanes for them are wider and clearly marked with a wheelchair logo. The touch-screen system is a great help as users do not have to fumble about to get a slim card into a slot. Built into the highly polished floor inside the building, there are stainless steel guiding blocks that lead all the way to an elevator, clearly marked for the disabled.
Sara Wallbeck, an architect from Wisconsin, USA worked for a multinational company in Singapore for six years. Her husband Jodie has a broken hip and has to use a wheelchair to get around. Here are Sara's observations about some disabled-friendly features of Singapore:
There are low glass protective barriers along the entire length of the arrival platform of trains to prevent wheelchairs from accidentally falling onto tracks. The barriers are synchronised with the trains' doors and open together.
The gap between the train and the platform is hardly noticeable, providing smooth access for wheelchairs to get into the train. Inside, there are clear signs of all the train stops in green lighted circles, while the current stop is in red. Deaf passengers have LED displays with rolling messages that constantly keep them informed of audio announcements. Which door will open when the train arrives at each destination is clearly indicated with blinking lights. Blind passengers are guided by clear announcements.
Seat rows are designed to accommodate wheelchairs.
Toilets many shopping complexes have sliding doors with soft-touch electronic buttons at low height.
At the Singapore Zoo and Kota Damansara forest reserve, a person who cannot walk can hire a battery-driven vehicle.
Sara says living in Singapore made her realise how important it is for everyone to start including disabled-friendly features in the planning stage rather than later when it can be costly.
"If we ignore the issue of accessibility today, we will reap the fruits of our apathy when we get locked out of society in our old age," Sara concludes.
The front door at Access Living's old headquarters on Roosevelt Road closed way too fast for Nita Patel. She would hit the button to automatically open the door, but then it would close on her and her wheelchair halfway through.
No longer.
The new building in River North has automatic sliding doors that whoosh open -- and stay open – as Patel, a housing counselor, approaches in her chair.
At first glance, the 50,000-square-foot Access Living headquarters at 115 W. Chicago Avenue looks like a modern, light-filled office building. But a closer look reveals many subtle, important differences. At the entrance, there's a wheelchair ramp cut into the curb in front of the building. A thick, dark, grooved line leads from a drop-off spot on the sidewalk through automatic double doors to the reception desk to help people with visual impairments and developmental disabilities find their way easily.
Throughout the building are scores of other features chosen for their universal user-friendliness. The refrigerator in the kitchen is a side-by-side design, which is easier for people in wheelchairs to use. The hallways are wide enough to accommodate two people in wheelchairs and a person walking by. The sinks in the restrooms are shallow, leaving more legroom underneath for people in wheelchairs.  The restrooms have no entry doors (the stalls do, of course), making entering and exiting easier.
Affordable universal design concepts are needed for a low-income country like Bangladesh. Universities should take initiatives to conduct research to develop and test for effective solutions that are inexpensive and appropriate in the local context. "If a little care is taken while designing a building, the accessibility can be increased. It is not expensive," says Dr Hafiz. "If there is a ramp in every building, accessibility will increase.  Our doors are usually 40 inches wide. If we make it just 2 inches wider, a wheel chair can enter. Instead of tiles or granite floors, tactile floors can be used as they are less slippery. The building code and the Disability Act have provision for these facilities.  But it is not implemented."
While compliance with the laws is essential, the society ought to treat people with disability with more respect. "In many countries, when a blind person boards a bus, the driver gets out to assist the person. We must remember that a lot of us will get disabled when we are old," says Professor Hafiz.
The writer is a member of the Editorial Team, The Daily Star.
The article was originally published in the Star Weekend Magazine in 2013.