Beginning of the end of ISIS?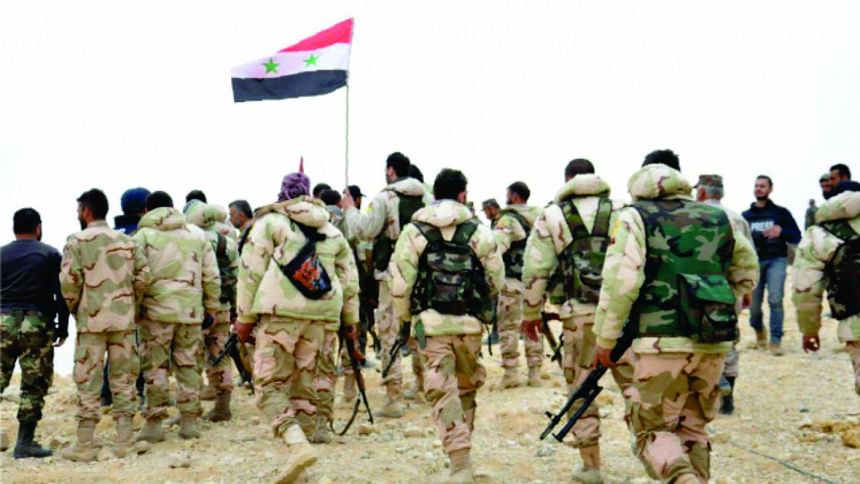 It appears that ISIS is in big trouble in some of the major towns of Syria, where Iraqi and Syrian regular forces and Peshmerga fighters are closing in steadily, as we come to know from various Middle-Eastern media reports. A recent news release detailed how some ISIS jihadists have been trying to get out of the towns, alongside the civilian population fleeing from violence. Another report that would hit a hard blow to the morale of the jihadists is the attack on their supreme commander Ali Akbar al-Baghdadi, who has reportedly been wounded in the attack. Media also reported deaths of some senior commanders of the outfit in the last two years. Many strongholds of ISIS around the towns of Raqqa, Mosul and Fallujah have already fallen to the advancing joint forces.
So, where does ISIS stand today in terms of its strength and ability to win the war against the well-armed Syrian and Iraqi army backed by their air force and that of Russia and the US? Can an outfit without artillery and air force support win battles against heavily equipped army? Can ISIS members keep on fighting if the supply lines of arms and ammunition, food and other logistics are cut off by the Syrian and Iraqi army? What about their back up strategy? What about medical help for the wounded?
To understand that, let us analyse the formation and structure of ISIS. The outfit has been hurriedly raised with young men of myriad backgrounds coming from every direction. These individuals were allured by the fiery slogans of waging 'jihad' against the enemies of Islam and promise by al-Baghdadi of establishing an Islamic Caliphate in Syria and Iraq, and subsequently conquering the entire world to bring every one under the flag of Islam.
The recruits have been given short training on firing automatic assault rifles, sophisticated weapons like AK-47, rocket launchers, bazookas and grenades. Some of them were selected to become suicide bombers. The field commanders of the units were former Iraqi army members who declared allegiance to Baghdadi. 
So, how much damage can such an assorted group do to any regular army with only a week's training?  According to experts, ISIS has little chance of winning a major war against a properly trained and equipped army. Years of training, intense study, discipline and experience in warfare play as important a role as weapons for any military to achieve their objectives. The young jihadists of ISIS, who didn't have previous experience of fighting with modern weapons or proper training regarding real warfare, are dying by the dozen in the streets and corn fields of Raqqa, Mosul, Fallujah and other towns.
According to various media sources, from over 30,000 ISIS fighters in 2014, the number has come down to around 20,000 now, mostly concentrated in the above three towns, and most of whom have been looking for a way out since the last couple of months. They are allegedly using civilians as human shields. With most of their senior commanders either dead or missing, these young jihadists seem to be in total disarray.
A huge amount of footage from ISIS's own videos are available on YouTube. ISIS has captured every engagement and in the process captured deaths of their own fighters on smartphones. With each group, one of their own men was assigned to shoot videos of the fight that ensued. ISIS leaders used only selected parts of the fights for propaganda purpose to allure more young men. The horrific deaths of ISIS fighters were obviously not shown. However, the Syrian Army and Peshmerga recovered many smartphones from dead ISIS fighters, subsequently releasing them on YouTube.
In such footages, one can see young men, with long hair wearing hip-hugging jeans and Nike sneakers, jumping in the middle of the road in a sudden rush of adrenaline, firing sub-machine guns in a bid to "kill them all". They wished to go home one day 'as a hero'. But, the footage shows clearly that as they stood up to fire, they exposed themselves perilously to the enemy and were consequently shot. The Syrian army video of ten or twenty dead bodies of young ISIS fighters being pushed into a ditch by a bulldozer makes one think about their unfortunate mothers who would never know where their sons were buried.     
The YouTube footages prove that parading the streets in pickups, brandishing AK-47 automatic rifles and bazookas to terrorise civilians is one thing, but facing real mortar shells and machine gun bullets is completely different story. The basic flaw of raising an army with assorted groups of people coming from different countries with different languages and customs is that they do not gel well enough to create a cohesive and orderly fighting force.
From the end of 2015 till mid-2016, the gradual waning of fire power of the ISIS throughout the areas under its control was noticeable to those who have been following the mercurial rise of this regime and its activities. Since the beginning of pounding on their positions by Russian jets, they fled from one outpost to another and ultimately concentrated in Raqqa, Mosul and Fallujah. There was less and less of the show of long convoys of shouting and chanting by young jihadists, and fewer and fewer public beheadings and ethnic cleansing in the occupied areas. Now, they are forced to face the war they had started, and are getting eliminated in the process.
The news of the alleged death of ISIS supreme commander Abu Bakr al-Baghdadi in an air raid in November 2015 had affected the spirit of the fighters. Iraqi security forces claimed to have struck the convoy of Abu Bakr al-Baghdadi in an air raid near the country's border with Syria. But there is no way to confirm the news. Iraqi security sources had previously claimed that Baghdadi had been injured or killed in past strikes, but such claims were never verified. It may be noted that there is a bounty of US $10 million on his head, therefore, the handouts regarding his death are a subject of constant speculation. Strangely enough, no new video of Baghdadi surfaced in the last six to eight months. Also the second in command of ISIS, Haji Imam, has been reportedly killed by the US in Syria.
Iraqi and Syrian army intelligence operatives from deep inside the ISIS held towns say that with many of the senior field commanders dead, fighters of the ragtag army are losing faith in one another, and as a result many have turned spies or informants, and some have even been executed by their comrades. When some leaders die in precision bombing or air raids, a witch hunt begins for an informant. According to an AP report, after the death of a field commander in an air raid, his unit killed 38 of its own members on suspicion of acting as informants. Chaos and confusion has set in throughout ISIS. 
The young men who had joined ISIS with the dream of establishing an Islamic Caliphate find the dream a bit costly in terms of human lives. As dead bodies continue to pile up on their side of the fence, and as uncertainty looms larger than before, these youngsters may give up the hope of fighting a jihad in the name of Islam, and rather want to reach a safer place within the bounds of this terrestrial realm. Could this thus be the beginning of the end of ISIS?   
The writer is a senior journalist with The Daily Star, Bangladesh.