Ambassador K M Shehabuddin: An intrepid patriot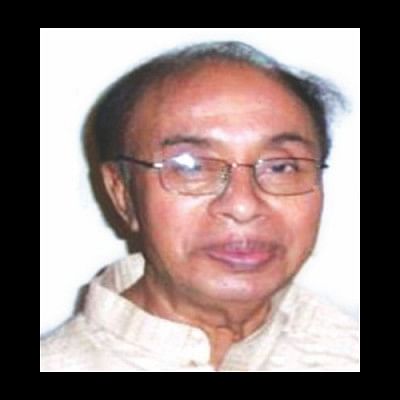 April 15, 2016 will be the first death anniversary of Ambassador K M Shehabuddin, who served as Bangladesh's ambassador to Poland, Kuwait, France and the United States. The news of K M Shehabuddin's death came as a profound shock to me. He was the first Ambassador I served under as a young and junior officer of the Bangladesh Foreign Service from 1988 to 1991 in Kuwait.
Ambassador Shehabuddin defected from the Pakistan Foreign Service on April 6, 1971, before any of his colleagues did, and started working for the liberation of Bangladesh. The Mujibnagar government was yet to be formed and the Liberation War was yet to be organised. He was then serving as Second Secretary in the Pakistani High Commission in New Delhi. After defection, he started serving as the head of the Information Centre established in New Delhi, which was practically the first diplomatic mission of Bangladesh there.
In Kuwait, I once asked him how he could take such a decision fraught with peril. "It was easy for me because I was a junior officer," he retorted in his tongue-in-cheek manner. His defection showed the brave patriot in him. He quit his much-craved-for job to express allegiance to and work for his motherland at that crucial juncture of its history. Vis-à-vis the calls of his conscience, stepping into extreme uncertainty and joblessness for the sake of his country was of no consequence to him. 
If I had acquired any insight into his mind from my close association with him for three years, I would say his defection was not a careless act on his part. He clearly visualised that the massive crackdown of the Pakistani army on Bangalees and the genocide that they started was the final nail in the coffin of the Pakistan that embodied East Bengal as a part of its territory; he knew that there was no option for the Bangalees but to fight back and liberate the country.
I was witness to another dazzling instance of his intrepidity and innate commitment to his work when Iraq invaded and occupied Kuwait overnight on August 2, 1990. Early morning the next day, which was a Friday and a weekend, he asked us (all officials of the embassy) to attend the office for an urgent meeting to review the drastically changed circumstances and the course of action we should take to face them. When we reached the embassy, driving our cars hesitantly through patrols of heavily armed Iraqi soldiers and the checkpoints set up by them, we learnt that the ambassador was already waiting for us there for quite some time. It was obvious from his countenance that he was annoyed with us for being late. "Why are you given diplomatic plates if you can't drive out to do your job? You can't afford to sit at home when you have 75,000 Bangladeshis in peril. Can you?" he said angrily. Instead of feeling unhappy at being chided, I instantly felt a surge of reverence for him.         
In the face of increasing pressure and intimidation from the Iraqi administrator in Kuwait to close down the embassy, we continued to function, up until one and half months into the Iraqi occupation of Kuwait, especially to issue travel permits to our expatriates and ensure their safe repatriation to Bangladesh, as well as to defy the Iraqi claim of sovereignty over Kuwait. By mid-September, under the able and courageous guidance of Ambassador Shehabuddin, we had successfully repatriated all those Bangladeshis in Kuwait who wanted to return home. Ours was the last Asian embassy to suspend operations and move out of occupied Kuwait.
On one of his periodic visits to South Yemen (a poor Marxist country, defunct since its unification with North Yemen in May 1990), to which Ambassador Shehabuddin was concurrently accredited, I accompanied him. We were flying Alyemda – the flag carrier airline of South Yemen and were seated next to each other. The aircraft looked old, decrepit and badly maintained. When it took off, the partition that separated us from the cockpit started to wobble in a way that filled me with foreboding. I felt scared and, despite myself, shifted uncomfortably in my seat, muttering to myself, "Why do we have to travel by such an aircraft?" My nervousness did not go unnoticed by the Ambassador, and with an affectionate smile, he tried to reassure me, "Don't be afraid, Aziz. None of us will die even a minute before our predestined time." Although that did not bring me much comfort, it showed his profound faith in God.
Ambassador Shehabuddin was the epitome of an amiable, elegant, honest, diligent, unpretentious and patriotic diplomat. In a doa mahfil held after his death last year, a retired foreign secretary and contemporary of Ambassador Shehabuddin told us, "Ambassador Shehabuddin could have become anything he wanted to. But he never craved anything." He had remarkable networking and negotiating skills. His personal relationship with many dignitaries of the countries he served in helped him protect and promote Bangladesh's interests in those countries. Sometimes I heard our seniors depict him as "a king maker who never graced the throne himself". Such remarks were reflective of his high negotiating skills that came naturally to him.              
Hot on the heels of the liberation of Kuwait on February 25, 1991, Ambassador Shehabuddin led us, all his officers, back to that war-ravaged country; and in two days' time, we could see the then Kuwaiti Crown Prince and Prime Minister, Sheikh Saad, thank the Ambassador for Bangladesh's steadfast pro-Kuwait role following the Iraqi invasion. Sheikh Saad assured us that Kuwait would take back all the Bangladeshis who had been serving there before the Iraqi occupation within a couple of months. It was also because of Ambassador Shehabuddin's strenuous and persistent efforts that the Bangladesh Army, along with military contingents from a few other select countries, could participate in the reconstruction of liberated Kuwait. That enhanced Bangladesh's image in the Arab world.
After he passed away last year, I was saddened by the fact that Ambassador K. M. Shehabuddin was not honoured with a national award for his unique contribution to the country. However, it is gratifying to see the Swadhinata Padak posthumously awarded to him this year by the government of Prime Minister Sheikh Hasina. It is sad, though, that the Ambassador did not receive the award during his lifetime.  
The writer is a former Ambassador and Secretary.