Stop interfering in internal issues, Dhaka tells Islamabad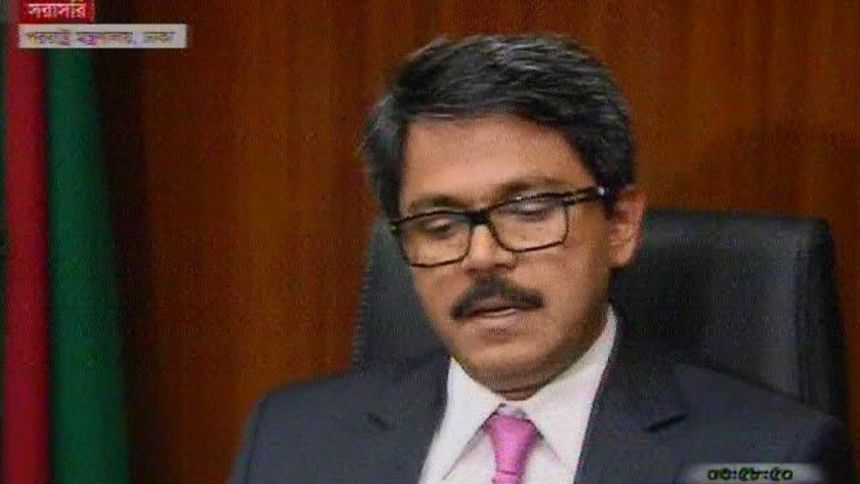 Bangladesh has asked Pakistan not to interfere in its internal affairs, like trial for crimes against humanity.
Besides, the country has also asked Pakistan "to stop misinterpreting" the 1974 tripartite agreement signed by Bangladesh, India and Pakistan.
State Minister for Foreign Affairs Shahriar Alam made the statement today reacting to Pakistan's expression of concern over the dismissal of Bangladesh Jamaat-e-Islami chief Motiur Rahman Nizami's review plea against death sentence awarded to him for the war crimes he committed in 1971.
"We are disappointed with Pakistan's reaction. We never welcome anyone interfering in our internal issues," the state minister said.
"Despite repeated reminders, they are still doing it. They keep saying they are saddened by the verdict. But those being tried are Bangladeshi citizens after all," Alam added.
According to the 1974 tripartite agreement, it was agreed that the 195 Pakistani war criminals who were repatriated to Pakistan would be given immunity, but it was not mentioned anywhere in the agreement that the Bangladesh nationals who were involved in war crimes would not be tried, he further said.
The state minister said the war criminals had conducted their atrocities against humanity on behalf of Pakistan. So, it hurts Pakistan as they are being tried now, he added.
"I find this a serious issue, as these war criminals are trying to assure their future generation with the notion that Pakistan as a state will be by their sides. Otherwise, why would Pakistan be so saddened by Nizami's death penalty?" the state minister said.
A statement issued by Pakistan foreign ministry on Friday read, "We are concerned over Bangladesh Supreme Court verdict that rejected Jamaat-e-Islami leader Motiur Rahman Nizami's petition to review his death penalty." The statement also termed the trial "controversial".
The statement also read that they are following the reactions of international communities and human rights organisations over the war crimes trial.
The SC on May 5, 2016 dismissed Nizami's petition to review his death penalty handed down to him for the war crimes conducted during Liberation War in 1971.