Rana Plaza: Tk 108cr PMO fund unused, says TIB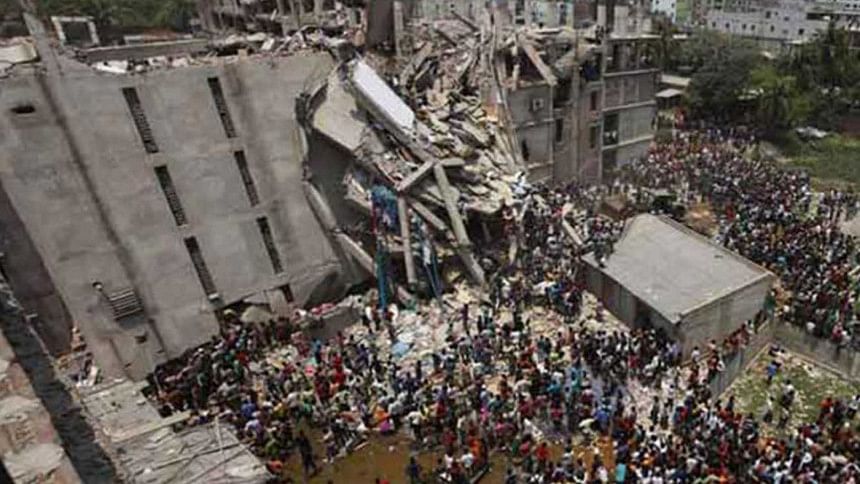 Transparency International Bangladesh today pointed out lack of transparency and dillydallies in the disbursement of the fund for victims of the Rana Plaza collapse, the world's largest workplace disaster.
Two years into the incident, about Tk 108 crore out of Tk 127 crore that was deposited to the prime minister's fund in aid for the victims is yet to be disbursed, according to the TIB.
The international corruption watchdog's local chapter came up with the finding while presenting a report at its Dhanmondi office today in "Steps taken to implement good governance in readymade garment sector: Progress in last one year".
The report said around 19 million US dollars has been deposited to the Rana Palza Donors' Trust Fund while around 2.48 million US dollars was also added to this from the prime minister's fund to help the Rana Plaza victims.
The list of people who have been compensated for the Rana Plaza tragedy and the amount of the compensation are yet to be made public, the report said.
Progress in the RMG sector that has been achieved in the last one year will have to be made public, TIB demanded.
During presentation of the report, Sultana Kamal, TIB Trusty Board chairman, said the accused of the Rana Plaza and Tazreen Fashion tragedies have not been made accountable yet, resulting in such types of accidents frequently.
Dr Iftekharuzzaman, executive director of the TIB, said the minimum wage of the RMG workers has been increased after the Rana Plaza tragedy but it was irrational with their expenditure.
The RMG workers are even being deprived of their wage timely, he added.  
Laws have been enacted to prevent accidents in the RMG sector, but it is being misused, he alleged.
"A separate ministry should be introduced to ensure good governance in the RMG sector," he observed.
The nine-storied Rana Plaza that housed a number of readymade garment factories collapsed on April 24, 2013, killing 1,138 people and injuring many others, mostly garment workers and injuring many others.