DU's Language Institute draws huge students
Romance with foreign languages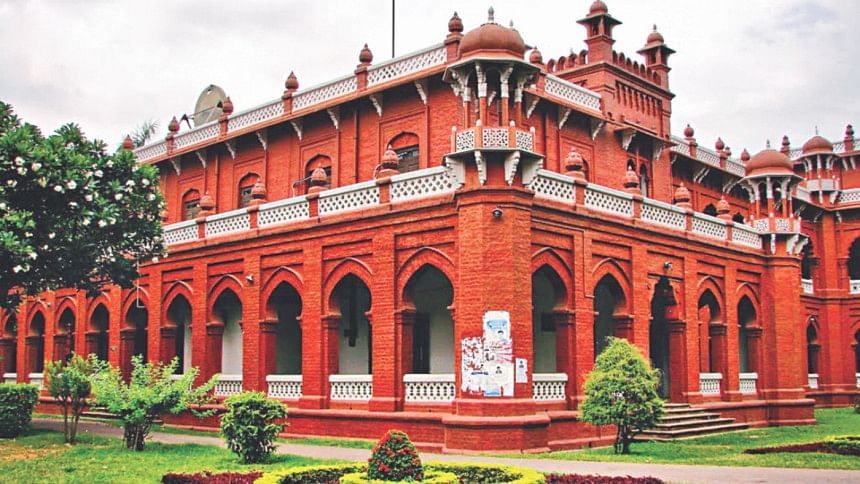 Courses on foreign languages offered by the Institute of Modern Language (IML) of Dhaka University (DU) are gaining huge popularity among students who want to explore them internationally.
The IML is currently offering courses on 14 foreign languages, including English, Chinese and German.
Around 2,000 students are pursuing different foreign language courses at the institute.
Apart from Mphil and PhD courses, the institute is offering one-year junior and senior certificate courses, diploma and higher diploma courses in Arabic, Bangla, Chinese, English, French, German, Hindi, Italian, Japanese, Korean, Persian, Russian, Spanish and Turkish.
Recently, it has introduced four-year Honours courses on Chinese, Japanese, French and English languages.
Students who passed Higher Secondary Certificate or equivalent examination with minimum GPA 2.5 on a scale of five can apply for the junior courses. Students have to sit for an admission test under the institute to enroll for the senior, diploma and senior diploma courses.
Those who want to pursue newly launched four-year Honours courses must obtain pass marks at the DU admission tests under either B or D unit and meet other criteria.
"Learning a specialised language not only helps one explore opportunities in academic life but also in the corporate life. One can think of becoming a translator and interpreter. I personally want to work with the Spanish," said Maliha Sultana Ohi, who completed a course on Spanish language from the IML.
"I think it's important for us to learn a third language apart from English and Bangla, it'll help get scholarship for higher study in foreign countries like European and Western ones. If you want to go abroad, you must have enough skills on the language of that particular country," she said.
DU IML Director Prof Dr Shisir Bhattacharja said, "We're now living in a global village where people are connected with each other. A huge number of our people are going abroad for work or pursuing higher study. But language is an obstacle for us. If you want to go to any European country, you must have proper knowledge on this country's language. Or else, you can't cope up with them."
Underscoring the need for learning foreign languages, Prof Bhattarcharja said, "Every year, we're sending a huge number of people to the Middle East, Malaysia and other countries as workers who have no skill on that county's language. And we have no institution to learn Malaysian national language Malay. Had they learned that language, obliviously they would have earned more."
Many students believe that foreign language courses help them get foreign scholarship and get admitted into higher educational institutions abroad.
"To know the Hindi language and culture deeply, I've enrolled on his course. This course helps me translate Hindi books and literature into Bangla," Tonmoy Saha Joy, who is studying a senior certificate course in Hindi, told UNB.