Malaysia remembers loss of MH370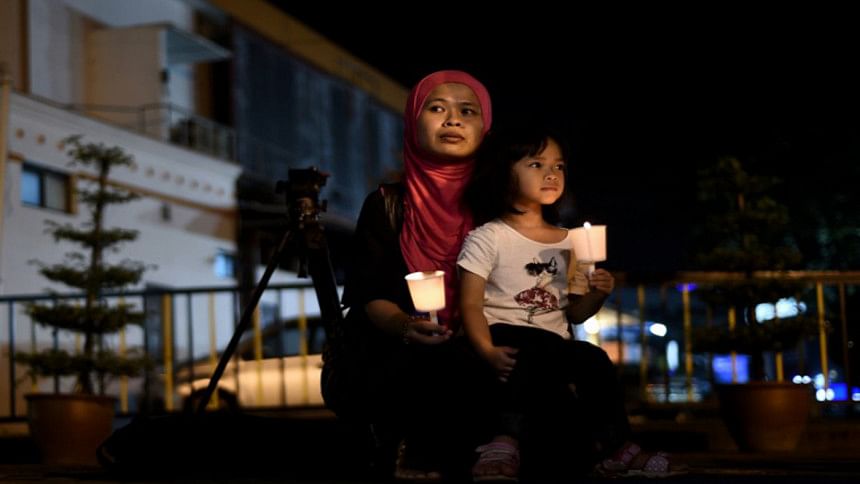 Malaysians are marking the first anniversary of the disappearance of the flight MH370.
Relatives of the 239 missing passengers and crew are holding a series of memorial events in the capital Kuala Lumpur.
The Malaysian airliner was on its way to Beijing from Kuala Lumpur when it vanished. Despite an extensive search no trace has ever been found.
Investigators plan to release a report about the search later.
NO ANSWERS
On Sunday, Malaysian Prime Minister Najib Razak said that his country remained committed to finding MH370.
"No words can describe the pain the families of those on board are going through. The lack of answers and definitive proof - such as aircraft wreckage - has made this more difficult to bear."
He said that the search team had followed the "little evidence that exists" but remained "hopeful" that the plane would be found.
The international search term is focusing on an area of the southern Indian Ocean, approximately 1,600km (1,000 miles) off the coast of western Australia.
On Saturday, the families of missing cabin crew members held a remembrance ceremony at the house of missing in-flight supervisor Patrick Gomez.
"We're always thinking exactly what happened on that day itself, you know the conversations that we were having, the tears, the hugs that we were giving each other," said his wife, Jacquita Gonzales.
The BBC's Jennifer Pak in Kuala Lumpur said that the event has not been billed as a commemoration because many family members still believe that their loved ones are alive.
The search team is due to release an interim report about MH370 later today.
Earlier, Malaysia's Transport Minister Liow Tiong Lai said that he was confident that the plane would be found in the southern Indian Ocean.
Liow promised his government would continue to back the search and said he was confident they could complete the search operation "hopefully by May this year".
He told AFP news agency that investigators would go "back to the drawing board" if the search failed to yield results by May.
Some families of those on board the plane have accused the Malaysian authorities of hiding some information, but the transport minister urged them not to believe the conspiracy theories.
Earlier this year, the Malaysian government declared flight MH370 to have been lost with all on board, in a move it said was necessary to start processing compensation claims for the families.