ICC Cricket World Cup 2015
Last chance for Tigers to gain momentum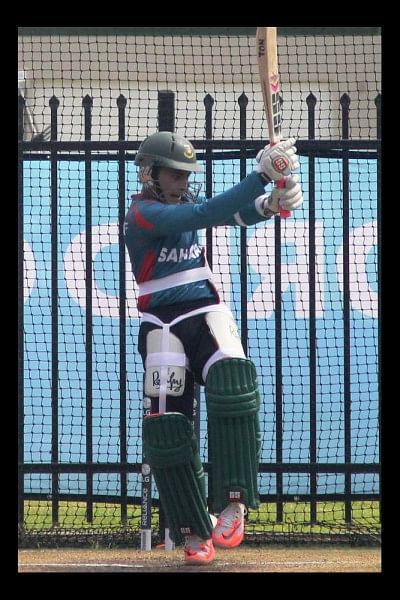 The one thing that's been certain through all the pre-World Cup press conferences is that the Tigers practised extreme caution while speaking on the weaker sides in their Pool A. Not once did any player or member of the team management, during a press conference, attempt to dismiss either Afghanistan or Scotland.
On the contrary, questions regarding the 'third team' to beat were replied with "let's win two matches first and then look for the others".
Afghanistan and Scotland have the ability to test the Tigers is a fact that cannot be denied. The Afghans surprised Bangladesh in the latter's own den just last year. As for Scotland, they put up a brilliant performance against Ireland in their practice match yesterday, thumping their Associate rivals by a huge 179 runs after hammering 296 runs in the first innings.
The Tigers, who have not yet crossed 250 in any of their matches in Australia, will definitely want to improve their game against Ireland tomorrow. In fact, while the game tomorrow can provide a good idea regarding Tigers' current status, going by Ireland's last game, sporting pundits will expect more than just a mere win.
It will also be the last opportunity for the players to hit form before the World Cup.
While the pacers have done well so far, the spinners and Bangladesh's middle order need to hit their tones. Arafat Sunny and Taijul Islam have not managed to make an impact in the last three matches. It might even compel the team to pick Soumya Sarkar in the side as a batsman who can bowl at a good pace.
They also have to finalise on a number seven which at the moment seems to be a three-way battle among Nasir Hossain, Sabbir Rahman and Soumya.
The middle order has failed thus far. Mushfiqur Rahim, who was Bangladesh's highest run-getter last year, has barely managed to get into his groove as yet. The same goes for Shakib Al Hasan, who failed to make an impact with the bat.
During crucial moments it has always been the more experienced players in the side who have raised their hands and the Tigers will hope that these players can hit form in their last practice match tomorrow.
On paper, Bangladesh are expected to beat Ireland comfortably. They have won five out of the seven games between the two sides. The question however that remains is whether they can stamp their authority over the Irish; something that might help them boost their confidence to their desired levels.