Khaleda won't surrender: Defence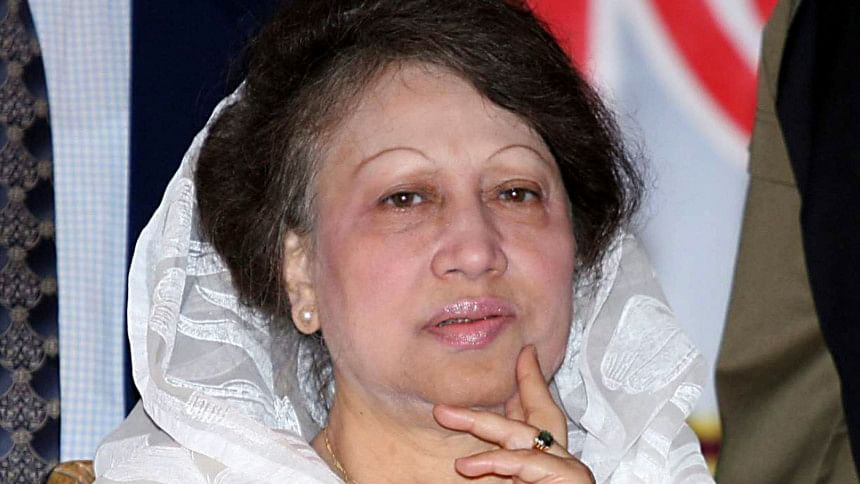 BNP Chairperson Khaleda Zia will not surrender before a makeshift court to seek bail in two corruption cases on security ground, her counsel said today.
The lawyer, Sanaullah Mia, confirmed this while talking to The Daily Star correspondent on the court premises in the morning. 
Meantime, Sanaullah today filed two fresh petitions before Judge Abu Ahmed Jamadar of the special judge's court-3 seeking withdrawal of the arrest warrants issued against her earlier in Zia Orphanage Trust and Zia Charitable graft cases.
The defence yesterday filed the same petitions with the Dhaka Judge's Court, the main court room of Jamadar. 
But the petitions were filed again today as those were not filed in a proper way, Sanaullah said adding it must be submitted to the makeshift court at Bakshibazar Alia Madrasa, which is dealing with the two cases.  
The court is set to record depositions of seven prosecution witnesses in connection with the Zia Orphanage Trust graft case today.
However, Supreme Court Bar Association President Khandker Mahbub Hossain, another lawyer for Khaleda, said the BNP chief would surrender to the court only if the government ensured her security to and from the court.
On February 25, a Dhaka court ordered the arrest of Khaleda for skipping court hearing on four consecutive dates in the two graft cases. Asked, police yesterday said they were yet to receive the orders.
Gulshan police, however, received a court order to search Khaleda's office for communication devices only hours after it was issued on Sunday. Police were yet to search her office till yesterday.
Yesterday, Khaleda filed two more petitions with the HC seeking stay on the arrest warrants.
When the special court on February 25 ordered Khaleda's arrest, it also ordered Sanaullah, who is representing Tarique Rahman (now in London) in the Zia Orphanage Trust graft case, to produce him before the court today.
Asked about this, Sanaullah said, "I could not contact him."