Indian artists use rap to fight against 'regressive mindsets'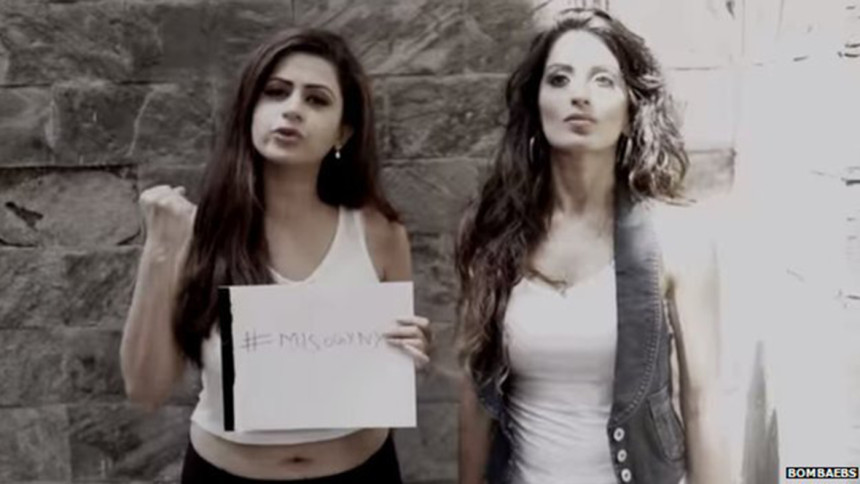 "Doing something is better than doing nothing about women's safety in India," says Uppekha Jain.
And that is exactly what Mumbai-based Uppekha and and her friend Pankhuri Awasthi have done with their "rap video" about sexual assaults in India.
Theatre artist Uppekha and TV host Pankhuri were disturbed with the increasing number of rape cases in India and decided "to do their bit to improve the situation".
This led to the creation of their rap video, which has attracted more than 140,000 views on YouTube in just two days.
The artists, who call themselves BomBaebs, have used "hard-hitting" lyrics in their song to highlight the problem.
Pankhuri says she never thought that the video will go viral because her "idea was just to get the message out".
"I am happy that so many people have watched the video. We have just played a tiny part in highlighting that we are dealing with a serious problem," she says.
She adds that she often faces difficulties on the streets of Mumbai.
"I am a TV host and I often have to wear makeup for my shoots. It's almost impossible to take public transport when I am dressed up for work. I often face catcalling and other forms of harassment while travelling," she says.
Uppekha agrees but says just complaining on Twitter and other social media platforms won't solve the problem.
"We know that our video is not going to bring massive changes on the ground, but even if 10 people start thinking after watching our video, we will call it a success," she adds.
India has seen continuous conversations about women's safety after the gruesome gang rape and murder of a student in Delhi in 2012.
And Uppekha and Pankhuri's voices are just two among many who want to change the situation in the country.
Lines from the song
But did you ever wonder, how this took shape
Don't shy away now, you're a part of this culture
Of lawyers who will kill
& politicians who ban our will
& all the other Blood-sucking vultures
We're now known as the land of rapes
'Long wait'
So do these videos really matter?
The artists say that they are under no illusion that such videos can't bring fast changes to the regressive mindsets of a section of the Indian society.
"It's a long fight and every person who wants to bring change has to play a part. We have done our bit and I hope we have inspired some people to take initiatives in their offices, in their surroundings to ensure women feel safe," Uppekha says.
The BomBaebs say that the emergence of social media outlets has given people a platform to raise their voices.
"At the moment there is a lot of negativity on social media. But I know this will eventually breed positivity because no solution to a problem has ever been found at one level of consciousness. And despite the negativity, I am very hopeful that change will come to our country," she says.
She also feels that not all men in India have regressive mindsets.
"I want to make it clear that India has brave men who are fighting with us to protect women. We just need more such people to come forward," she adds.
The video has definitely put the spotlight again on rapes in India. But how long will it stay?
It's hard to tell, but the BomBaebs say "we need to keep trying".