5 killed in Mali nightclub attack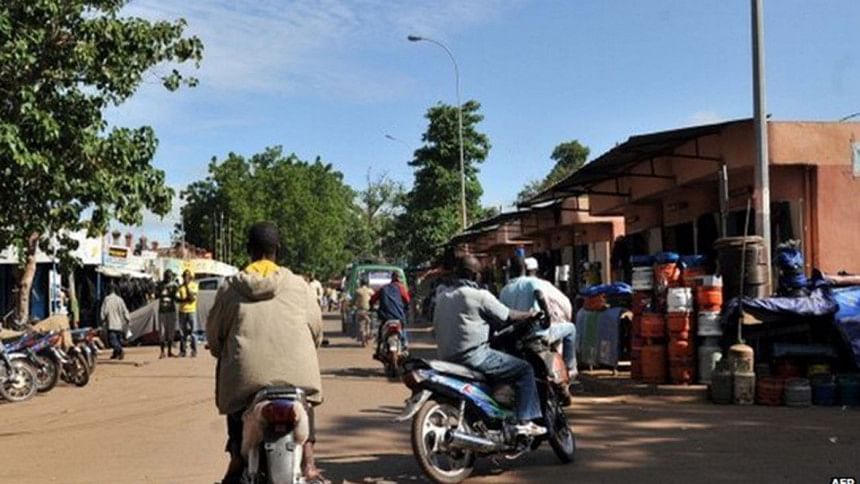 Five people have been killed in a machine-gun and grenade attack on a nightclub in Mali's capital, Bamako.
A BBC correspondent at the scene says a French national was shot dead at La Terrasse bar. Two Malian men were killed as the gunmen fled the scene.
A Belgian man died when a grenade was thrown at his car in a nearby street. A third European died in hospital.
Witnesses say the attackers shouted "God is Great" in Arabic ("Allahu Akbar").
The BBC's Alex Duval Smith in Bamako says this is the first time there has been such an attack in the capital.
Al-Qaeda-linked Islamist militants have been fighting the Malian army in the north of the country for a number of years - and France and African troops intervened two years ago to stop their advance south on Bamako.
French President Francois Hollande strongly condemned the attack as "cowardly" and his foreign minister Laurent Fabius said it would strengthen the former colonial power's resolve to "fight terrorism in all its forms".
Police sources said that two people connected to the incident had been arrested.
Quick escape
Our reporter says French soldiers arrived quickly after the attack on the first-floor nightclub on Saturday.
They confirmed that the man killed at the bar, in the Hippodrome area of the capital popular with expatriates, was a French national.
One of the Malian victims is believed to have been a police officer, and the other a security guard, our correspondent says.
A witness told the BBC he had seen four men flee the scene in a vehicle and one on a motorbike.
Eight more people were wounded in the attack, a source at the Gabriel Toure hospital told the AFP news agency.
According to AFP, the French embassy in Bamako has issued a message to all French nationals in the city warning them to exercise caution should they leave their homes.
France has troops based in the Sahel region of northern Africa in an effort to stop the emergence of jihadist groups.
This follows their intervention in Mali in January 2013, after various Islamist militant group managed to take over most of northern Mali in 2012.
The militants were eventually expelled from towns across the north, but both nomadic Tuareg rebels and other Islamist militant groups have remained active in the vast desert region.
The government signed a ceasefire deal with an alliance of Tuareg rebels in February.
Northern Mali has been a flashpoint of conflict since Mali's independence from French rule in 1960, with Tuareg rebels campaigning for independence or more autonomy.
The conflict has become more complex with emergence of jihadi groups, which roam freely across parts of the Sahara desert.