10 things I hate about winter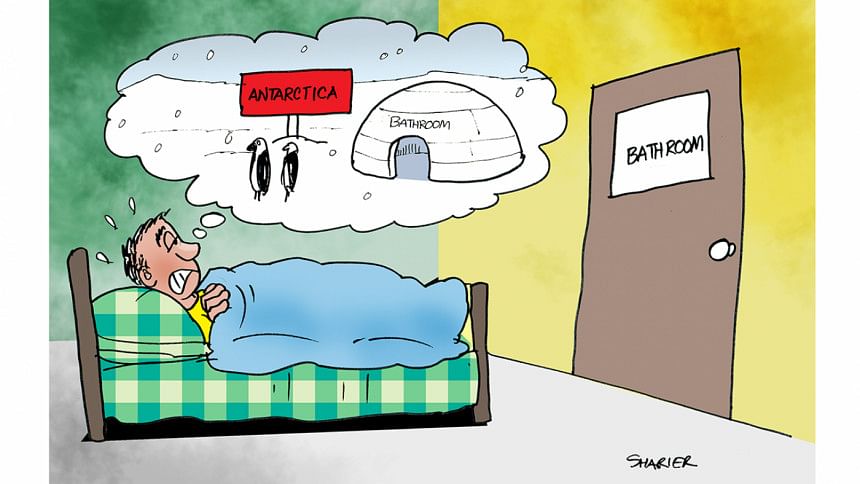 Everyone seems to be mesmerised by the blissful season of winter. It brings respite from the scorching heat and humidity and adorns its special food, fashion and festivity. It is the season everyone yearns for, unlike monsoon that everyone supposedly "loves", but conveniently from the comforts of home.
Winter makes every cup of tea worth holding on the cusp of both hands; where every taste is heightened and every sensation is glorified.
So when I asked what you hate most about winter, I was met with expressions of offense and sheer ridicule. People blew me off with a 'pst' or an eye roll. But it is among this pure adoration emerged a few with a certain different opinion. So winter, you are not so perfect after all, are you?
Waking up in the morning
This by far topped the chart of the most dreaded aspect of wondrous winter. It is one of those perilous acts that take the toll on the mind and body. The pleasures of slumber seem to be amplified when under the cozy covering of a blanket. It is the only time of the day you pray to Lord Almighty to grant you strength to sustain this separation. The torture of this situation does not compare to any trauma, not even that of a boring lecture in a 7:30am class.
Dry skin
Hello winter and farewell good skin. Winter, with all its glory of chilly air is here to suck up all the moisture from your skin. So are you prepared? Stock up on lotion, hand cream, foot cream and chap sticks because the weather is about to get dry. Very dry. During this time, you constantly need to moisturise or you end up having cracks all over your skin. This is your skin shouting for help, and leaving your skin parched isn't a good feeling as well. Let's not forget, the lips need the same attention if not more. As if fighting off the swarming mosquitoes wasn't enough, you have to lather cream every few hours. A piece of advice, nothing beats baby cream!
Culinary conundrum
The best part of winter is having freshly prepared rice with spicy beef curry and sautéed cauliflower. The dream meal takes a turn for the worse as 5 seconds later the curry becomes cold and clogs up. In a matter of minutes, the heavenly savoury meal becomes a mouthful of nightmare. Long story short, gobble down your food ASAP!
Frequent visits to the bathroom
Water, is a boon which keeps us hydrated, healthy and sturdy. Except in winter of course. The human body as, we all know has its own mechanism of management. That is why in winter, in absence of heat, water loss from the body by sweating is less to nil. So what is the only other way the body knows to excrete excess water? You've got it. Visits to the lavatory doubles, as winter approaches causing personal and public nuisance. 
Obstinate wet laundry
For mothers without a washing machine and dryer at home, winter is one season they do not look forward too. Simple household chores stretch out in a battle. Most mothers, (if they are like mine) begin hanging strings inside the house in order to quicken the process of drying the wet clothes, because air drying in the veranda or the terrace is just not fast enough and all the family members end up having to wear clothing which depicts winter in Russia instead of Bangladesh. We all blame dear old mother, but only she knows who the real culprit is.
Common cold
Asthma patients get your inhaler pumping, nasal drops dripping and tissue box restocked because your kryptonite is here. Let the coughing competition begin, because for those who are sensitive to the chilly weather, it is a month of suffering. 
Early evenings
Why does 8 o'clock look like its 10? Don't worry, it's a common trick that the winter Gods play just to mess with our heads. We also embrace this deception but not without hesitation.
Winter chills
The crisp winter breeze blowing through your hair while you cover yourself with your shawl is one of the quintessential winter moments. Well, bikers feel somewhat different. The gush of wind howling in their faces, crawling up their fingers making it difficult to keep their hands around the gears, is a very common experience among bikers. "That is why I have to drive two times slower in winter," says an annoyed Parvez, a biker.
Weddings
As much as we dressing up and looking good for a wedding, there is such a thing called a limit. All Bengalis reserve their wedding ceremonies for the season of winter and end up having a blow out during the time. The increase in programmes such as Sangeet, Holi and Mehedi (all 'traditions' borrowed from the neighbouring land) really don't help the guests. We are left with a shortage of good clothes, excess of makeup and a loathing for attending such occasions in the future. All it takes is one wedding season to ruin you for all the others.
Gaining weight
Speaking of ample wedding programmes, lack of exercise coupled with daily sessions of biryani and sweets can accumulate into at least 5kgs of body fat. Hence the rise of the great game of badminton. Haven't you wondered why this game gained such popularity during winter? Well here you go.
Alas, winter is here at last! But not without a few flaws of its own.