Felani killing: Retrial process 'incomplete'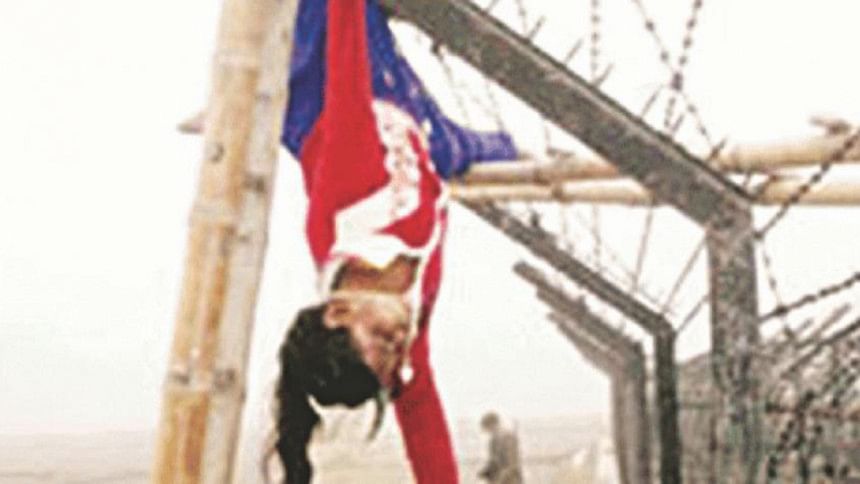 India's Border Security Force today said it has conveyed to its Bangladesh counterpart that the retrial process of Felani Khatun killing on the border is "incomplete".
Border Guard Bangladesh (BGB) has said that Felani's father will be consulted for future course of action regarding the mater and before bouncing back with BSF.
The comments came in a joint media interaction with BGB Director General Maj Gen Aziz Ahmad and BSF DG Devendra Pathak in New Delhi, reports our local correspondent.
The special court's ruling, that acquitted lone accused BSF Constable Amiyo Ghosh, has remained incomplete because it is yet to get approval of BSF additional director general and DG, Pathak said.
Amiyo was acquitted in both the first and the retrial in the killing of the Bangladeshi girl who was shot dead at border near Choudhuryhat outpost in Cooch Behar of West Bengal in January 2011.
The photograph of Felani's body hanging from the barbed wire fencing evoked international outrage.
Felani's father Nur Islam, the sole witness of the incident, has already rejected the verdict of the retrial and sought Bangladesh government's help in an appeal against the BSF court's ruling.
Pathak said since the fresh trial of Ghosh remains incomplete, the Felani issue was not on the official agenda of BSF-BGB DG-level talks which had begun on August 2 and concluded this morning.
However, Maj Gen Ahmad separately told representatives of Bangladeshi media that although the Felani issue did not come up in the official agenda, it did figure in informal talks between the two sides during which BSF wanted BGB to ascertain from the girl's family what exactly they wanted—the judicial process or any other way out.
In response to that, Maj Gen Ahmad said BGB would get back to Felani's father and other family members trying to know the future course of action they would like to take and convey that to BSF.
On the issue of border killing, both sides reiterated their commitment to bring it down to zero with Maj Gen Ahmad saying that BGB would identify the areas, particularly the border outposts, where such killings take place and carry out coordinated patrolling with BSF to tackle the problem.
Ahmad said BGB would undertake an awareness campaign along the vulnerable areas near the border outposts to dissuade Bangladeshis from travelling across the border at night to avoid killings.
Pathak said BSF usually uses non-lethal weapons along the border to the extent possible and opens fire in self-defence "only in extreme situations."
Ahmad said Bangladesh has already come out of low-income country status to middle-income category and its economic indicators are "very positive" warranting no reason for people to illegally migrate to India.
When asked about the problem of smuggling cows into Bangladesh from India, the BSF DG said stern measures have been taken against it as a result of which the number of cows smuggled has come down from 20 lakh to just four lakh and added, "We want to stop it totally."
The BGB DG said the crackdown on cow smuggling provides Bangladesh an opportunity to be self sufficient in promoting its own livestock sector.
"Bangladesh was once dependent on food grains import but now we are exporting the same. Similarly, the ban on cow smuggling will help us create our own livestock industry and make us self sufficient," Maj Gen Ahmad said.