No scope to study in shelters: Flood-hit children lagging behind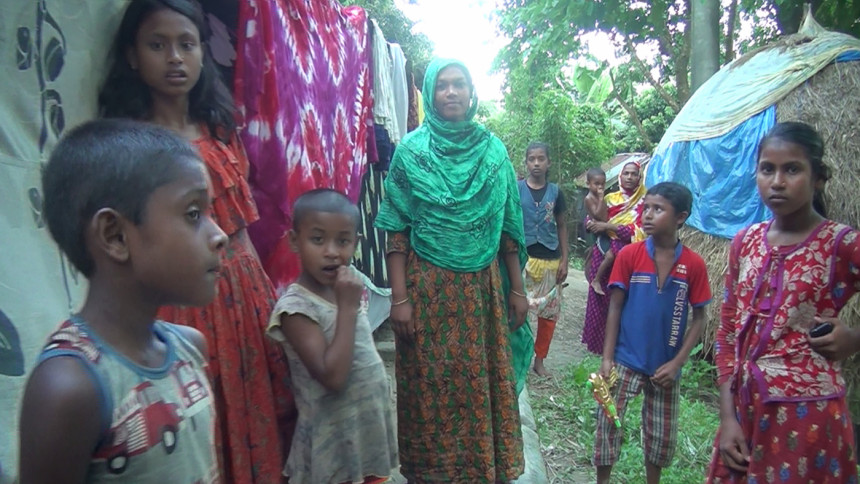 "When will we return home, mother?' eight-year-old Rabbi Islam, a second grader, asks his mother. "I can't read here, I want to go home so I can study,' he says.
Rokeya Begum (35), a flood-hit mother who took shelter on the railway line in Kustari area of Kurigram-Ramna route at Thanahat union of Kurigram's Chilmari upazila, consoles her child.
"Wait a few more days. You will get to study when we will return to home," says the wife of Manser Ali, whose house in the upazila is still under floodwaters. The family has no chance of returning home immediately.
They had to leave their house a month ago. Since then they have been living in a temporary hut wrapped by polythene on the railway line.
Rabbi has an elder brother who is in the eighth grade and an elder sister who is in the fifth grade.
None of the children have been studying for the last one month as there is no environment to study in the temporary shelter.
The scenario is same for all the school-college going children of thousands of flood-hit families who have taken temporary shelter on the railway line from Balabari station to Ramna station.
All of them have to live in a congested situation in the shack. Many of the students' books have also been washed away in the floodwaters.
Shahin Islam (15), a ninth-grader and son of Abdul Khaleq, a flood-hit day labourer who took temporary shelter on the railway line, said his school has been closed since the outbreak of coronavirus.
He continued his studies at home but that too stopped after the floods.
"My books are kept inside the suitcase. There is no opportunity or environment to study in a temporary shelter," he said, adding that he is lagging behind in his studies as a result.
Flood-hit Julhas Sarkar (56), who also took shelter on the railway, said his house is still under the floodwater.
Although the water level of the Brahmaputra River has decreased a little, it is still flowing above the danger level. Many flood victims have started returning home as the floodwaters started receding from many houses. Julhas also said they would return home once the floodwaters recede from their home.
Half of the 250,000 students in 1,240 schools in Kurigram district have been hit by flood, said Kurigram District Primary Education Officer Shahidul Islam.
Due to the floods, these children are not being able to study, he said. Around 60 schools are being used as flood shelters and six schools have been washed away by floodwaters in the last one month, he added.
Ariful Islam, executive engineer of the Kurigram Water Development Board, said that the Brahmaputra and Dharla Rivers in Kurigram are still overflowing. The water level of Brahmaputra River has been 22 cm above the danger level and water of Dharla River has been flowing 20 cm above the danger level in Kurigram from 6am this morning.
Some flood-hit people have started returning home from the temporary shelter since Tuesday afternoon, he said, hoping that the river water would reach below the danger level in the next two days.