Pioneros 2016: Engineers take on the corporate world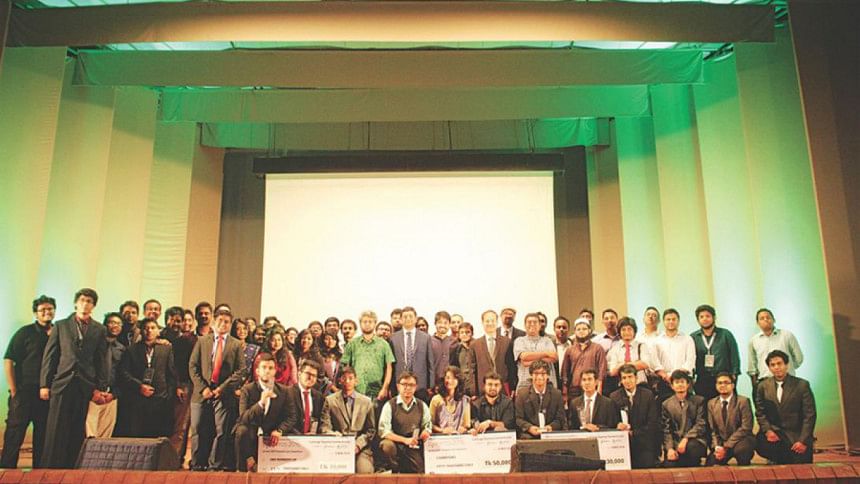 In today's dynamic world, no one, especially the youth, should keep their knowledge and expertise limited to a single field. The ever changing marketplace demands diverse skills to cope with the complex nature of jobs. Don't be surprised to find a fashion designer who knows how to write lines of code, or a scientist who understands the financial implications of an innovation.
Keeping in line with this, BUET entrepreneurship club launched Pioneros 2016 sponsored by Lafarge Surma Cement, a business case competition which aimed to introduce BUET students to the corporate world and provided a firsthand experience in solving real life business problems. Engineering students should not just keep themselves limited to the tech side of the business; they need to understand the business aspect of their work because in the end it all comes down to making money.
Pioneros 2016 was very successful in achieving this goal as the finalist teams, after several rounds of case solving, had gained considerable expertise in case analysis, market segmentation, and branding. In addition they had mastered PowerPoint presentations and public speaking as well. Their presentations of the solutions were at par, if not better, with any presentations that are delivered by business graduates.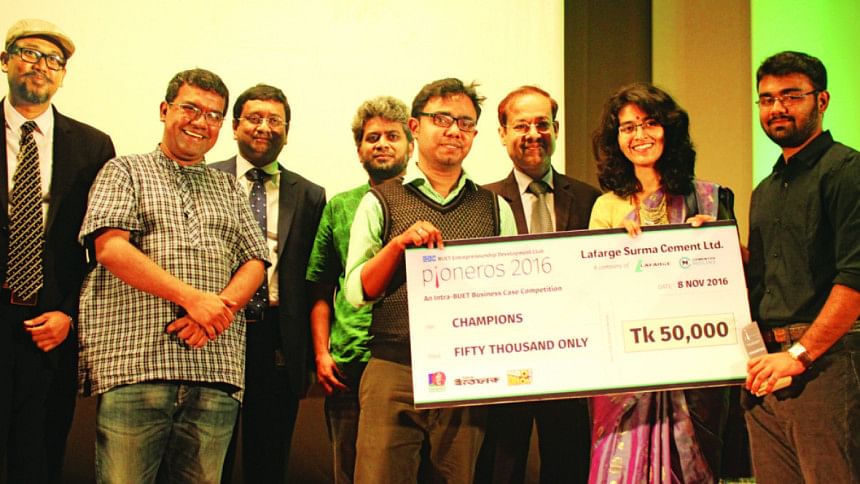 The competition was tightly contested between 122 teams from BUET of which only 30 made it past the online round. After further careful screening 5 teams—Team Steridian, Team Ingenious, Team BUET Tycoons, Team Aristho Ultra and Team Phoenix were selected to battle it out for the right to be called champions of Pioneros 2016. Md. Masud Khan (CFO, Lafarge Surma Cement Limited) , ATM Naimul Baset ( Strategic and IT director, Lafarge Surma Cement Limited) ,  Mahmudul Hassan Sohag (Chairmen and CEO , Onnorkom Group) , Dr. Raquib Hossain (Associate Professor, Civil Engineering Department, BUET) were honourable judges of the Grand Finale. Ayman Sadiq, CEO and founder of '10 minutes School' attended the event as a guest speaker and wowed the audience and judges with his quintessential words of inspiration and advice to BUET on cracking business case competitions. Among others, high officials of Lafarge Surma Cement Limited and respected Alumni of BUET were present to enjoy the battle of the talented minds of Bangladesh
The finale event had an ambitious start with brilliant minds embracing the platform and presenting their case solutions, each team better than the other. The finale round required each finalist team to present their solution in 10 minutes and then face an intensive question-answer round of 5-10 minutes from the judges. Mushfiqur Rahman from one of the top 5 teams, Team Steridian, sounded much motivated, "You don't get to do such competitions frequently in BUET, and so doing something new was a lot of fun. This was our very first time solving a case study, and it's been a dream start. Being the youngest team among the 5, the challenge wasn't an easy one but so exciting to work on because business is all about how well you can innovate using the explanatory tools you have. We're looking forward to more competitions like these because they provide us with a unique platform to think out of the box."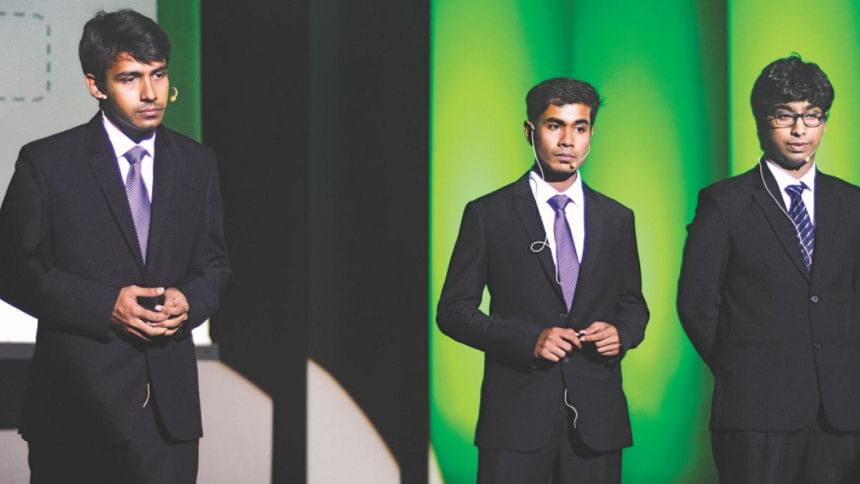 BUET Entrepreneurship Development Club pulled off quite a commendable hosting that night. The judges' panel, in particular, had much reputed personalities who did perfect justice at critically evaluating the teams. We also managed to get hold of one of the honourable judges, Md. Masud Khan, CFO of Lafarge Surma Cement Limited. When asked about his take on the initiative of Pioneros, he said, "Such platforms are actually extremely important for engineers because they usually sideline the importance of successful business activity. For example, they might wish to invest in Rolls Royce or other first-class technologies, but they fail to realise that the business has to make money in the process and that the shareholders' interest is the biggest interest. In that sense, I think competitions like Pioneros are a very important learning and we from Lafarge have hence taken this opportunity to interact with the engineering students to help them develop their understanding of the bigger picture."
Talking about how satisfied he is with the overall organisation of the finale and the calibre of the finalists, Md. Masud Khan asserts, "It was good in general, but I'd say there are lots of areas to improve in. The quality would've probably been much better if the participants were from a business school. Having said that, they are from an engineering institute and so keeping that in mind I'd say their presentations were quite impressive. Maybe the idea contents were a bit nebulous at times but overall we're happy with what we've seen so far."
After a soothing but short cultural program in between, the winners were finally declared amongst much enthusiasm that reverberated throughout the auditorium. The second runners up was Team Ingenious comprising of Mohaiminul Islam, Shaafique Chowdhury and Md. Shihabuzzaman; the team that came second was Team BUET Tycoons having Tanveer Ahmed Tomal, Imtiar Jalal Niloy and  Shadman Sakib; and finally the winning team out of the five was Team Phoenix that had Anurata Prabha Hridi, Md. Monowar Anjum  and Dipto Das as the members.
Next Step spoke to one of the members, Monowar Anjum, of the winning team, "The experience was great in one word. But it was very exhausting too because the case was really hard to crack. What is more, I felt the judge-panel selection was perfect because they were all respected figures from the business world. Judgment was hence top-notch and the questions were on point. So happy that we managed to work through this mind-boggling case." Finally, when asked how winning feels like, Monowar and his teammates put up wide grins and quipped, "It feels amazing!"