Development through partnership Committing to contribute in the trajectory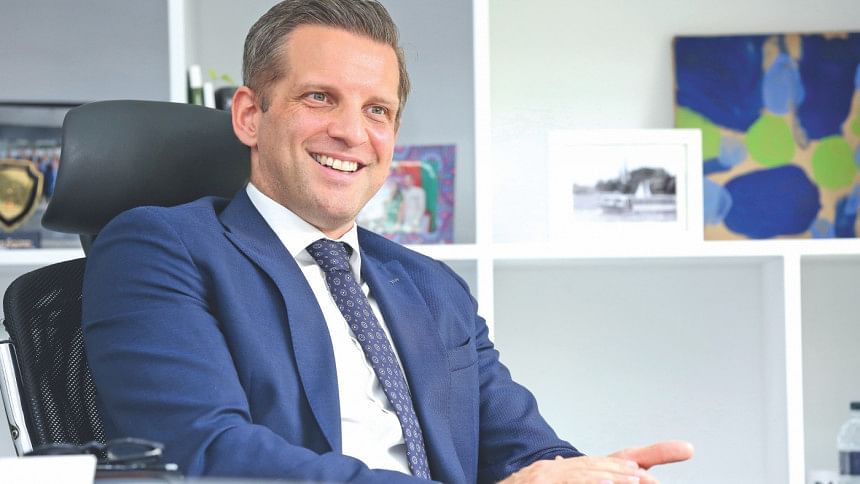 Mr. Stephan Matthiesen has been working as the Finance Director at BAT Bangladesh since May 2019, and before that he's had over 14 years of experience in the company, developing and implementing commercial strategies for diverse markets all across the world. We sat down with him to talk about his career and his views on the Bangladeshi market. 
Tell us more about your journey with BAT and your move to BAT Bangladesh.
My journey started with BAT in 2005, almost 14 years ago, as a Management Trainee in Germany in the finance function and since then I've had roles in departments such as treasury, corporate finance and mostly on the commercial side. I started my international career relatively early and had the opportunity to work in some fantastic places across the world. Japan, Sri Lanka and Hong Kong are some of the Asian countries I've worked in since my move to Asia in 2012 and I've been working as the Finance Director for BAT Bangladesh, one of our most reputed branches globally since May 2019. Having been exposed to over 30 markets across the globe, it's always fascinating to see different people from different cultures who think alike.
What is your evaluation on the current scenario of Foreign Direct Investment (FDI) in Bangladesh? In your opinion, what can we do to increase it?
Bangladesh is a country of tremendous potential. The younger middle-income generation is very well connected and displays an increasingly entrepreneurial mindset- a strong base for the economy going forward. To complement that, Foreign Direct Investment plays an important role. It's probably one of the most effective tools for transferring financials, capabilities, insights and technologies from a developed country to a developing one. For Bangladesh, macroeconomic factors such as the underlying GDP, the inflation rate, etc. look good, and multiple reports clearly indicate that Bangladesh is one of the next markets to soon move into the developed stage. A lot of things are in our favor, but we shouldn't close our eyes on the external landscape. Neighboring markets like India, or Vietnam, who recently signed a free trade agreement with EU, meaning lesser tariffs and fewer regulations, are growing as well. However, when it comes to FDI, Bangladesh saw a record number of USD 3.6 billion last year, and has been enjoying growth rates, while the FDI rate has been declining elsewhere.
When it comes to what can be done do to increase it, we need to understand what environment foreign investors look for to invest. We call this "The ease of doing business"; the certainty and predictability in terms of legislation, tariff rates, less paperwork, clarity, etc. encourage foreign investors. A report published by the World Bank states Bangladesh ranks 176th out of 190 markets in this regard. This is an area Bangladesh needs to improve on.
How do you see BAT Bangladesh's performance in areas of corporate governance and responsible business practices?
BAT as an organisation has a mindset where both "how we do business" and the actual business results are equally important. Bangladesh is consistently raising corporate governance standards and BAT Bangladesh has always been at the forefront of it. We are consistently trying to improve further. We constantly work to reduce the environmental impact of our operation, in areas such as water usage, recycling, waste reduction and carbon impact. A few of our CSR activities, some going back 30-40 years, were pioneering, impacting the lives of hundreds of thousands, if not millions of people on a daily basis. Our 3 CSR initiatives, which focus predominantly on access to clean water, renewable energy and afforestation are steps we are taking, that also help Bangladesh on its journey to a middle-income nation. We aim to continue doing that and are committed to doing more going forward.
In these couple of months, you have gained familiarity with Bangladesh and its people. What is your take on the future talent of Bangladesh and what would you advice them?
I had been to Bangladesh many times before I moved here, and every time I was amazed by the energy, passion, grit and positivity of the young people here. If you look at Battle of Minds, our competitive recruitment platform, you'll see that the quality of the projects are very impressive, not only in the context of Bangladesh but internationally as well. The team from Bangladesh won the global round of Battle of Minds last year, not by luck but by the sheer quality of their proposals. I am sure it wasn't a one-off, there will be more to come.
My advice would be to channel this energy and drive effectively. We should always bear in mind the balance between the immediate impact of what we're doing and the longer-term impact we can have. Another advice is, stay curious throughout your career. Never assume you know everything and always challenge the status quo. It's also increasingly important to build strong networks, not just within the organisation here, but also internationally. That's how we identify global trends, and as the environment changes, we'll have to change with it. Artificial Intelligence will probably replace a lot of the capabilities we needed in the past and increase the need for new capabilities. We often talk about new styles of leadership, forming teams behind you, having vision and also contextual intelligence, which allows you to take uncertainty as an opportunity. We try to create an environment that is conducive to learning of this kind. As we speak, there are 20 people from BAT Bangladesh working all across the world, learning these traits. We've done a great job of recruiting and training these talented people and our vision is nothing short of being the top pick of talents across the BAT group.
What challenges do you foresee in the near future for a successful operation in Bangladesh?
Like any other company, our success will depend on our ability to understand consumer needs and being able to address these with products that exceed their expectations. Pricing, especially in the tobacco business, is a very important part of the consumer choice and in recent years we've seen sharp price increases as taxes have risen. Consequently, a lot of consumers are looking for more affordable solutions. A testament to that is the recent rise of illicit products in Bangladesh, which has grown by 5 times in the last 12 months. This is putting a tremendous pressure on the entire system, the legitimate industry and all its players, not just BAT Bangladesh. We also see its impact on the government losing out on tax revenue. We'll need to find ways to offer consumers a more affordable price with all the compliances met. That'll allow us to contain the rise of illicit products. We're already paying up to 81% in taxes, and a further rise in that will increase the use of illicit products even more.
How else can BAT Bangladesh contribute as a partner towards Bangladesh's journey of growth?
We're one of the highest tax payers in the country, having contributed approximately BDT 20,000 crore in taxes last year. Our ambitions are to be a stronger partner to Bangladesh. Some of the UN's Sustainable Development Goals that the government has announced resonate very closely with our own goals and our own vision for a preferred future. We are also keen to further explore public private partnerships and support the government in areas we can contribute to with the knowledge, capabilities and experiences that we have. Another area we'll focus on is the exports of our products. BAT Bangladesh has historically been only focused on the local market, but in the last few years, the government has provided us with a framework that allows us to export both leaf and finished good. Both will become increasingly important in the future, generating more revenue for the government. Bangladesh is a fascinating country, full of opportunities and prospects. We want to be a part of that and are committed to being a development partner of the nation.