Nurturing the hidden talents of our youth
Passionate, forward-looking youth must be groomed and guided in order for them to contribute in the sector that best suits their skills, said experts at the 'Skills for middle-income Bangladesh: Preparing today's youth for tomorrow's challenges' roundtable on July 18, 2017.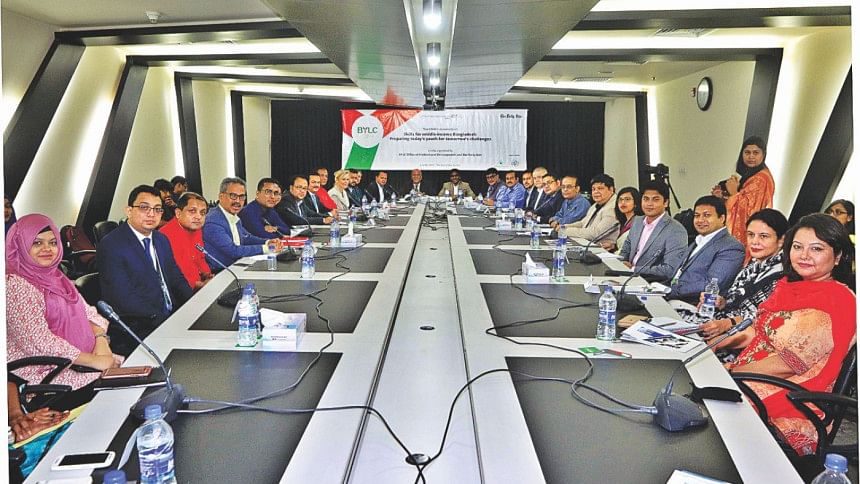 Passionate, forward-looking youth must be groomed and guided in order for them to contribute in the sector that best suits their skills, said experts at the 'Skills for middle-income Bangladesh: Preparing today's youth for tomorrow's challenges' roundtable on July 18, 2017.
Bangladesh Youth Leadership Centre (BYLC)'s Office of Professional Development (OPD) and The Daily Star co-organised the event at the newspaper's office in Dhaka to explore effective methods of increasing professional development initiatives for young people to access relevant jobs.
Mahfuz Anam, Editor and Publisher at The Daily Star, urged BYLC to establish a professional linkage that can aid in nurturing these youth. "Bangladesh needs an extensive professional training institute that will supply our need for skilled youths," he said.
Akhter Matin Chaudhury, chairperson of BYLC, and Ejaj Ahmad, founder and president of BYLC, co-moderated the discussion.
Creating the right fit
A key highlight of the three-hour long session was the rapid shift to a tech-savvy job space and how this poses the need to brush up the diverse skill sets of the youth. "The more diversified the job scenario gets, the more we need people with interdisciplinary skill sets and not just graduate degrees. The tech space is more dominant than ever, and e-commerce is now the way to go. So skills that pertain to this field are a must," explained Asif Zaher, Zero Gravity Ventures Limited.
"Millennials are a passionate crowd; every company needs to brand themselves so that they stand for something that resonates with the target market. By communicating effectively, we can encourage the youth to choose the job that best suits their skills," said Tanvir Haider, CEO of Kazi Food Industries Ltd.
Md. Sabur Khan, CEO of Daffodil University, pitched, "Foundation building starts at school, but institutions mostly focus on CGPA rather than on practical skills. This needs to change through practical and refined course curriculum designs."
Adding to this was Abrar A. Anwar, CEO of Standard Chartered Bank: "Banks too are changing, and so are the profiles of the workforce. For sustainability of the prevailing jobs, diversified talent acquisition is a must."
Senior VP of BGMEA, Faruq Hasan, introduced some valuable insights regarding the youth bulge in Bangladesh, and added that industrial sectors like RMG have a dearth of varied skills and specifically designed curriculums that could contribute to the growth of these.
"The youth today are already hard working, so there is hardly a lack of effort from those who are focused. But do they know how to deliver? In fact, do we as leaders know what we really mean when we ask for results?" asked Mahtab Uddin Ahmed, CEO of Robi Axiata Limited.
New careers up ahead
Leaders must be aware of the fact that 65 percent of children entering primary school today will do jobs that have not been invented yet when designing mentorship or internship programmes.
"The real estate bubble will soon burst. Retail stores we see now will cease to exist in face of increasing internet accessibility. So some current professions will become irrelevant in the future. Are we doing enough to prepare ourselves as well as our youth for the near future?" added Mahtab.
Pial Islam, Managing Partner of Pi strategy, focused on the need to cultivate the right value systems among the youth: "There are some fundamental shortcomings in today's youth, one of which is ethics and moral values. Most people do not contribute effectively to the productive output of the organisation."
Emphasising on the challenges more than anyone was Rubana Huq, Managing Director of Mohammadi Group. "We are actively replacing labour with automation so capital-intensive industries are on the rise. There is an ever urgent need to hunt down specific skills that can co-exist with the automation and robotics of the future," she said.
Nabeel Ud Daulah, Managing Director of DIRD group, added some further insight to the discussion: "We need to change the sceptical mindsets of the youth and make them realise that mistakes are sometimes the only way to make the transition to better results. Moreover, their communication skills in English as well as other interpersonal skills must improve."
CEO of Grameenphone, Michael Foley, mentioned that the extremely fast-paced and streamlined short cycles of innovations is a major issue: "By the time you groom yourself, the job will have transcended into some innovated form that your outdated skills cannot match. Hence a massive resourcing of skills like agile development, design thinking, scrum skills, data science, minimum-viable-product skills, and so on is needed pronto."
Green Delta Insurance's CEO, Farzana Chowdhury, proposed that curriculums need to be designed in a way that encourages the youth to join the insurance industry, rather than disregard it as not as "glamorous" as the biggies. "Do we have enough actuaries or enough insurance specialists? This could be achieved if all institutions co-ordinated to develop the youth," she said.
Developing soft skills
Situational leadership and entrepreneurial skills also need to be inculcated in the youth. Asadul Islam, Secretary of the Ministry of Youth and Sports, put forward some critical flaws in the system, including the existence of sufficient policies, but not enough resources. He emphasised the need to develop soft skills of the youth, especially the less privileged who do not always have the scope to learn or get training,
Leoni Cuelenaere, Ambassador to Bangladesh at the Embassy of the Netherlands, suggested that leadership and analytical skills need to improve among Bangladeshi youth for them to be able to compete in the international job market.
Towards the very end, Sudipto Mukerjee, Country Director of UNDP, provided some valuable insight, saying that the country must not get trapped in jobless growth. The need to innovate is more vital than ever if one wants to stay relevant. "Start internship programmes and do a lot of advocacy to inject this mindset. Inequality too needs to be eradicated for the country to keep moving forward with its young, talented minds," he concluded most aptly.
---
The writer is a junior at the Institute of Business Administration, University of Dhaka.