REALISING THE CULINARY DREAM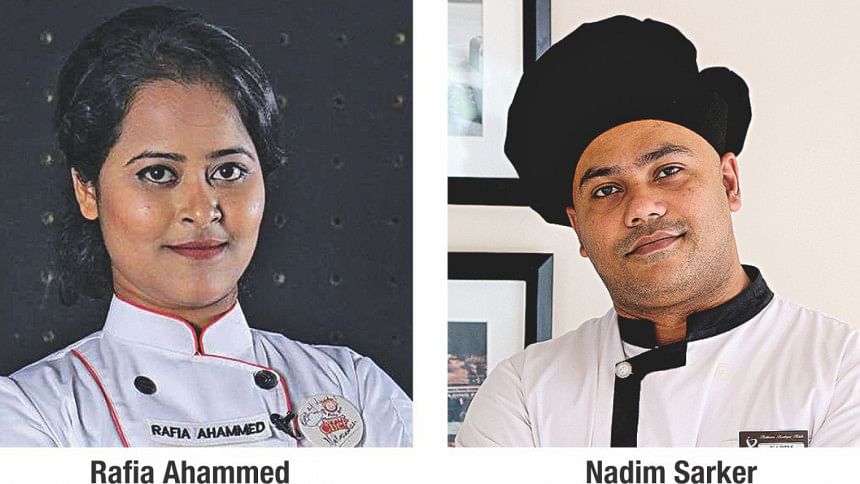 While most of the world is busy embracing new businesses and startups, we often leave the artsy and creative stories out for the fag end. Cooking is one such promising art and a career that many in our country aspire to. The cooking show Rupchanda-The Daily Star Super Chef is a quintessential platform that has found a tremendous number of raw talents over the years. We caught up with some ex-participants and an organiser to find out how this show has paved the way for living the culinary dream.
Super Chef at a glance
"Super Chef started off with the motive to provide a recognisable platform to the home-grown, amateur cooks out there," says Faisal Mahmud, Marketing Manager of Bangladesh Edible Oil Ltd. and the brains behind Super Chef. Each season consists of 30 episodes full of mind-boggling culinary challenges. Even though the show struggles to garner viewership, it has still proved to be the giant leap toward materialising the participants' dream of becoming a chef. "Some ex-contestants are now chefs by profession, some have opened up hotels and restaurants, some have acted in TVCs as Super Chef or are doing their own cooking TV shows, while some have opened up cooking classes at home. So the platform has indeed proved to be no less valuable than a university certificate," quips Faisal Mahmud.
Their success stories
Not only did the cooks manage to impress judges and audiences at Super Chef, but post-show job prospects soared like anything. Moreover, Super Chef employs some ex-participants back as tasters and even judges. "Ex-winners later become regional round judges and are invited as guest judges in later episodes. Top seven to eight participants are also allowed to take classes at Shopno Super Shop, all expenses borne by us," adds Faisal. 
At the end of the day, however, the success and impact of a show as promised can be vouched for by none other than the participants themselves. Nadim Sarker, second runner-up of Super Chef 2015 and now a chef at Platinum Suites says, "Months after the show ended, I got calls from both Radisson and Platinum Suites and although I got selected by both, I ended up choosing the latter. Since then I have cooked for foreign diplomats, Mashrafe Bin Murtaza and even the entire Bangladeshi cricket team. Every day at the kitchen is a new challenge. And besides being featured in a TVC, I am a regular at cooking shows." Rafia Ahammed, winner of Super Chef 2016, is also hosting a cooking show, Glitter Rannaghor, on NTV and was a cooking coach in this year's Super Chef.
Nadim, whose forte is Arab and continental cuisine, studied engineering and used to work as a business initiative. Tough choices had to be made as he shifted from the corporate world to the culinary world. Nadim confesses, "I gave up on all the luxurious benefits that a corporate job offers because my passion for cooking was calling out to me way louder. Now I have no regrets at all."
Rafia, whose specialty is Italian, was also a student of science, but chose cooking due to a knack for the creative. However, she has faced her share of turndowns. "I've spoken at so many hotels and unfortunately most believe that a woman can't work long hours a day as a chef. It's disappointing." She didn't stop there though. Rafia is now doing short courses on cooking and applying abroad for a long course to establish her career as a chef. Both chefs suggest that to stay in flow with all latest food trends in our country, a chef must keep learning international, up-to-date techniques.
But a lot of families do not see a chef's title as a reputed one in our country, and both ex-contestants vented about this. "It's frustrating when you are labelled a baburchi and looked down upon. A chef is no less than a doctor or an engineer and so this profession must not be degraded," says Rafia. What the culinary career offers, according to them, is greater value and respect over time because it is a globally demanded profession with a vast scope. "An added satisfaction is when you can bring a smile to someone's face with your cooking," remarks Nadim.
With more and more young blood embracing this art as their passion, Nadim sees a ray of hope: "Many youngsters in Dhaka are now either pursuing careers as chefs or have already opened up successful restaurants in spite of having studied a 'reputable' subject Super Chef 2017's winner is an NSU graduate who skipped an MBA to hone her culinary skills. This passion needs to keep surfacing until the tag of baburchigiri fades away."
"If you choose to be a chef, do so because you love cooking, not because it pays well to be a chef nowadays. Once you master the art, money and respect will follow in ample amounts," concluded Nadim. Cooking is thus an art that must be followed as a profession only if one is completely and utterly passionate about it. Half-hearted dedication will take you nowhere.
The writer is a junior at the Institute of Business Administration, University of Dhaka.