Trump pleads not guilty to 34 felony counts
Becomes the first US president to face criminal charges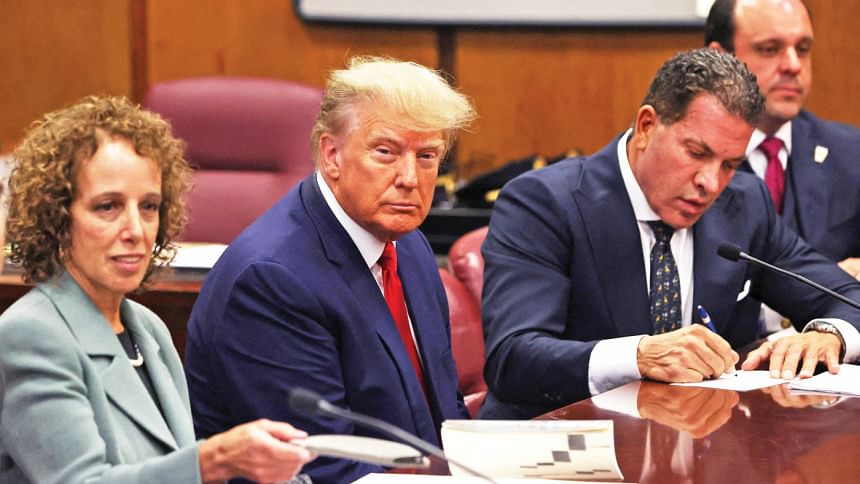 Donald Trump, the former president and front-runner for the 2024 Republican nomination, pleaded not guilty in a history-making moment for the United States yesterday to 34 felony counts of falsifying business records after an investigation into hush money paid to a porn star.
Wearing a dark blue suit and red tie, Trump, the first sitting or former US president to face criminal charges, sat with his hands folded at the defense table as he entered his plea flanked by his lawyers.
"Not guilty," Trump, 76, said when asked how he pleaded.
He said nothing as he entered the courtroom or when he left roughly an hour later. Trump previously called the charges politically motivated.
He was due to return to Florida and deliver remarks from his Mar-a-Lago resort at 8:15 p.m. on Tuesday (0015 GMT on Wednesday), his office said.
Taken together, the charges carry a maximum sentence of more than 100 years in prison under New York law but an actual prison sentence if he is convicted at a trial would almost certainly be far less than that.
While falsifying business records in New York on its own is a misdemeanor punishable by no more than one year in prison, it is elevated to a felony punishable by up to four years in prison when done to advance or conceal another crime.
The Manhattan grand jury convened by Manhattan District Attorney Alvin Bragg that indicted Trump heard evidence about a $130,000 payment made to Daniels in the waning days of the 2016 presidential campaign. Daniels has said she was paid to keep silent about a sexual encounter she had with Trump at a Lake Tahoe hotel in 2006.
Trump's former personal lawyer Michael Cohen has said he coordinated with Trump on payments to adult film actress Stormy Daniels and to a second woman, former Playboy model Karen McDougal. Trump has denied having had sexual relationships with either woman, but has acknowledged reimbursing Cohen.
Bragg, a Democrat, was due to give a news conference later on Tuesday.
Trump earlier held his fist in the air in a gesture to reporters as he departed his New York residence at Trump Tower in a motorcade bound for the courthouse. He exhibited little emotion when he waved to a crowd assembled outside the courthouse.
From his motorcade, Trump posted on social media:  "Heading to Lower Manhattan, the Courthouse. Seems so SURREAL - WOW, they are going to ARREST ME. Can't believe this is happening in America."  Trump surrendered to Bragg's office before the arraignment began in Justice Juan Merchan's court. At an arraignment, a defendant hears charges and can enter a plea. Trump was fingerprinted but no mugshot photo was taken, according to a Twitter post by a New York Times reporter.
In other social media posts ahead of the arraignment, Trump renewed his attacks on Merchan, who last year presided over a trial in which Trump's real estate company was convicted of tax fraud.
Trump, who served as president from 2017 to 2021, in November announced a bid to regain the presidency in 2024 in a bid to deny Democratic President Joe Biden, who beat him in 2020, a second term in the White House.
A photo taken by a photographer in the courtroom authorized by the judge showed Trump sitting at the defense table, flanked by his lawyers. Trump's lawyers had urged the judge to block any videography, photography and radio coverage, arguing it would worsen  "an already almost circus-like atmosphere."  The businessman-turned-politician has been a familiar figure for decades in New York, the city where he was raised, built his real estate business and became a celebrity.
On a cool and sunny early spring day in the most-populous U.S. city, Trump supporters and detractors were separated by barricades set up by police to try to keep order, though there were some confrontations.
"Let's keep it civil, folks," a police officer told them.
Hundreds of Trump supporters, at a park across from the Manhattan courthouse, cheered and blew whistles, outnumbering his detractors. The Trump critics held signs including one of Trump dressed in a striped jail uniform behind bars and another that read,  "Lock Him Up."  The White House remained mum on the drama in New York.
"I think the American people should feel reassured that when there is an ongoing case like this one that we're just not commenting," White House spokesperson Karine Jean-Pierre told reporters.
Any trial is at least more than a year away, legal experts said. Being indicted or even convicted does not legally prevent Trump from running for president.
p/ TRUMP URGES VENUE CHANGE  In a social media post, Trump said Manhattan Criminal Court was a  "very unfair venue" and urged that the case be moved to the New York City borough of Staten Island, which regularly votes Republican.
Among the pro-Trump demonstrators was Gina Witcher, 55, of Maryland.
"We feel like this is a very scary indictment," Witcher said, accusing Democratic prosecutors of going after conservatives for political reasons.
New Jersey resident Susan Cerbo, 55, wore an American flag cowboy hat as she and her sister stood on the steps of a church across the street from Trump Tower holding a  "Trump for President" banner.
"Honestly, he's just targeted because he's a presidential candidate," Cerbo said.  "If you can do it to him with all his money and power, they can do it to any citizen of the United States."  Manhattan resident Kim Britt, 69, was among the anti-Trump demonstrators.
"If anyone is above the law, then we're not going to get anywhere," said Britt, holding a sign reading,  "Tick Tock Time's Up!"  Trump's lead has widened over rivals in the Republican Party's presidential nominating contest, according to a Reuters/Ipsos poll released on Monday, conducted after news broke that he would face criminal charges.
Some 48% of Republicans say they want Trump to be their party's presidential nominee, up from 44% last month. Second-place Florida Governor Ron DeSantis fell from 30% to around 19%. More than two-thirds of poll respondents said they believed Trump paid hush money to Daniels, but half said the charges were politically motivated.
Trump faces a separate criminal probe by a Democratic local prosecutor in Georgia into whether he unlawfully tried to overturn his 2020 election defeat in the state. He also faces two U.S. Justice Department investigations led by a special counsel into efforts to overturn the 2020 election results and his handling of classified documents after leaving office.
(Reporting by Karen Freifeld and Jody Godoy; Additional reporting by Julia Harte, Tyler Clifford, Jonathan Allen, Jeenah Moon and David Dee Delgado in New York, Nathan Layne in Connecticut and Doina Chiacu and Richard Cowan in Washington; Writing by Costas Pitas and Alistair Bell; Editing by Will Dunham, Andy Sullivan and Howard Goller)