Pelosi arrives in Taiwan
Beijing vows 'targeted military actions'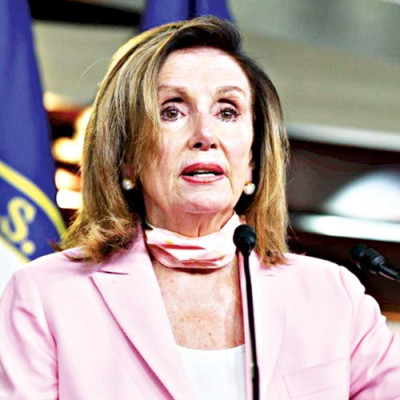 United States House Speaker Nancy Pelosi landed in Taiwan yesterday evening, defying a string of increasingly stark warnings and threats from China that have sent tensions between the world's two superpowers soaring.
Pelosi, second in line to the presidency, is the highest-profile elected US official to visit Taiwan in 25 years and Beijing has made clear that it regards her presence as a major provocation, setting the region on edge.
In a statement issued just after her arrival in Taipei, China's foreign ministry said Pelosi's visit severely impacts the political foundations of China-US relations, and said it had lodged a strong protest with the United States.
The Chinese defence ministry said the military has been put on high alert and will launch "targeted military actions" in response to Pelosi's visit.
Officials in Taipei, meanwhile, said more than 20 Chinese military planes flew into Taiwan's air defence zone yesterday. 
Soon after touching down in Taiwan, Pelosi said that her visit was a sign of "America's unwavering" commitment to supporting the island nation.
"Our delegation's visit to Taiwan honors America's unwavering commitment to supporting Taiwan's vibrant Democracy," tweeted Pelosi.
"America's solidarity with the 23 million people of Taiwan is more important today than ever, as the world faces a choice between autocracy and democracy," the House Speaker continued in a thread, before emphasising that her delegation's visit "in no way contradicts longstanding United States policy, guided by the Taiwan Relations Act of 1979, US-China Joint Communiques and the Six Assurances."
Pelosi was on a tour of Asia that includes announced visits to Singapore, Malaysia, South Korea and Japan. Her stop in Taiwan had not been announced but had been widely anticipated.
Most of Pelosi's planned meetings, including with President Tsai Ing-wen, have been scheduled for today, a person familiar with her itinerary said. Four sources said she was scheduled this afternoon to meet a group of activists who are outspoken about China's human rights record.
Pelosi, 82, is a close ally of US President Joe Biden, both being members of the Democratic Party, and has been a key figure in guiding his legislative agenda through the US Congress.
Taiwan's tallest building, Taipei 101, lit up with messages including: "Welcome to Taiwan", "Speaker Pelosi", "Taiwan (heart) USA".
With tensions already high, several Chinese warplanes flew close to the median line dividing the Taiwan Strait yesterday morning before leaving later in the day, a source told Reuters. Several Chinese warships have also sailed near the unofficial dividing line since Monday and remained there, the source said.
Four US warships, including the aircraft carrier USS Ronald Reagan, were positioned in waters east of Taiwan on what the US Navy called routine deployments, a US Navy official said.
Meanwhile, Moscow said that ally China had every right to take measures to protect its sovereignty and called Pelosi's visit a "clear provocation".