Carry out reforms in labour sector
US tells Bangladesh on securing foreign investment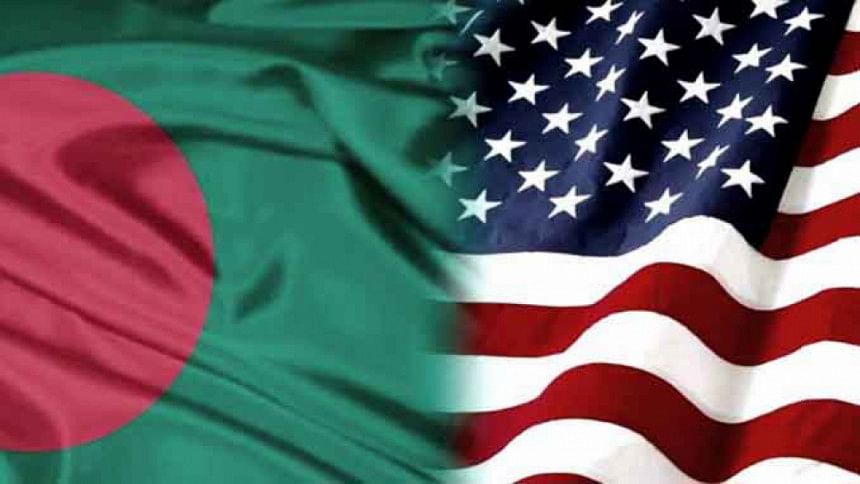 The US yesterday urged Bangladesh to adopt a transparent regulatory environment and implement reforms in the labour sector to secure foreign investments.
During the second high-level economic consultation (HLEC) in Washington DC, the global superpower also said Bangladesh has the potential to be a regional leader in digital trade and highlighted the country's role as a global climate leader, according to a joint statement released after the consultation.
Bangladesh sought US companies' investment in clean energy to help it advance on its nationally determined contribution to reduce carbon emissions.
Salman F Rahman, adviser to the prime minister for private industry and investment, and Jose W Fernandez, US State Department under-secretary for economic growth, energy, and the environment, co-chaired the second HLEC.
Salman F Rahman said business-to-business and people-to-people contacts are key elements for enhanced cooperation and urged preferential market access for Bangladeshi products in the US, which buys $8 billion worth of products from Bangladesh annually.
Following the Rana Plaza collapse in 2013, the US suspended Generalised System of Preferences (GSP) facility, through which Bangladesh enjoyed trade benefits.
Jose W Fernandez acknowledged Bangladesh's progress in areas of safety reforms in the garment export sector, simplifying trade union registration, developing publicly accessible trade union database, establishment of helplines to receive complaints, digitalising labour inspection and strengthening labour courts.
The US urged Bangladesh to take further steps to adhere to internationally recognised labour rights standards, including those developed by Bangladesh for its ILO road map. Bangladesh expressed its commitment to swiftly pass necessary reforms and fully implement the four priority areas of the ILO road map.
Bangladesh also committed to address other areas of labour reform, including improving workers' rights to freedom of association and collective bargaining in export processing zones (EPZs), and gradually in other sectors across Bangladesh's economy.
Bangladesh warmly welcomed a US concept of a US-Bangladesh Women's Council to enhance women's employment, entrepreneurship, and access to educational opportunities in support of a more equitable future.
At the consultation, the US side briefed Bangladesh on the Indo-Pacific Economic Framework (IPEF), and Bangladesh welcomed additional information on the supply chain resilience and decarbonisation pillars of the IPEF.
Bangladesh also sought US technical assistance to sustainably explore its ocean resources and further develop its blue economy. Bangladesh stressed on re-starting non-stop flights between New York and Dhaka.
The Bangladesh delegation also included State Minister for Foreign Affairs Shahriar Alam, Prime Minister's Principal Secretary Dr Ahmad Kaikaus, lawmakers Shafiul Islam Mohiuddin and Begum Shamsun Nahar and Bangladesh Ambassador to the US M Shahidul Islam.