Ukrainian drones strike six Russian regions
Destroy four giant II-76 transport planes at airfield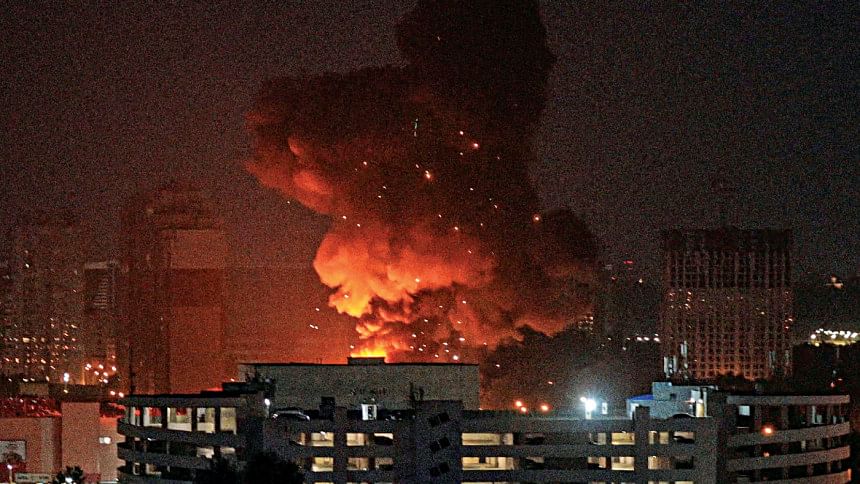 Ukrainian drones struck targets in at least six regions deep within Russia yesterday, including an airfield where they destroyed military transport planes, in one of the broadest volleys yet of Kyiv's campaign to turn the tables on Moscow.
Russian officials described attacks on targets in the Pskov, Bryansk, Kaluga, Orlov, Ryazan and Moscow regions.
In Pskov, in northern Russia more than 600 km from Ukraine, a huge fire erupted at a military airfield. Tass news agency reported at least four giant Il-76 transport planes were damaged, two of which had "burst into flames".
The attacks came as authorities in Kyiv reported at least two people killed in what they described as the heaviest Russian air strikes on the Ukrainian capital for months.
Footage published by Pskov's governor on Telegram showed a huge fire with the sounds of sirens and an explosion. Other video posted online showed anti-aircraft systems in action around the city, which is just 32 km east of Russia's border with Nato-member Estonia.
Moscow claimed to have thwarted all the attacks on Russia. There was no comment from Kyiv.
Russia said Ukrainian drones had tried to attack a TV tower over the Bryansk region. No casualties were reported. Moscow also said its aircraft had destroyed four Ukrainian fast-attack boats carrying up to 50 paratroopers on the Black Sea. Reuters could not independently confirm this.
Attacks on Russia in recent weeks, including repeated drone strikes on central Moscow, have brought the war home to many Russians for the first time, even as Ukrainians have spent the past year and a half in constant peril from air strikes.
Moscow has relentlessly pounded Ukrainian cities with long range missiles and drone strikes throughout the war. Thousands of Ukrainian civilians have been killed.
Ukraine said its air defences had shot down 28 Russian missiles and 15 out of 16 drones fired overnight. Explosions rang out in Kyiv where authorities said debris fell on four areas, killing at least two people.