Ukraine repels new Russian air barrage
Moscow contends with cross-border attacks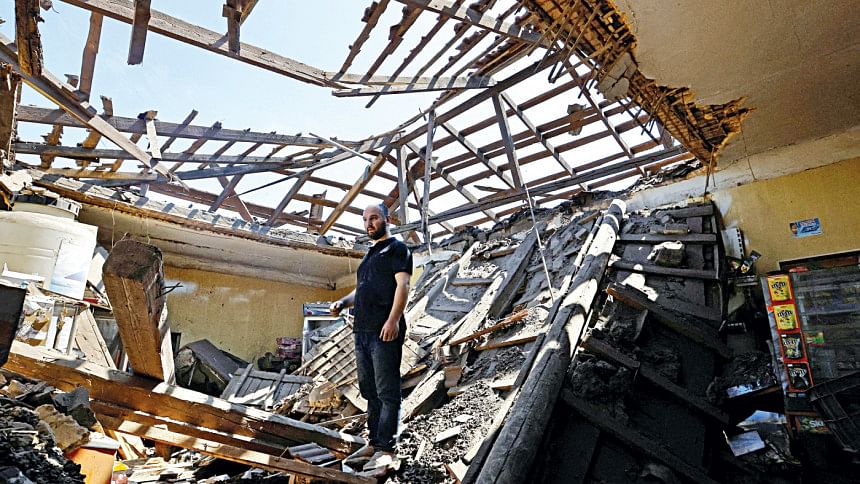 Ukraine fended off 36 Russian air attacks in and around the capital overnight while pro-Kyiv Russian fighters said they were battling Russian forces for a second day inside Russia, trading blame with Moscow for the deaths of two civilians.
Russia has launched about 20 waves of attacks on Kyiv since the beginning of May, a surge in strikes that the government says appears aimed at derailing Ukraine's preparations for a major counter-offensive to try to end Russia's invasion.
A child was one of two people injured by falling debris in a region outside the Ukrainian capital as air defences shot down what the air force said yesterday were 15 Russian cruise missiles and 21 drones.
"The occupiers are not stopping their attempts to terrorise the Ukrainian capital with strike drones and missiles," it said.
Russian officials reported cross-border shelling from several areas of northern Ukraine yesterday in the latest sign that Kyiv is starting to push back beyond its borders after more than 15 months of all-out Russian assault.
The governor of Russia's Belgorod region said two people had been killed and two others injured when Ukrainian forces shelled a road in the town of Maslova Pristan near the Ukrainian border.
"Fragments of the shells hit passing cars. Two women were travelling in one of them. They died from their injuries on the spot," governor Vyacheslav Gladkov said.
Russia said on Thursday it had repelled a second attempted incursion into the Belgorod region in just over a week by what it casts as pro-Ukrainian militants. Ukraine denies involvement.
The Freedom of Russia Legion blamed Russia for the shelling on Telegram, while posting images of what it said was one of its tanks in the nearby Russian village of Novaya Tavolzhanka and soldiers taking cover behind a wall during a gunfight.
Putin told his Security Council yesterday that "ill-wishers" were increasingly trying to destabilise Russia. "We must do everything we can to make sure that under no circumstances will they be allowed to do this," Putin said.
The governors of the Bryansk, Kursk, Smolensk and Kaluga regions all reported shelling or drone attacks, with some buildings damaged and energy infrastructure targeted, although no fires at oil facilities or injuries were reported.
Within Ukraine, two people were killed and four wounded in Russian shelling of the village of Komyshevaha in the southern Zaporizhzhia region, the regional governor said.
A Russian-installed official in the same region said a number of people had been injured in Ukrainian shelling. Earlier he said Ukrainian forces had hit a "hospital camp".
In the eastern province of Donetsk, Russia said a new offensive had been launched by Chechen special forces.
Donetsk and Zaporizhzhia are two of four regions in eastern and southern Ukraine that Russia claims to have annexed in the invasion launched by Putin on February 24, 2022 to "demilitarise" a country it said threatened Russian-speakers and Russia with its moves towards the West.
Thousands of people in Ukraine have since been killed in Russian attacks, millions have fled and towns and cities have been devastated, particularly in Russian-speaking areas.