Russian rocket hits Ukraine clinic
Two killed, 23 injured in Dnipro; Kyiv shoots down 10 missiles; Moscow sees long war ahead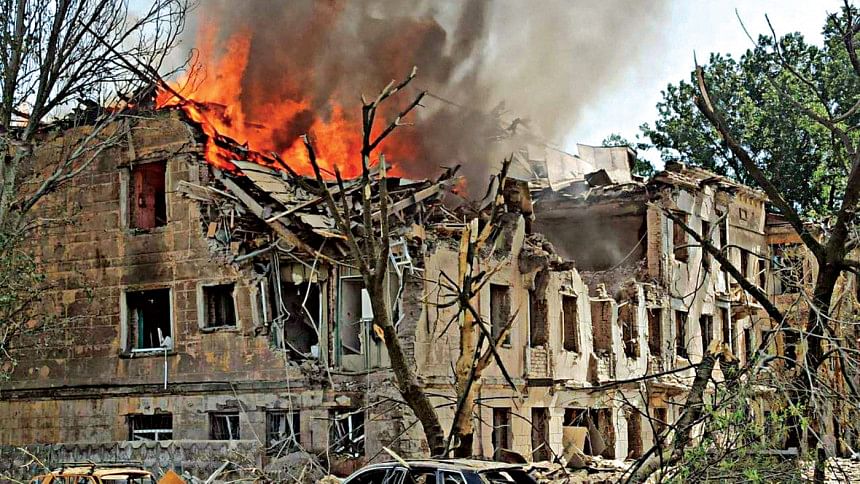 A Russian missile hit a clinic in the eastern Ukrainian city of Dnipro yesterday, killing at least two people and wounding 23 in an attack that President Volodymyr Zelensky described as a crime against humanity.
Video footage showed a devastated building with smoke pouring out of it and rescue workers looking on. Much of the upper floor of what appeared to be a three-storey building had been badly damaged, as had cars parked nearby.
"Another (Russian) missile attack, another crime against humanity," Zelensky wrote on Twitter. "The buildings of a psychological clinic and a veterinary clinic in the city of Dnipro were destroyed."
"Only an evil state can fight against clinics. There can be no military purpose in this. It is pure Russian terror," he said.
Russia has denied repeated accusations that its soldiers have committed war crimes in Ukraine.
Ukrainian officials said earlier yesterday that air defences had shot down 10 missiles and more than 20 drones launched by Russia in overnight attacks on the capital Kyiv, Dnipro and eastern regions.
Meanwhile, a senior ally of President Vladimir Putin said yesterday the conflict in Ukraine could last for decades and that negotiations with Ukraine were impossible as long as Ukraine's Western-backed Zelensky was in power.
"This conflict will last for a very long time. For decades, probably. This is a new reality," Russian Security Council Deputy Chairman Dmitry Medvedev was quoted as saying by Russian news agencies.
He said Russia could not trust any truce with the current rulers of Kyiv as the conflict would simply erupt again and so the very nature of the current government of Ukraine would have to be destroyed.
Top US officer General Mark Milley said Thursday that Russia will not achieve a military victory in Ukraine, while also cautioning that Kyiv is unlikely to force out all of Moscow's troops anytime soon, reports AFP.