Russia suffers 'deadliest day so far'
Ukraine says 1,030 Russians killed in 24 hrs as fighting intensifies in east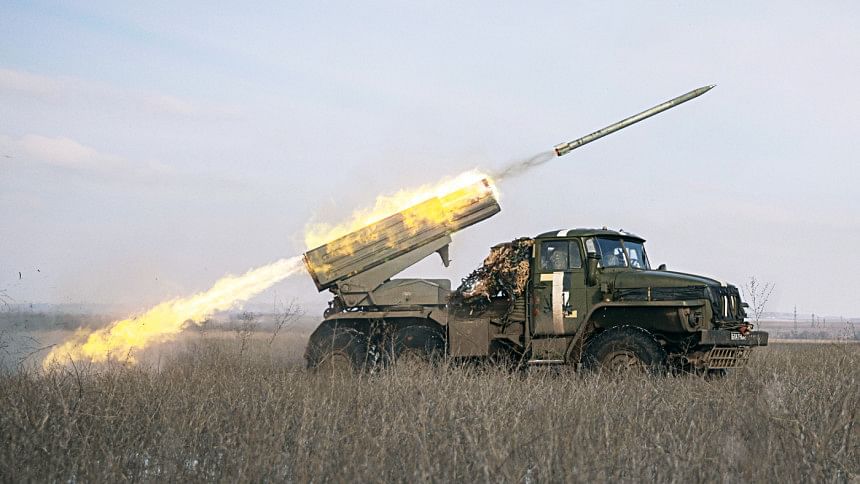 Ukraine yesterday said the last 24 hours were the deadliest of the war so far for Russian troops, as Moscow pressed on with an intensifying winter assault in the east bringing tens of thousands of freshly mobilised troops to the battlefield.
The Ukrainian claim could not be independently verified and Russia denies its forces have suffered such losses and also claimed to have killed large numbers of Ukrainian troops in recent weeks.
Tallies of enemy casualties from either side have typically been seen as unreliable, and Kyiv offered few details of the latest battles.
But the assertion that the fighting was the deadliest so far fits descriptions from both sides of an escalating campaign of close contact trench warfare, which has left snow-covered battlefields of eastern Ukraine littered with corpses.
The Ukrainian military increased its running tally of Russian military dead by 1,030 overnight to 133,190, and described the increase as the highest of the war so far. For its part, Russia said it had inflicted 6,500 Ukrainian casualties in the month of January.
The war is soon entering its second year at a pivotal juncture, with Moscow attempting to regain the initiative while Kyiv holds out for Western tanks to mount a counter-offensive later in 2023.
After Russia failed to capture the Ukrainian capital last year and lost ground in the second half of 2022, Moscow is now making full use of hundreds of thousands of troops it called up in its first mobilisation since World War Two.
Kyiv and the West say Russia has been pouring troops and mercenaries into eastern Ukraine in recent weeks in hopes of being able to claim new gains around the time of the first anniversary of its full-scale invasion later this month.
The last few weeks have seen Russia boast its first gains for half a year. But the progress has still been incremental, with Moscow yet to capture a single major population centre in its winter campaign despite thousands of dead, reports Reuters.
Fighting has focused for months around the Ukrainian-held Bakhmut in eastern Donetsk province, a city with a pre-war population of around 75,000. Russia has made clear progress towards encircling it from both the north and south, but Kyiv says its garrison is holding fast.
A new US package of weapons is expected to include longer-range rockets, which would give Ukraine the ability to hit Russian supply lines in all of the territory it occupies in Ukraine's mainland and parts of the Crimea peninsula.
But it will take months before they arrive, and meanwhile Ukraine faces a Russian force with its manpower replenished by Moscow's call-up of reservists. Moscow says the Western supplies of arms only widen and extend the conflict.
"The US and its allies are trying to prolong the conflict as much as possible," Russian Defence Minister Sergei Shoigu said yesterday in a conference call with military officials.
"To do this, they have started supplying heavy offensive weapons, openly urging Ukraine to seize our territories. In fact, such steps are dragging Nato countries into the conflict and could lead to an unpredictable level of escalation."