Russia strikes grain facilities in southern Ukraine
Pounds Avdiivka in east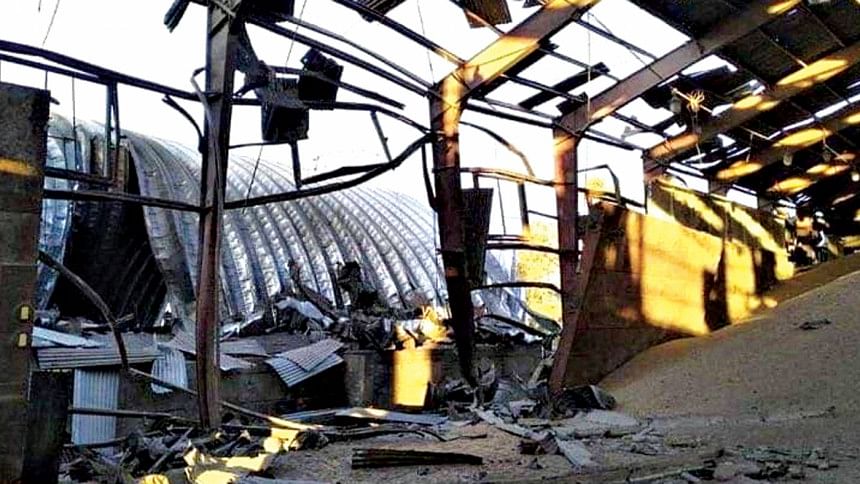 Russia pounded port and grain facilities in southern Ukraine yesterday and launched new attacks on the eastern town of Avdiivka in one of its biggest offensive operations in months.
Underlining the intensity and importance of the assault on Avdiivka, President Volodymyr Zelensky said Ukrainian forces were holding their ground. Ukraine's military said it had repelled more than 10 Russian attacks near the town.
The military says Moscow's forces have redirected a lot of troops and equipment to Avdiivka, hitting back more than four months into a Ukrainian counteroffensive in the east and south that has encountered stiff Russian resistance.
"Avdiivka. We are holding our ground. It is Ukrainian courage and unity that will determine how this war will end," Zelensky wrote on the Telegram messaging app alongside photos of Ukrainian troops and of Avdiivka's entrance sign.
Avdiivka is home to a big coking plant in the southwest of the Donetsk region and lies just northwest of the Russian-held city of Donetsk. It has become a symbol of resistance since Russia's invasion in February 2022, and has helped ensure Moscow could not gain full control of a region it says it has annexed.
Russia has also intensified air strikes on Danube River ports in the southern Odesa region that have become Kyiv's main route for food exports since Moscow quit a deal allowing shipments via the Black Sea in July.
In the latest attack, a military spokesperson said a grain storage facility had been hit in the Odesa region. She said some grain had been damaged but did not say how much.
Ukraine fears Russia will also intensify attacks on power infrastructure as winter sets in, as it did last winter, and Zelensky met Nato leaders on Wednesday as part of efforts to secure more air defences.
He won assurances that military aid would continue even as Western attention turns to the Israeli-Palestinian conflict. After months of besieging Avdiivka, Russian forces began their assault on the town this week.
It is one of the few big offensives Moscow has launched in months as its troops focus on holding back Kyiv's counteroffensive, which has made slow progress through vast Russian minefields and heavily fortified trenches.
Oleksandr Shtupun, a spokesperson for Ukraine's southern group of forces, said Russia saw Avdiivka as an opportunity to win a significant victory and "turn the tide of fighting".
"Today the capture or encirclement of Avdiivka is probably the most it can achieve at this stage," he said.
The Institute for the Study of War (ISW), an American non-profit research group and think-tank, said Russian attacks in the Avdiivka area were probably intended to tie up Ukrainian forces and prevent them redeploying to other areas of the front.
Referring to villages around Avdiivka, it said "geolocated footage from October 10 and 11 confirms that Russian troops advanced southwest of Avdiivka near Sieverne and northwest of Avdiivka near Stepove and Krasnohorivka".
"The hypothetical capture of Avdiivka will not open new routes of advance to the rest of Donetsk Oblast," it added, referring to the Russian aim to fully occupy the Donetsk region.
The town is heavily fortified and the ISW said that encircling it "would very likely require more forces than Russia has currently dedicated" to its offensive.
Ukraine says Russia has also redeployed large numbers of troops to the Lyman-Kupiansk sector of the front line in the east as they battle to regain ground.
In other fighting, Ukraine said it had thwarted an attempt overnight by a Russian eight-member saboteur group to cross its northeastern border in the Sumy region.