Xi warns Biden over Taiwan: "Those playing with fire will be burned"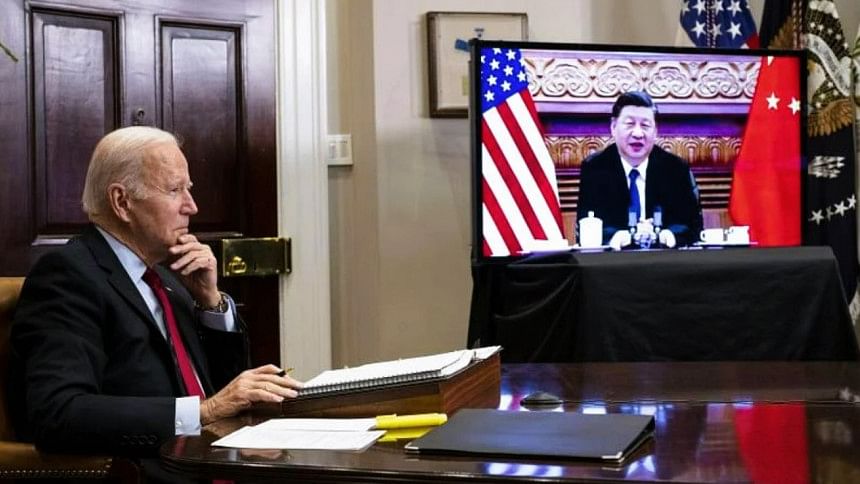 In a "candid" phone conversation on Thursday night (July 28), Chinese President Xi Jinping warned his American counterpart Joe Biden against supporting Taiwanese independence, saying those who play with fire will be burned, state media reported.
The scheduled phone call - their fifth since Mr Biden took office last year - touched on a range of issues including strategic competition, global security and Ukraine.
The two presidents also agreed to schedule what would be their first in-person summit since Mr Biden took office, an US official told reporters.
They "discussed the value of meeting face-to-face and agreed to have their teams follow up to find a mutually agreeable time to do so", the official said, speaking on condition of anonymity.
Lasting over two hours, Thursday's call comes amid heightened tensions between China and the United States as concerns mount over a possible visit to Taiwan by US House of Representatives Speaker Nancy Pelosi.
Repeating China's position of "firmly opposing" any independence, Mr Xi said it is the "firm will" of the Chinese people to safeguard the country's sovereignty and territorial integrity.
"Public opinion cannot be violated. Those who play with fire will be burned. I hope the US can clearly see this," Mr Xi said, according to a readout from the official Xinhua news agency.
Beijing and Washington are still embroiled in a trade war and tensions between both countries are at an all-time high, with the US and its allies calling out China for being the greatest threat both in the security and economic arenas.
"To view and define Sino-US relations from the perspective of strategic competition, and to regard China as the most important opponent and the most severe long-term challenge, is a misjudgment of Sino-US relations and a misinterpretation of China's development," Mr Xi said.
"This misleads the people of both countries and the international community."
Calling on both sides to keep communicating, Mr Xi said decoupling the world's two largest economies will be detrimental to global supply chains and the international order.
In a brief statement, the White House said that Mr Biden underscored that US policy had not changed, and that Washington "strongly opposes unilateral efforts to change the status quo or undermine peace and stability across the Taiwan Strait".
It added that the two presidents also discussed a range of issues important to the bilateral relationship and other regional and global issues, and that their teams would continue to follow up on the conversation, particularly regarding climate change and health security.
"The call was a part of the Biden administration's efforts to maintain and deepen lines of communication between the United States and the PRC and responsibly manage our differences and work together where our interests align," said the White House, referring to China by its abbreviated official name of People's Republic of China.
The phone call follows National Security Adviser Jake Sullivan's meeting in Luxembourg in June with China's top diplomat Yang Jiechi, as well as Secretary of State Antony Blinken's meeting with Foreign Minister Wang Yi in Bali earlier this month.
Copyright: The Straits Times/ Asia News Network