World worse now due to Covid, climate, conflict
Says Guterres as he starts his second term as UN chief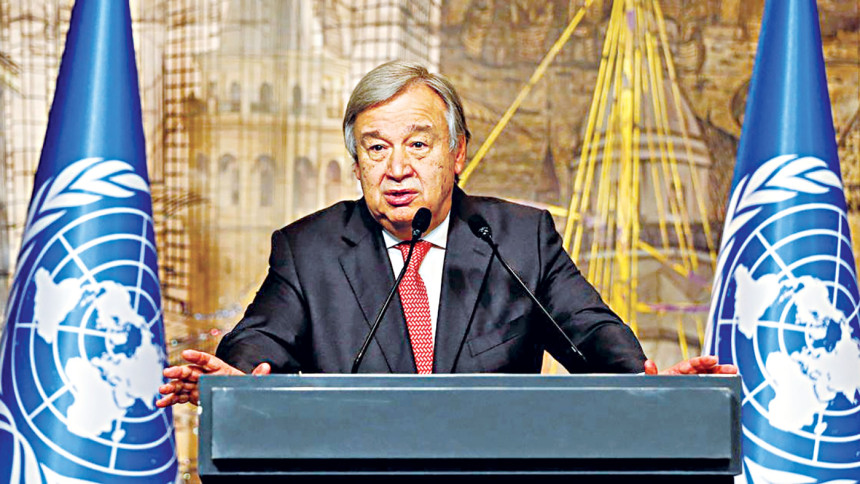 As he starts his second term as UN secretary-general, Antonio Guterres said Thursday the world is worse in many ways than it was five years ago because of the Covid-19 pandemic, the climate crisis and geopolitical tensions that have sparked conflicts everywhere — but unlike US President Joe Biden he thinks Russia will not invade Ukraine.
Guterres said in an interview with The Associated Press that the appeal for peace he issued on his first day in the UN's top job on Jan 1, 2017 and his priorities in his first term of trying to prevent conflicts and tackle global inequalities, the Covid-19 crisis and a warming planet haven't changed.
"The secretary-general of the UN has no power," Guterres said. "We can have influence. I can persuade. I can mediate, but I have no power."
Before he became UN chief, Guterres said he envisioned the post as being "a convener, a mediator, a bridge-builder and an honest broker to help find solutions that benefit everyone involved." He said Thursday these are things"I need to do every day."
As an example, the secretary-general said this week he spoke to the African Union's envoy Olusegun Obasanjo, twice with Kenya's President Uhuru Kenyatta, and once with Ethiopia's Prime Minister Abiy Ahmed in his attempt to get a cessation of hostilities in Ethiopia between the government and forces in the embattled Tigray region.
"I hope that we are in a situation in which it might become soon possible to have a cessation of hostilities and that is where I'm concentrating most of my efforts," Guterres said.
In another example, Guterres said he has also been on the phone to try to get Mali's military leaders who recently delayed elections scheduled for next month to 2026 to reduce the timetable.
Guterres said the UN Security Council is divided, especially its five veto-wielding permanent members.
On the issue on every country's front burner now — whether Russia, which has massed 100,000 troops on Ukraine's border, will invade the former Soviet republic — Guterres said, "I do not think Russia will invade Ukraine, and I hope that my belief is correct."
He also stressed that the Afghan people can't be collectively punished for "wrong things that are done by the Taliban," so it is absolutely essential to massively increase humanitarian aid "because the Afghans are in a desperate situation with the risks of deaths by hunger" and disease in a frigid winter with Covid-19.
"More than half the population is in desperate need of humanitarian aid," he said, and money needs to be injected into the economy to ensure Afghan banks operate and doctors, teachers, other workers are paid to prevent the economic collapse.
The issue of recognition of the Taliban government is up to member states, Guterres said, but the UN has been pressing the Taliban to ensure human rights.