Vanuatu battered by back-to-back earthquakes, cyclones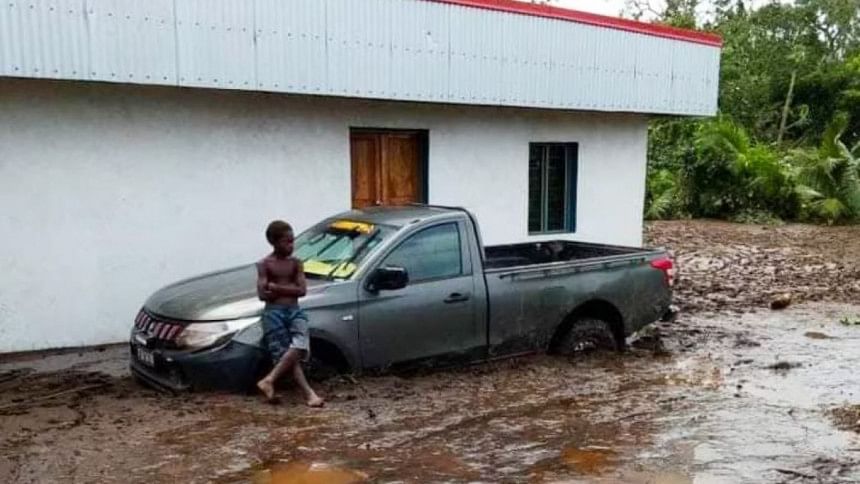 The Pacific nation of Vanuatu was under a state of emergency Friday, after two earthquakes and two cyclones hit in as many days.
As the country cleared roads and restored power lines cut by Cyclone Judy, residents were jolted early Friday by twin earthquakes and told to hunker down for a second approaching storm -- Cyclone Kevin.
"It's crazy, Vanuatu is used to natural disasters, but I think this is the first time it has had two cyclones back to back," Unicef's Eric Durpaire told AFP.
Authorities have reported no casualties from Cyclone Judy, which tore off roofs, flooded roads and uprooted countless trees.
Hundreds of people remain in emergency evacuation centres in the capital Port Vila, according to police, and some parts of the capital have been without power for two days.
No casualties were immediately reported from Friday's 6.5 and 5.4 magnitude quakes. But the situation on outlying islands remained unclear.
"People on (Espiritu) Santo felt the earthquake, but couldn't go outside to assess the damage because of the high winds," Dickinson Tevi, secretary general of the Vanuatu Red Cross Society told AFP.
"They told me they didn't sleep well as the earthquake hit when they were already awake from the cyclone."
Disaster response agencies are braced for further damage from Cyclone Kevin and a long recovery ahead.
"It's like a car crash -- first there is the big shock, then long-term problems come afterwards," said Durpaire.
"Medical centres, hospitals and schools will have been affected. Some children may not be able to go to school for weeks, maybe months."
As Cyclone Kevin edged closer to Port Vila, packing winds of 130 kilometres (81 miles) per hour, Prime Minister Ishmael Kalsakau announced a state of emergency.
"After the aerial assessment reports and evaluations on the ground, we will be able to declare the disaster areas in the places that have been severely damaged," he said.
He called on local authorities to "support the communities in their clean-up and prevent the spread of diseases".
Vanuatu is in the Pacific "Ring of Fire", where tectonic plates collide, and experiences frequent seismic and volcanic activity.