Two attackers set off bomb
Blast leaves both of them dead; two cops hurt; Kurdish PKK claims responsibility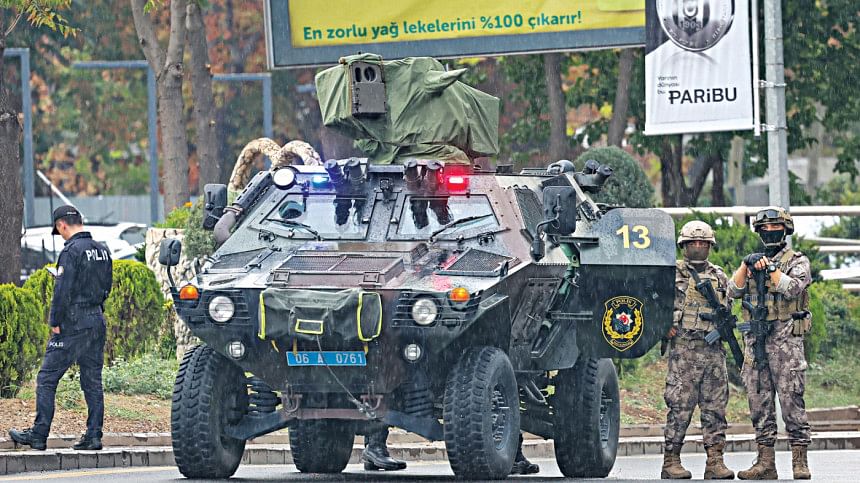 Two attackers detonated a bomb in front of Turkish government buildings in Ankara yesterday in an assault that left both of them dead and two police officers wounded, in what authorities called the capital's first terrorist attack in years.
CCTV footage obtained by Reuters showed a vehicle pulling up to the Interior Ministry's main gate and one of its occupants quickly walking toward the building before being engulfed in an explosion, while the other remains on the street.
The blast killed one of the terrorists and authorities "neutralized", or killed, the other, the interior minister said of the incident that rattled a central district that is home to ministerial buildings and nearby parliament.
In a speech at the opening of a new parliamentary session hours later, President Tayyip Erdogan called the morning attack "the latest attempt" to inflict terror on Turks.
"Those who threaten the peace and security of citizens have not achieved their goals and never will," he said.  Turkey's Kurdish PKK claimed responsibility for the attack.
The bomb on Ataturk Boulevard was the first in Ankara since 2016, when a spate of deadly attacks gripped the country. Video afterward showed a Renault cargo vehicle parked there, windows shattered and doors open, amid debris and surrounded by soldiers, ambulances, fire trucks and armoured vehicles.
A senior Turkish official told Reuters the attackers had hijacked the vehicle and killed its driver in Kayseri, a city 260 km (161 miles) southeast of Ankara, before carrying out the attack. One of the injured officers suffered shrapnel injuries, he added.