Russian air strikes repelled over Kyiv
Regional airfield hit; missile attack on Dnipro kills 2-year-old, injures 22; five drones shot down in Crimea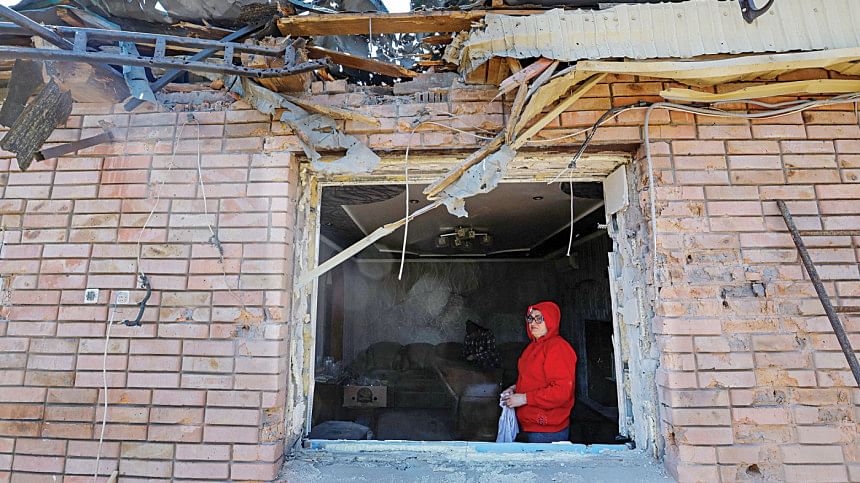 Russia launched a fresh wave of air strikes against Ukraine early yesterday, striking an airfield in a central region but failing to hit the capital Kyiv, Ukrainian authorities said.
Air force spokesman Yuriy Ihnat told local television that four of six cruise missiles had been shot down by air defences but that two had struck an "operational airfield" near the central city of Kropyvnytskyi.
He added that two of the five Iranian-made drones launched by Russia had struck infrastructure in the northern Sumy region.
Kyiv officials said air defences had downed all projectiles that had been aimed at the capital before they reached the city.
Separately, a 2-year-old girl was killed and 22 people were wounded in an earlier Russian missile strike yesterday near the central Ukrainian city of Dnipro, the regional governor said.
Russia has stepped up regular attacks on Kyiv since May, especially at night, in what officials say is an attempt to damage morale ahead of a long-expected Ukrainian counteroffensive to reclaim Russian-occupied territory.
"For the second night in a row, Kyivans are not hearing the sounds of explosions overhead," Serhiy Popko, head of the local military administration, said on Telegram.
All of Ukraine was under air-raid alerts for nearly three hours.
Meanwhile, five drones were shot down and four were jammed and did not hit their targets in Dzhankoi in Crimea, a Russian-installed official in the peninsula that Moscow annexed from Ukraine in 2014 said yesterday.
There were no casualties but windows were broken in several houses, Sergei Aksyonov, the Russian-backed head of Crimea's administration, said on the Telegram messaging app.
He added that one unexploded drone was found on the territory of a residential house, forcing the temporary evacuation of about 50 people in the area.
Russia has a military air base near Dzhankoi. Ukrainian officials have long said the city and surrounding areas have been turned into Moscow's largest military base in Crimea.
Shelling and strikes by Ukrainian forces on Russia's Belgorod region killed two people on Saturday as hundreds of children were evacuated away from the border, Governor Vyacheslav Gladkov said.
"The children of Shebekino are very worried about their hometown," Gladkov said on the Telegram channel after escorting about 600 of them from the region's Shebekino and Graivoron districts to Yaroslavl and Kaluga.
A senior Ukrainian government official yesterday expressed "disbelief" after learning that nearly half of Kyiv bomb shelters inspected during an initial audit were closed or unfit for use.
President Volodymyr Zelensky ordered an inspection of all Ukrainian shelters on Friday, a day after three people were killed in Kyiv when they were unable to access one during a Russian air strike.
Oleksandr Kamyshin, Ukraine's minister of strategic industries, said that out of 1,078 shelters examined on the first day, 359 were unprepared and another 122 locked, while 597 were found to be usable.
"I greeted with disbelief that fact that half were open and considered ready," he wrote on the Telegram messaging app.
Kamyshin said the inspections would continue.
The Kremlin said yesterday that any supply of long-range missiles to Kyiv by France and Germany would lead to a further round of "spiralling tension" in the Ukraine conflict.
Britain last month became the first country to supply Ukraine with long-range cruise missiles.
Ukraine has asked Germany for Taurus cruise missiles, which have a range of 500 km (311 miles), while President Emmanuel Macron has said France will give Ukraine missiles with a range allowing it to carry out its long-anticipated counteroffensive.