Karabakh exodus grows after offensive
Over 19,000 Armenians flee the breakaway region; fuel depot blast kills 20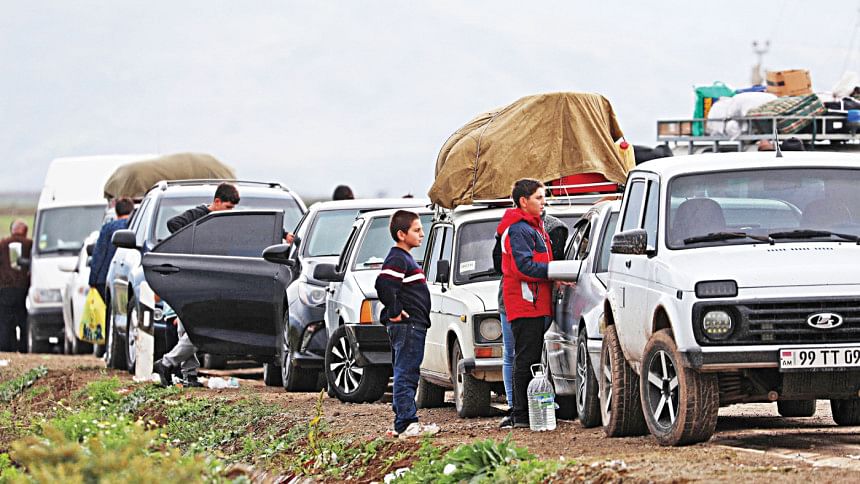 Thousands more Armenian refugees fled Nagorno-Karabakh yesterday as officials in Azerbaijan's war-scarred separatist statelet raised the death toll from a fuel blast to 20.
The number of deaths from Monday's disaster threatened to grow much higher because dozens were being treated in critical condition and many remained unaccounted for.
Most of the victims were stocking up on fuel for the trip down the so-called Lachin Corridor connecting the impoverished and historically disputed region with Armenia.
Yerevan has warned of possible "ethnic cleansing" by Azerbaijan -- a close ally of Armenia's arch-nemesis Turkey -- after Baku claimed full control of the region in a lightning offensive last week.
Armenians, mostly Christian, and Azerbaijanis, mostly Muslim, have fought two wars over the mountainous territory since the Soviet Union's 1991 collapse that has claimed tens of thousands of lives.
The area is now populated by up to 120,000 ethnic Armenians but is internationally recognised as part Azerbaijan.
Armenia said yesterday that more than 19,000 refugees had fled since the first group arrived in the country on Sunday. Azerbaijani border guards sought out "war crime" suspects in the sea of refugees.
Meanwhile, the United States called on Azerbaijan to protect civilians and let in aid. An AFP team along the Lachin Corridor saw hundreds of cars piled high with belongings moving slowly along the jam-packed road.
Some of the vehicles crept along on flat tyres and many people simply walked past the last Azerbaijani checkpoint. The influx overwhelmed the border town of Goris -- the first port of call for most families.
"We lived through terrible days," said Anabel Ghulasyan, 41, from the village of Rev, known as Shalva in Azeri.
Many slept in their cars, emerging yesterday with red-rimmed eyes and forming long queues outside shops to buy phone cards.
Adding to the humanitarian drama, the separatist government yesterday said 13 bodies were found at the scene of a fuel depot blast on Monday and seven more people had died of their injuries.
It said 290 people had been hospitalised and "dozens of patients remain in critical condition".
Armenia's health ministry said it had sent a team of doctors to the rebel stronghold of Stepanakert by helicopter. The Azerbaijani presidency said Baku had also sent medicine to help the wounded.
But treatment was being complicated because local hospitals had run low on medications after a nine-month blockade Azerbaijan had imposed to bring the region to heel.
Azerbaijan turned on the electricity of the rebel stronghold Stepanakert on Sunday, switching it to its own power grid as part of a "reintegration" drive.
Envoys from Baku and Yerevan were in Brussels yesterday to pave the way for the first meeting between their leaders since last week's offensive on October 5.
Yesterday's talks between national security advisers of the two countries and European heavyweights Germany and France will be chaired by the chief diplomatic adviser to European Council president Charles Michel.
Azerbaijan's operation on September 19 to seize control of the territory forced the separatists to lay down their arms under the terms of a ceasefire agreed the following day.