Junta must take first step to end violence
Ex-UN Chief Ban Ki Moon urges during Myanmar visit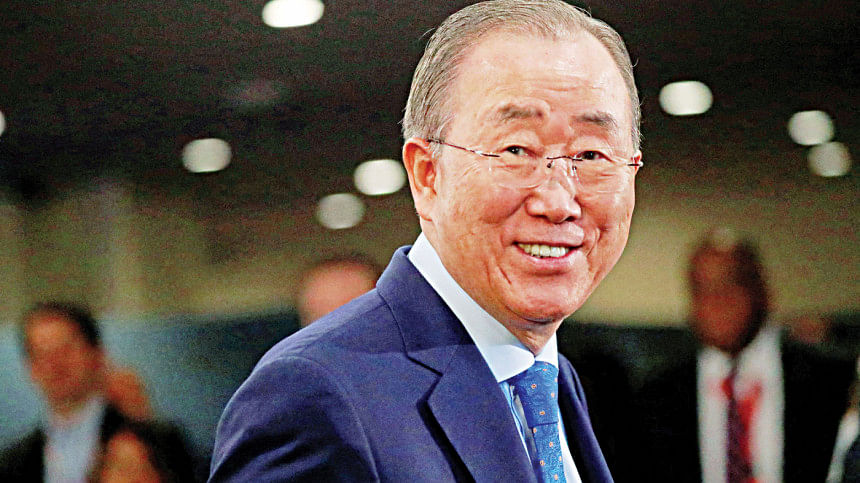 Former UN chief Ban Ki-Moon yesterday called for an end to violence in Myanmar after meeting the leader of its ruling military, which he said "must take the first steps".
Ban met junta chief Min Aung Hlaing and a reformist ex-president, Thein Sein, this week in what was seen as a peacemaking mission to the strife-torn country.
Myanmar has been in crisis since the military ousted an elected government led by Nobel Peace Prize laureate Aung San Suu Kyi in February 2021, with the generals struggling to consolidate power and fighting on multiple fronts against ethnic minority insurgents and an armed pro-democracy movement.
"I came to Myanmar to urge the military to adopt an immediate cessation of violence, and start constructive dialogue among all parties concerned," Ban said in a statement issued by "The Elders", a group of former global leaders of which he is deputy chair.
The state-run Global New Light of Myanmar newspaper reported that Ban and Min Aung Hlaing "exchanged views on the latest progress of Myanmar and cordially discussed it with constructive attitudes".
The surprise visit on Sunday was at the invitation of the military and Ban, who is South Korean, urged the generals to act on a peace consensus agreed in 2021 with the Association of Southeast Asian Nations (ASEAN).
Ban "warned that ... holding elections under current conditions risks further violence and division, and the results not being recognised by the people of Myanmar, ASEAN and the wider international community".
Min Aung Hlaing said in February that multi-party elections must be held "as the people desire", but did not provide a timeline.
Ban made multiple trips to Myanmar with the UN before a tentative transition began in 2011 after five decades of military rule, supporting political and economic reforms under retired general Thein Sein that were reversed by the coup.
There has been no sign of any let-up in violence in Myanmar.
More than 100 people were killed on April 11 in an air strike by the military on a village, according to opposition activists and media.
Suu Kyi is serving 33 years in prison for various offences that she denied and her party has been disbanded.