Get anti-poverty goals back on track
UN chief urges world leaders at the SDG summit in New York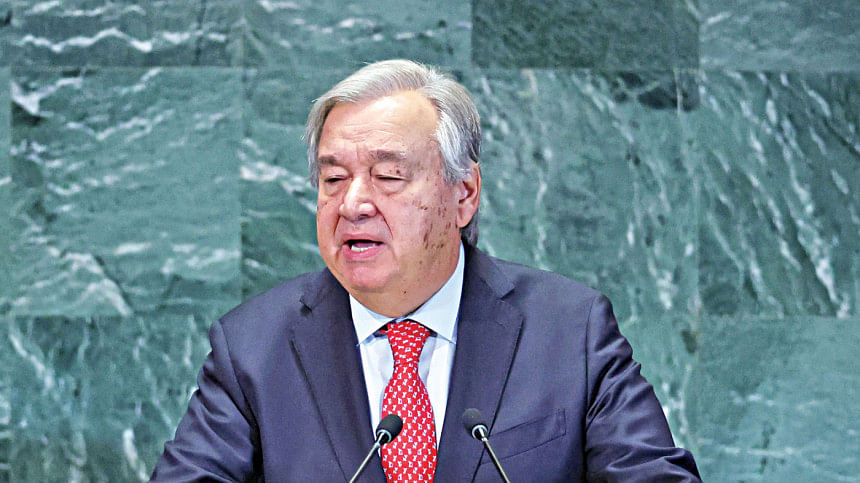 UN Secretary-General Antonio Guterres yesterday called on world leaders to get the Sustainable Development Goals (SDGs) – a universal goal to end poverty in all its forms by 2030 – back on track as the world's biggest diplomatic gathering kicks off.
The UN General Assembly opened its 78th session with the SDG Summit in its New York headquarters.
Addressing world leaders, Guterres called for $500 billion in investment a year to get the SGDs on track, reports Anadolu news agency.
"The SDGs aren't just a list of goals. They carry the hopes, dreams, rights and expectations of people everywhere," Guterres said. "A promise to build a world of health, progress and opportunity for all. A promise to leave no one behind. And a promise to pay for it...It was — always — a promise to people."
He said that only 15 percent of the targets are on track and that many are going in reverse.
He also called for an effective debt-relief mechanism that supports payment suspensions, longer lending terms, and lower rates for developing countries.
"At the halfway point to the SDG deadline, the eyes of the world are on you once again," Guterres said.
World leaders will seek this week to salvage stalled global targets to fight issues such as hunger, poverty and climate change that have been knocked off course in recent years by the Covid pandemic and economic headwinds.
"It's time to take a hard look at how badly we are off track," said John Gilroy, climate and sustainable development lead for the Permanent Mission of Ireland to the United Nations.
Ireland and Qatar are co-facilitators of the political declaration due to be adopted at the summit in New York, reports Reuters.
"There's kind of a somber tone - and that's appropriate," Gilroy told a think-tank discussion on the SDGs last week.
Nearly half of targets in the 17 goals are moderately or severely behind schedule, said a UN assessment released earlier this year. The political declaration released this month warned that achievement of the SDGs was "in peril" and that hunger and malnutrition were on the rise.
"At the midpoint of the 2030 Agenda, we are alarmed that the progress on most of the SDGs is either moving much too slowly or has regressed below the 2015 baseline," the declaration said.
The UN this month also released research in collaboration with 95 developing nations that found 72 of them reported an increase in planet-heating emissions since 2019, and only one in five cut poverty levels – key metrics in the SDG agenda.
Other goals include expanding access to clean water and fighting gender inequality.
When laying out the SDGs eight years ago, officials could not anticipate the pandemic and economic pressures that have sent interest rates skyrocketing and curbed countries' ability to borrow, Achim Steiner, head of the UN Development Programme (UNDP), told reporters last week.
Many countries are defaulting back "to a kind of recovery-growth trajectory that rightly focuses on jobs and incomes and also on managing the crisis - but actually also locks us in to pathways that will ultimately exacerbate inequality," he said.
The growing effects of climate change are also hampering progress to meet key goals, researchers say.
Rising temperatures and more frequent storms are aggravating hunger and making it harder for people to access healthcare and clean water, said research released this month by the World Meteorological Organization (WMO).
Climate is the "linchpin" for social justice issues facing the world, said Jean Su, energy justice program director at the Center for Biological Diversity, an environmental nonprofit.