First records of human kissing may date back 2,500 BCE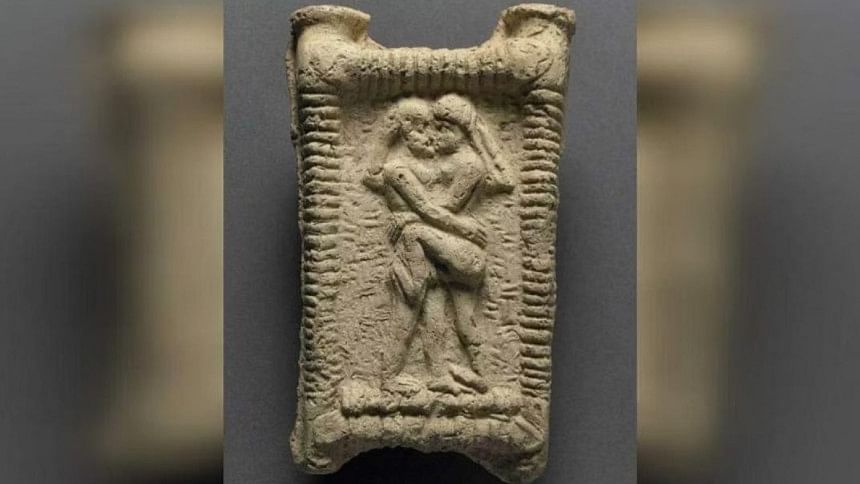 India may have given the world the Kama Sutra, an ancient Sanskrit text on sexuality, eroticism and emotional fulfilment in life, but it is no longer thought to be the birthplace of humanity's earliest recorded kiss.
New research now says humans first locked lips a thousand years earlier than previously thought, in ancient Mesopotamia, a region that covers today's Iraq and Syria.
There is also evidence to suggest that kissing may have helped spread orally transmitted diseases, said scientists in an article published on Thursday in the journal Science.
Lip kissing was documented in ancient Mesopotamia from at least 2500BCE, the article said.
Previous studies had pointed to the earliest evidence of kissing coming from modern-day India in around 1500BCE.
Friendly parental kissing appears to be common among humans across time and geography.
However, romantic-sexual kissing was not found to be culturally universal. That said, it must have been known in most ancient cultures, the researchers said.
In the earliest texts from Mesopotamia, kissing was described in relation to erotic acts.
"Two texts from (around) 1800BCE are especially revealing. One describes how a married woman was almost led astray by a kiss from another man, and the other describes an unmarried woman swearing to avoid kissing and having sexual relations with a specific man," wrote researchers Dr Troels Pank Arboll from the University of Copenhagen in Denmark, and Oxford University's Dr Sophie Lund Rasmussen, in the article in Science.
The research suggested that romantic-sexual kissing evolved as a means of evaluating a potential mate's suitability, mediating feelings of attachment between a couple, and facilitating sexual arousal.
Kissing occurs in other animal species as well.
For example, bonobos engage in mouth-to-mouth kisses with a romantic-sexual purpose, while chimpanzees use platonic kisses to manage social relationships.
And since they are the closest living relatives to humans, scientists say their practices may hint at the presence and evolution of this behaviour in our human ancestors.
But beyond fulfilling social and romantic-sexual functions, kissing also unfortunately helped transmit pathogens such as herpes simplex virus 1 (HSV-1), a highly contagious bacterial infection.
A disease called bu'shanu was described in ancient medical texts. Researchers say it might have reflected HSV-1 as well as other modern diseases, such as diphtheria.
At the same time, the researchers say these texts cannot be read at face value. This is because the texts were influenced by cultural and religious concepts specific to that time.
Indeed, ancient Mesopotamia had a different way of thinking about how humans contracted diseases, and people did not blame kissing for the spread of diseases, said researchers.
Be that as it may, certain cultural and religious factors were said to have instituted some controls over the practice of kissing. Those regulations may have then unintentionally reduced the spread of pathogens.
Copyright: The Straits Times/ Asia News Network