Blinken in Riyadh after Iran-Saudi détente
The US top diplomat to attend a Gulf Cooperation Council (GCC) ministerial meeting, a day after Iran reopens its embassy in Riyadh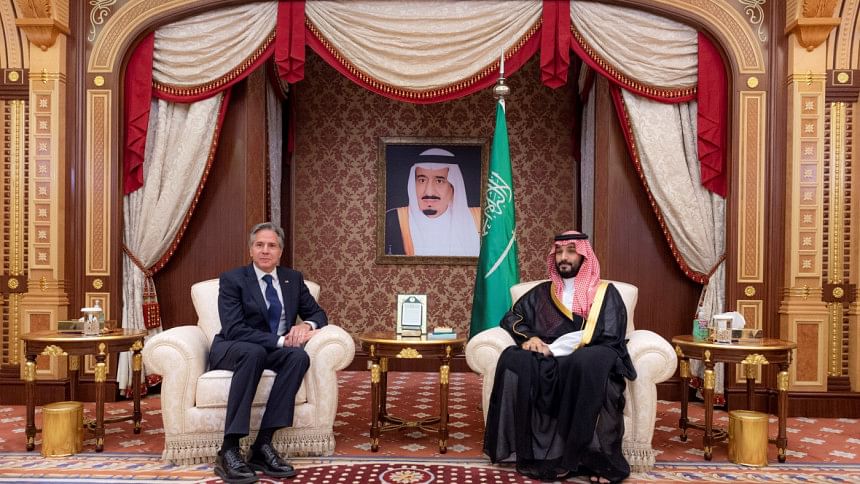 US Secretary of State Antony Blinken was to meet Gulf Arab officials in Saudi Arabia today at a time of rapidly shifting alliances following the oil-rich kingdom's rapprochement with Iran.
Blinken will attend a Gulf Cooperation Council (GCC) ministerial meeting in the capital Riyadh, a day after he flew into Jeddah and held talks with Saudi Arabia's de facto ruler Mohammed bin Salman, in which he raised human rights issues.
Relations between Washington and Riyadh, decades-old allies, have been strained in recent times mainly over human rights and oil, after US pleas for help in bringing down skyrocketing prices last year were dismissed.
The three-day visit is Blinken's first since the kingdom restored diplomatic ties with Iran, which the West considers a pariah over its contested nuclear activities and involvement in regional conflicts.
On Tuesday, the day Blinken arrived, Iran reopened its embassy in Riyadh after a seven-year closure, with Iranian Deputy Foreign Minister Alireza Bigdeli hailing a "new era" in ties.
On the same day, Prince Mohammed hosted Venezuelan President Nicolas Maduro, the head of a fellow oil power who has long sparred with Washington.
Last month, in a major shift, Syrian leader Bashar al-Assad attended an Arab League summit in Jeddah, his first since Syria's membership was suspended at the start of a 12-year civil war. Washington criticised the decision to invite Assad.
- 'Open, candid discussion' -
Wednesday's meeting at the GCC headquarters in Riyadh was expected to be attended by Qatar's prime minister among other top Gulf officials.
On the agenda were key regional issues, including conflicts in Yemen, Sudan, Syria and the Palestinian territories, Qatar's foreign ministry spokesperson Majid al-Ansari said on Tuesday.
"The meeting undoubtedly constitutes an opportunity to draw a common position here in the region in relation to the United States of America and to define the form of the American positive influence in the region through partnership with the GCC," he said.
Later, Blinken will hold separate talks with Saudi Foreign Minister Prince Faisal bin Farhan.
Blinken's visit is aimed at boosting ties with longtime ally Saudi Arabia, which has begun forging closer relations with Washington's rivals.
The visit will also focus on efforts to end conflicts in Sudan and Yemen, the joint battle against the Islamic State group (IS) and the Arab world's relations with Israel.
Blinken had "an open, candid discussion" with the 37-year-old Prince Mohammed in Jeddah, a US official said on condition of anonymity.
"The secretary raised human rights both generally and with regards to specific issues," the official said.
The meeting, which lasted about 100 minutes, touched on topics including Saudi Arabia's support for US evacuations from Sudan, the need for political dialogue in Yemen and the potential for the normalisation of relations with Israel.
The two men discussed "our shared priorities, including countering terrorism through the D-ISIS Coalition, achieving peace in Yemen, and deepening economic and scientific cooperation", Blinken said on social media.
Since announcing resumed relations with Iran in March, Saudi Arabia has restored ties with Tehran ally Syria and ramped up a push for peace in Yemen, where it has for years led a military coalition against the Iran-backed Huthi rebels.
Regional heavyweights Saudi Arabia and Iran have been at loggerheads for years, backing opposing sides in a number of conflicts around the volatile region.