Bakhmut: Why Russia, Ukraine battling so hard for one small city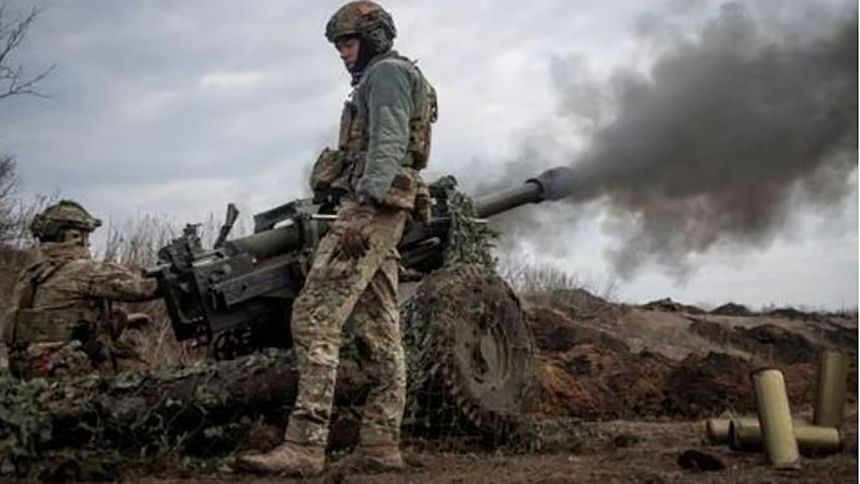 Over 90% of its residents have fled, much of it lies in ruins, tens of thousands have been killed, and its strategic importance has been played down by the Pentagon and Nato chiefs. Yet Russia and Ukraine are still battling for the small city of Bakhmut.
After eight months of trench warfare Ukrainian forces are surrounded on three sides, Kyiv's supply lines are fraying, and Moscow says it is in control of just over two thirds of Bakhmut, including part of the centre.
Still, Ukraine has pledged to keep defending the city and is engaged in fierce street fighting in western districts even as both sides take heavy casualties.
Some leading Western military analysts have suggested it might make sense for Ukrainian forces to fall back to a new fortified defensive line, but Kyiv has clung on.
Volodymr Zelenskiy, Ukraine's president, has portrayed "Fortress Bakhmut" as a symbol of defiance which is bleeding the Russian military dry, though he did say on Wednesday that his forces could withdraw if they risked being encircled.
For Moscow, the fall of the city it calls by its Soviet-era name of Artyomovsk, would be its first major capture since mid-2022 and a boost in its wider war against Ukraine. It also claims to be decimating Ukrainian forces.
WHAT IS BAKHMUT?
The city is in Ukraine's Donetsk, part of the largely Russian-speaking industrialised Donbas region which Moscow wants to annex with its self-declared "special military operation."
It had a pre-war population of 70,000-80,000, but Deputy Ukrainian Prime Minister Iryna Vereshchuk said last month that fewer than 4,000 civilians, including 38 children, were thought to remain. The International Committee of the Red Cross (ICRC) has said that those left are eking out an existence in underground shelters under heavy shelling.
Reminiscent of World War One, the battle for Bakhmut has been fought from trenches with relentless artillery and rocket strikes across a heavily-mined battlefield described as a "meat grinder" by commanders on both sides. It has also involved house-to-house fighting.
The city has witnessed slaughter before: during World War Two, occupying Nazi troops herded 3,000 Jews into a nearby mine shaft and bricked it up, suffocating them.
KILLING ZONE?
Images of battlefields strewn with corpses from both sides have surfaced on social media, and Yevgeny Prigozhin, founder of Russia's Wagner mercenary force which is doing much of the fighting, has published a picture of his own dead fighters.
Casualty figures are classified, but US officials estimate that tens of thousands of Russian soldiers - many of them convicts recruited by Wagner - have been killed. A Russian-installed official said on Thursday that Moscow had killed 15,000-20,000 Ukrainian troops.
Reuters is unable to verify battlefield casualty figures.
Zelenskiy's aide Mykhailo Podolyak has said Ukraine is fighting on in Bakhmut because the battle is pinning down Russia's best units and degrading them ahead of a planned Ukrainian spring counter-offensive.
Konrad Muzyka, a Polish military analyst who visited the Bakhmut area with colleagues in March, said after his trip he thought it no longer made military sense to hold the city.
"The decision to defend Bakhmut is now a political one not a military one," Muzyka told Reuters, saying the scale and the costs of Ukrainian losses now outweighed the benefits of holding the city from a military point of view.
SPRINGBOARD FOR RUSSIA?
A regional transport and logistics hub, Bakhmut would be useful for Russian forces although that depends on how much of its infrastructure is intact.
More importantly, it would provide a stepping stone for Russia to advance on two bigger cities it has long coveted in the Donetsk region: Kramatorsk and Sloviansk.
Both would be in easy range of Russian artillery. Moscow needs to control both to complete what it calls its "liberation" of the "People's Republic of Donetsk."
Zelenskiy told CNN last month that he feared Russian forces would have "an open road" to the two cities if they took Bakhmut, and said his order to hold it was a tactical decision.
The nearby town of Chasiv Yar, west of Bakhmut, would probably be next to come under Russian attack, though it is on higher ground and Ukrainian forces are believed to have built defensive fortifications nearby.
Western analysts and diplomats are sceptical that Russian forces could swiftly capitalise on Bakhmut's capture given how long they have been fighting there - shelling the city since May and having launched a ground assault in August.
Russia's chaotic withdrawal from Ukraine's northeast last year also deprived it of territory that would have made it easier for its forces to seize cities like Sloviansk once they had control of Bakhmut.