Israel retakes control of Gaza border areas
Claims 1,500 Hamas fighters killed; UN says more than 180,000 Gaza dwellers made homeless
Israel said it recaptured Gaza border areas from Hamas fighters as the war's death toll passed 3,000 yesterday, the fourth day of fierce fighting since the Islamist group launched a surprise attack.
Prime Minister Benjamin Netanyahu has warned Israel's military campaign following Saturday's onslaught was only the start of a sustained war to destroy Hamas and "change the Middle East".
Fears of a regional conflagration have surged amid expectations of a looming Israeli ground incursion into Gaza, the crowded enclave from where Hamas launched its land, air and sea attack on the Jewish Sabbath.
The death toll in Israel has surged above 1,000 from the worst attack in the country's 75-year history, while Gaza officials have reported 765 people killed so far.
Israel's military said its forces had largely reclaimed the embattled south and the border around Gaza and dislodged holdout Hamas fighters from more than a dozen towns and kibbutzim.
"Around 1,500 bodies of Hamas (fighters) have been found in Israel around the Gaza Strip," said army spokesman Richard Hecht, adding security forces had "more or less restored control over the border" with the enclave.
Israel imposed a total siege on long-blockaded Gaza on Monday, cutting off the water supply, food, electricity and other essential supplies, reports AFP.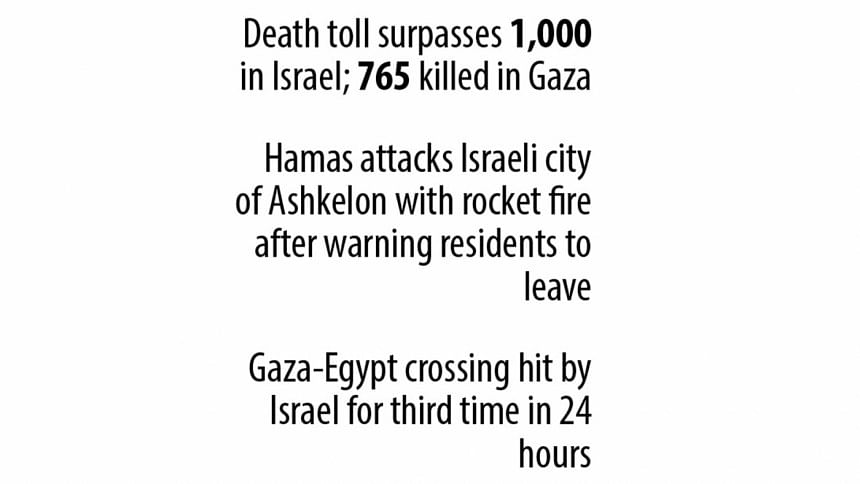 United Nations chief Antonio Guterres said he was "deeply distressed" by the siege announcement and warned Gaza's already dire humanitarian situation will now "only deteriorate exponentially".
UN human rights chief Volker Turk said yesterday that imposing "sieges that endanger the lives of civilians by depriving them of goods essential for their survival is prohibited under international humanitarian law".
The United Nations said more than 187,500 people had been displaced inside the Gaza Strip, with most taking shelter in UN schools.
Hamas has held around 150 Israeli hostages since its ground incursion, among them children, elderly and young people who were captured at a music festival where some 270 died.
On Monday, Hamas warned it would start killing hostages every time Israel launches a strike on a civilian target in Gaza without warning. Explosions have been heard in the southern Israeli city of Ashkelon after Hamas warned people to leave by 17:00 local time yesterday.
At the morgue in Gaza's Khan Younis hospital, bodies were laid on the ground on stretchers with names written on their bellies. Medics called for relatives to pick up bodies quickly because there was no more space for the dead, reports Reuters.
Meanwhile, Gaza's sole border crossing with Egypt, the only entry point not controlled by Israel, was hit by an Israeli air strike yesterday for the third time in 24 hours, an AFP photographer and an NGO said.
Western countries have strongly backed Israel. Arab cities have seen demonstrations in support of the Palestinians. Iran, Hamas's patron, celebrated the attacks but denied a direct role.
Global powers and regional governments including Egypt, Turkey and Gulf states have engaged in frantic diplomacy seeking to prevent any further escalation.
Saudi Arabia's de facto ruler Crown Prince Mohammed bin Salman told Palestinian president Mahmud Abbas that the kingdom was working to ensure the conflict does not spread across the region, state media said.