Ukraine repels Russian attacks
In first, Kyiv says it shoots down multiple hypersonic Kinzhal missiles; Moscow says 'all targets hit'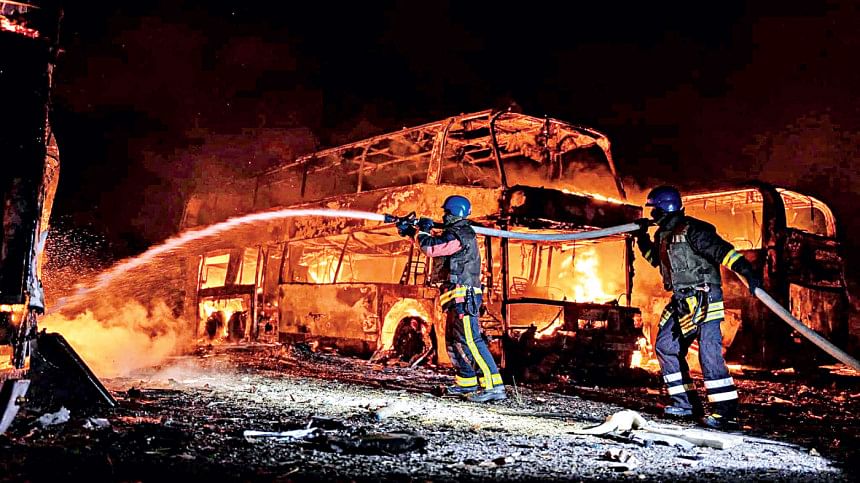 Ukraine said yesterday it had shot down six Russian hypersonic Kinzhal missiles in a single night, thwarting a superweapon Moscow had previously touted as all but unstoppable.
It was the first time Ukraine had claimed to have struck an entire volley of multiple hypersonic missiles, and if confirmed would be a dramatic demonstration of the effectiveness of newly deployed Western air defences.
The six Kinzhals, ballistic missiles which travel at up to 10 times the speed of sound, were among a volley of 18 missiles Russia launched at Ukraine overnight, lighting up Kyiv with flashes and raining debris after they were blasted from the sky.
The commander-in-chief of Ukraine's armed forces, Valeriy Zaluzhnyi said all had been successfully intercepted. However, Russia said that all the targets assigned by its military in an overnight missile barrage on Ukraine had been hit.
City authorities in the Ukrainian capital said three people were wounded by falling debris.
"It was exceptional in its density - the maximum number of attack missiles in the shortest period of time," Serhiy Popko, head of Kyiv's city military administration, said on the Telegram messaging app.
Zaluzhnyi said his forces had intercepted the six Kinzhals launched from aircraft, as well as nine Kalibr cruise missiles from ships in the Black Sea and three Iskanders fired from land.
Earlier this month, Ukraine claimed to have shot down a single Kinzhal missile over Kyiv for the first time, using a newly deployed U.S. Patriot air defence system.
Previously, the ability of Patriots to intercept Kinzhal missiles was theoretical. Hitting six at once would suggest it could be a reliable defence, rather than a lucky shot.
President Vladimir Putin, who unveiled the Kinzhal as one of six "next generation" weapons in 2018, has frequently touted it as proof of world-beating Russian military hardware, capable of taking on Nato.
The Kinzhal, whose name means dagger, can carry conventional or nuclear warheads up to 2,000 km. Russia used them in warfare for the first time in Ukraine last year and has only acknowledged firing them on a few occasions.
With Ukrainian forces preparing to go on the offensive for the first time in six months, Russia is now launching long-range air strikes. Ukrainian Deputy Defence Minister Hanna Maliar said yesterday Ukrainian forces have taken back about 20 square km of territory from Russian forces around the eastern city of Bakhmut in recent days.