West has declared total war on Russia: FM Lavrov
Moscow presses Donbas assault claims capture of key Ukrainian town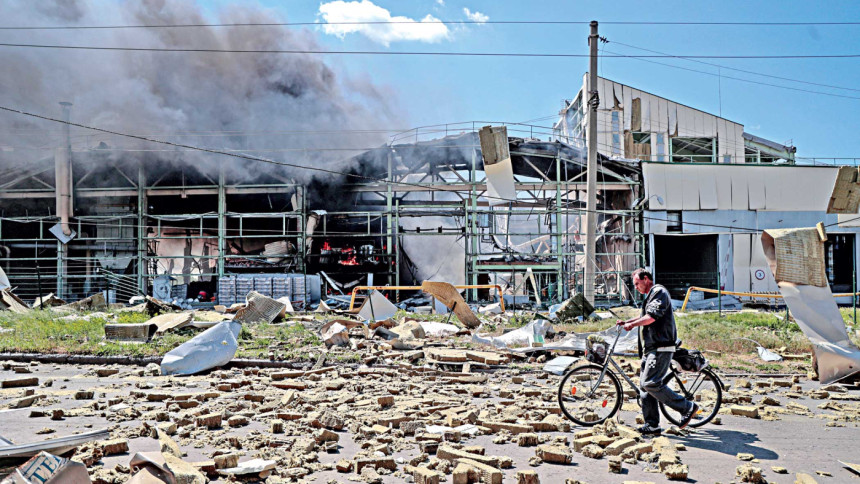 Russian Foreign Minister Sergei Lavrov yesterday accused Western countries of waging a "total war" on Russia and its people and culture as Moscow pushes on with its military operation in Ukraine.
"The West has declared war on us, on the whole Russian world. The culture of cancelling Russia and everything connected with our country is already reaching the point of absurdity," Lavrov said at a ministry meeting.
He accused the West of banning Russian writers, composers and other cultural figures. "It is safe to say that this situation will be with us for a long time," he added.
According to Lavrov, Washington "and its satellites are doubling, tripling, quadrupling their efforts to contain our country".
On the ground, Russia yesterday pressed its deadly offensive to capture key points in the eastern Donbas region of Ukraine, with more bombing of residential areas and pro-Moscow forces claiming the capture of a key town on the way to Kyiv-controlled territory.
At least nine people were killed in shelling of Ukraine's second-largest city of Kharkiv, raising fears that Russia had not lost interest in the northeastern hub even after Ukraine took back control following fierce battles.
And around 10 people were also killed in Russian strikes on a military facility in the central Ukrainian city of Dnipro.
Ukraine's President Volodymyr Zelensky reiterated accusations that Moscow was carrying out a "genocide" in Donbas, saying its bombardment could leave the entire region "uninhabited."
Moscow's forces were closing in on several cities in the region including strategically located Severodonetsk and Lysychansk, reports AFP.
Oleksandr Stryuk, the head of the military and civilian administration of Severodonetsk, said two-thirds of its perimeter was already occupied by Russian forces and its chemical factory Azot had been bombed.
"Russia is pressuring the Severodonetsk pocket although Ukraine retains control of multiple defended sectors, denying Russia full control of the Donbas," the British defence ministry said in its latest briefing.
Pro-Russian separatists said they had captured the town of Lyman that lies between Severodonetsk and Kramatorsk and is on the road leading to the key cities that are still under Kyiv's control.
Concerns are also growing over global food shortages due to the conflict, exacerbating problems for the world's poor at a time of rising energy prices.
Russia said yesterday it was looking to ramp up its production of grain to export in the coming season. "In the current season (2021-2022) we have already exported over 35 million tonnes of grain, including 28.5 million tonnes of wheat," Agriculture Minister Dmitry Patrushev said at a Russian grain forum.
"In the coming season (starting July 1, 2022) we estimate our export potential for grain at 50 million tonnes," he said.