War In Ukraine: Signs of fighting after truce 'comes into force'
Reports of shelling by both sides in Donetsk; Germany, US agree to send combat vehicles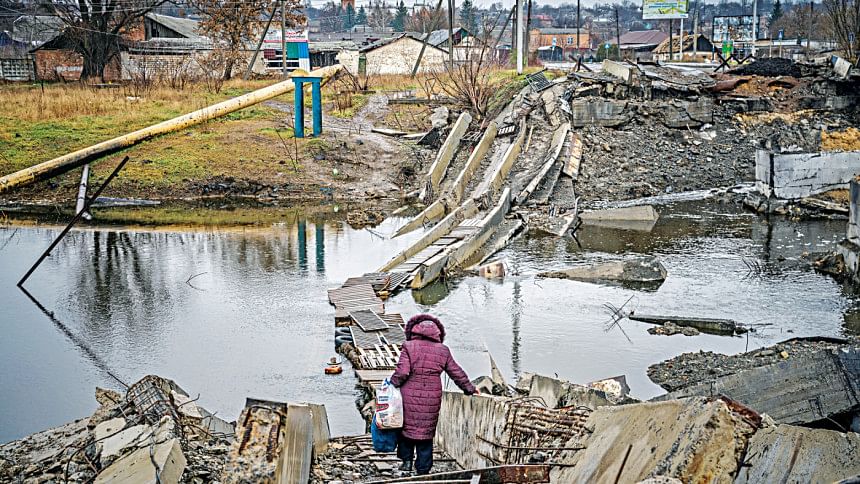 Artillery fire could be heard from the front line in Ukraine yesterday, even after the official start of a unilateral ceasefire declared by Moscow and rejected by Kyiv.
Russian President Vladimir Putin ordered the 36-hour ceasefire from midday yesterday to observe Orthodox Christmas. Kyiv has said it has no intention to stop fighting, rejecting the purported truce as a stunt by Moscow to buy time to reinforce troops that have taken heavy losses this week.
Russia's defence ministry said its troops began observing the ceasefire from noon Moscow time (0900 GMT) "along the entire line of contact" in the conflict, but said Ukraine kept up shelling populated areas and military positions.
Reuters could not immediately verify whether the intensity of fighting slowed following the start of the truce. One witness in the Russian-occupied regional capital Donetsk, close to the front, described outgoing artillery fired from pro-Russian positions on the city's outskirts after the truce was meant to take effect.
In the hours prior, rockets slammed into a residential building in the Ukrainian city of Kramatorsk close to the eastern frontline, damaging 14 homes but with no casualties, the mayor said. Residents described several explosions.
One rescue worker was killed and four others injured after Russian forces shelled a fire department in the southern Ukrainian city of Kherson before the deadline early yesterday, the regional governor said. Reuters could not immediately verify this.
Putin ordered the 36-hour ceasefire in the 10-month-long war in a surprise move in Thursday, saying it would run through to the end of Russian Orthodox Christmas today.
But Ukrainian President Volodymyr Zelensky rejected the ceasefire out of hand as a ploy for Russia to buy time.
"They now want to use Christmas as a cover, albeit briefly, to stop the advances of our boys ... and bring equipment, ammunition and mobilised troops closer to our positions," Zelensky said in his Thursday night video address.
Shortly after the ceasefire was supposed to come into effect, Russian-backed officials accused Ukraine of shelling Donetsk with artillery, Russia's state-run TASS news agency said.
Denis Pushilin, the Russian-installed leader in Donetsk, said on Thursday that Putin's order only covered offensive operations and his forces would hit back if fired upon.
Vladimir Saldo, the Russian-installed administrator of Ukraine's Kherson region, described the ceasefire as "a gesture of goodwill," but said the situation on the front lines would not change because of it.
Despite air raid warnings sounding in several regions, no major air strikes were reported by Ukrainian officials after the ceasefire starting time.
The battles had not previously slowed during the festive season and Russia mounted waves of air strikes that hit infrastructure and injured residents in Kyiv over New Year, usually a time of celebration in both Ukraine and Russia.
Russia invaded Ukraine on Feb. 24 last year, starting a war that has killed tens of thousands of people and displaced more than a third of the country's 44 million population. The war has reduced major cities to rubble and crushed Ukraine's economy.
With weapons and financial support from the United States and Europe, Ukraine has driven Russia back from some of its territory but battles are raging over territory in the east and south.
This week, Ukraine's Western allies finally announced shipments of large numbers of armoured fighting vehicles, which Kyiv has been requesting for months to give it the upper hand in mechanised battles against Russian tanks at the front.
Germany said it would deliver an advanced Patriot anti-aircraft missile system and around 40 Marder infantry fighting vehicles within three months. Washington is also due to announce Bradley Fighting Vehicles as part of a new $2.8 billion security package. France also announced a package of armoured vehicles this week.
Ukraine's military General Staff said its soldiers repelled repeated Russian attacks over the past day, with Moscow focused on trying to take towns in Donetsk, including Bakhmut.
"The enemy is concentrating its main efforts on attempts to establish control over the Donetsk region" without success, the General Staff said in a statement, adding that both Ukraine and Russia had launched multiple air strikes over the past day.
US President Joe Biden suggested Putin's ceasefire offer was a sign of desperation: "I think he's trying to find some oxygen," he told reporters at the White House.
Russia's Orthodox Church observes Christmas on Jan 7. The main Orthodox Church in Ukraine has rejected the authority of Moscow, and many Ukrainian believers have shifted their calendar to celebrate Christmas on Dec. 25 as in the West.