War could be over by year end
Claims Ukraine intel chief as resistance slows Russian advances in the east; Moscow pulls plug on power to Finland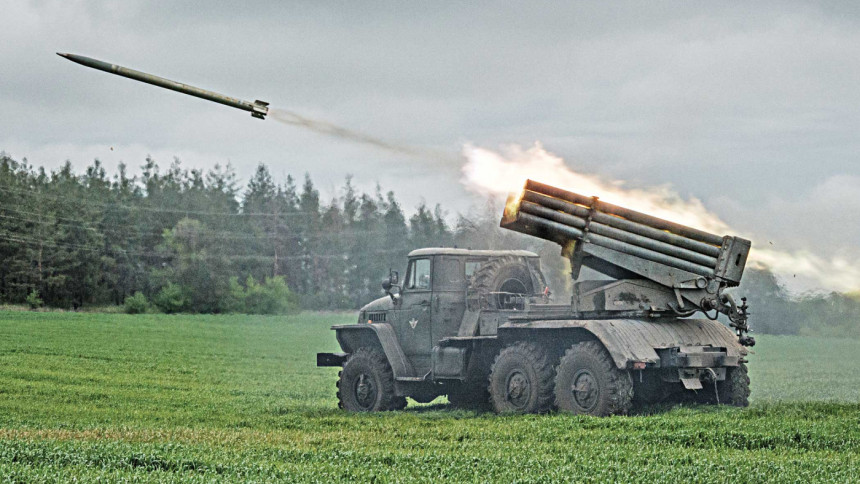 The war in Ukraine could reach a "breaking point" by August and end in defeat for Russia before the end of the year, Kyiv's head of military intelligence said yesterday, as fierce fighting raged in Ukraine's east, slowing down a hoped-for Russian advance.
The G7 group of the world's top industrialised nations meanwhile reiterated it would "never recognise" the borders Russia has attempted to redraw through aggression and pledged more sanctions to tighten the screw on Moscow.
Russia, which sent in troops to Ukraine on February 24, has increasingly turned its attention to eastern Ukraine since the end of March, after failing to take the capital Kyiv.
Western analysts believe President Vladimir Putin has his sights on annexing southern and eastern Ukraine in the months ahead but his troops have appeared to be encountering stiff resistance.
The governor of the eastern Lugansk region, Serhiy Gaidai, said Ukrainian forces had prevented Russian attempts to cross a river and encircle the city of Severodonetsk.
"There's heavy fighting on the border with Donetsk region," Gaidai said, reporting big Russian losses of equipment and personnel.
"From interceptions (phone calls), we understand that a whole (Russian) battalion has refused to attack, because they see what's happening."
Aerial images showed dozens of destroyed armoured vehicles on the river bank and wrecked pontoon bridges.
UK military intelligence also said Russian forces had sustained heavy losses as they attempted the river crossing.
Kharkiv regional governor Oleh Synegubov meanwhile said in a video on Telegram that Ukrainian forces were counter-attacking in the direction of the northeastern city of Izium.
The Ukrainian General Staff said troops had managed to push Russian troops out of the Kharkiv, a priority target for Moscow.
Ukrainian President Volodymyr Zelensky on Friday said his troops would fight to recapture all occupied territory, and those under siege.
That included those in the southern port city of Mariupol, where the last defenders are holed up in the vast Azovstal steelworks.
The Ukrainian General Staff said in an update Saturday that Russian forces continued "to blockade our units near the Azovstal plant" and carried out "massive artillery and air strikes".
Western leaders have predicted a long drawn-out conflict, after Russia was denied a hoped-for swift victory in the face of stubborn Ukrainian resistance.
But Ukraine's military intelligence chief, Major General Kyrylo Budanov said the months ahead would be decisive.
"The breaking point will be in the second part of August," he told Britain's Sky News television. "Most of the active combat actions will have finished by the end of this year."
Budanov also predicted internal turmoil in Russia as a result, without elaborating.
The developments come as Finland and Sweden, jettisoning decades of military non-alignment, are poised to join Nato as a defence against feared further aggression from Russia.
Moscow has warned Finland, with whom it shares a 1,300-kilometre border, that it would take "reciprocal steps".
Hours after Finland's grid operator said Russia had pulled the plug on electricity supplies overnight, President Sauli Niinisto spoke to his Russian counterpart Vladimir Putin.
"The conversation was direct and straight-forward and it was conducted without aggravations," Niinisto's office said. "Avoiding tensions was considered important. The phone call was initiated by Finland."
Putin, however, told him that Finland joining Nato would be a "mistake", insisting that Russia posed "no threat to Finland's security", the Kremlin said.
Finland's bid to join Nato is expected to be announced this weekend.
Both Helsinki and Stockholm will first have to convince Nato member Turkey on the sidelines of an informal gathering of the alliance's foreign ministers in Berlin.
Turkish President Recep Tayyip Erdogan on Friday accused both countries of harbouring "terrorist organisations". Both Sweden and Finland have sizeable Kurdish communities.