Ukrainians take up new positions in east
Prepare for hard new phase in war as Putin proclaims victory in Luhansk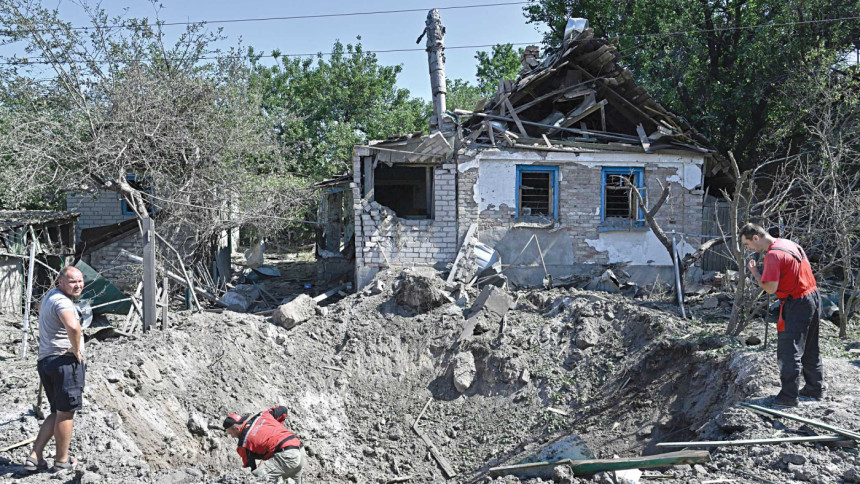 "Ukraine will reach the level when the fire superiority of the occupiers will be levelled."
Ukrainian forces were taking up new defensive lines in the east yesterday, preparing for a hard new phase in the war as President Vladimir Putin proclaimed Russia's victory in the months-long battle of Luhansk.
Russia's capture of the city of Lysychansk on Sunday brought an end to one of the biggest battles in Europe for generations, which saw Moscow bring the full might of its ground forces to bear on a small pocket of the front line for two months.
The battle completes Russia's conquest of Luhansk province, one of two regions it has demanded Ukraine cede to separatists in the Donbas region.
During a brief televised meeting with his defence minister, Putin congratulated Russian forces on their "victories in the Luhansk direction". Those who participated in the combat should "absolutely rest and recover their military preparedness", while other units continue fighting in other areas, he said.
The battle is the closest Moscow has come to achieving one of its stated objectives since its forces were defeated trying to capture Kyiv in March, and marks Russia's biggest victory since it captured the southern port of Mariupol in late May.
Both sides suffered thousands dead and wounded, while claiming to have inflicted far greater losses on their enemy, along a loop of the Siverskyi Donets river that winds through Luhansk and Donetsk.
Lysychansk, neighbouring Sievierodonetsk and surrounding towns - many with heavy industrialised plants that served as fortified bunkers for defenders - were razed to a wasteland by relentless Russian bombardment. Russia repeatedly tried and failed to surround the Ukrainians, eventually opting to blast them out instead with the brute force of its artillery.
Military experts say the battle could prove to be a turning point in the war - not because of the strategic value of the ruined cities themselves, which is limited - but because of the impact of the losses on both sides' ability to fight on.
Ukrainian President Volodymyr Zelensky vowed to regain the lost territory with the help of long-range Western weapons, reports Reuters.
"Ukraine will reach the level when the fire superiority of the occupiers will be levelled," he said in a video address.
In Sloviansk, west of Lysychansk in Donetsk region, Mayor Vadym Lyakh wrote on Facebook that on Sunday fierce shelling had killed at least six people, including a 10-year-old girl.
Last week, Ukraine scored its own major victory, driving Russian forces off Snake Island, a desolate but strategic outcrop in the Black Sea that Moscow had captured on the war's first day but could no longer defend from Ukrainian strikes.
Ukraine's military said yesterday it had now hoisted its flag there.
Neil Melvin of the RUSI think tank in London said the decisive battle for Ukraine was likely to take place not in the east, where Russia is mounting its main assault, but in the south, where Ukraine has begun a counter-offensive to recapture territory.