Russia accuses Ukraine of nuclear plant shelling
Warns of 'catastrophic consequences' for Europe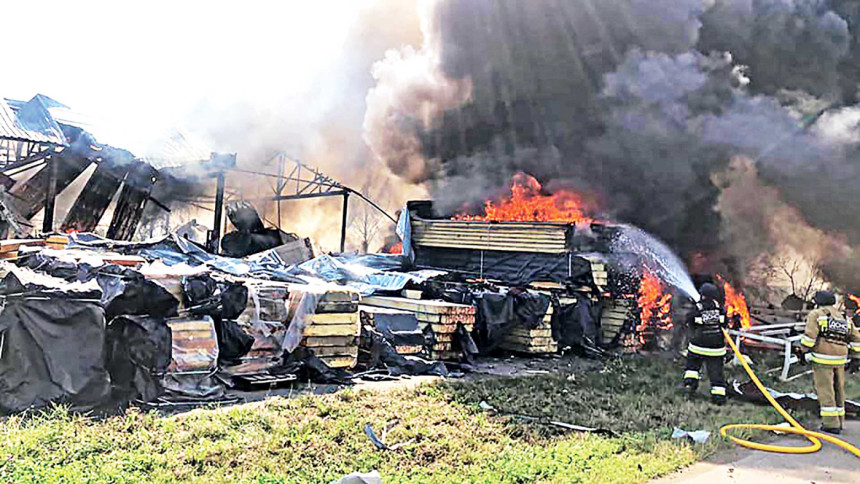 The Kremlin yesterday accused Ukrainian forces of firing on the Zaporizhzhia atomic power plant, warning against potential "catastrophic consequences" for Europe.
"The shelling of the territory of the nuclear plant by the Ukrainian armed forces is a potentially extremely dangerous activity... fraught with catastrophic consequences for a vast area, including the territory of Europe," Kremlin spokesman Dmitry Peskov told reporters.
He called on Ukraine's allies "to use their influence to prevent the continuation of such shelling".
Moscow and Kyiv have blamed each other for strikes on the atomic power plant, where recent fighting sparked a UN warning of a potential nuclear disaster.
Zaporizhzhia -- Europe's largest atomic power complex that was occupied by Russia early in its offensive -- has in recent days been the scene of military strikes that have damaged several structures, forcing the shutdown of a reactor.
UN Secretary-General Antonio Guterres condemned such attacks and called for international inspectors to be given access to the nuclear plant.
"Any attack (on) a nuclear plant is a suicidal thing," Guterres told a news conference in Japan, where he attended the Hiroshima Peace Memorial Ceremony on Saturday to commemorate the 77th anniversary of the world's first atomic bombing.
Kyiv yesterday called for the establishment of a demilitarised zone around the nuclear power station.
Despite the shelling, the nuclear reactor complex was operating in "normal mode", Interfax news agency quoted Yevgeniy Balitsky, the Russian-installed head of the local administration, as saying yesterday.
Russian forces captured the plant in Ukraine's southeast in early March, shortly after Moscow's February 24 invasion of its neighbour, but it is still run by Ukrainian technicians.
Ukraine blamed Russia for renewed shelling in the area of the plant on Saturday that had damaged three radiation sensors and injured a worker. It was the second reported hit on the plant in as many days, following damage to a power line.
Ukrainian President Volodymyr Zelensky, in a televised address, accused Russia of waging "nuclear terror" that warranted more international sanctions, this time on Moscow's sprawling nuclear power sector.
Ukraine has said it is planning to conduct a major counter-offensive in the Russian-occupied south, apparently focused on the city of Kherson, west of Zaporizhzhia, and that it has already retaken dozens of villages.
Interfax quoted a Russian-appointed official in Kherson as saying yesterday Ukraine had again shelled the Antonivskyi bridge there, damaging construction equipment and delaying its reopening.
The bridge is one of only two crossing points for Russian forces to territory they have occupied on the western bank of the major Dnipro river in the south, reports Reuters.
Elsewhere, a deal to unblock Ukraine's food exports and ease global shortages gathered pace as two grain ships sailed out of Ukrainian Black Sea ports yesterday, raising the total to 12 since the first vessel left a week ago.
The two latest outgoing ships were carrying almost 59,000 tonnes of corn and soybeans and were bound for Italy and southeastern Turkey following inspections.