Occupied Ukrainian Territories: Putin to proclaim annexation in days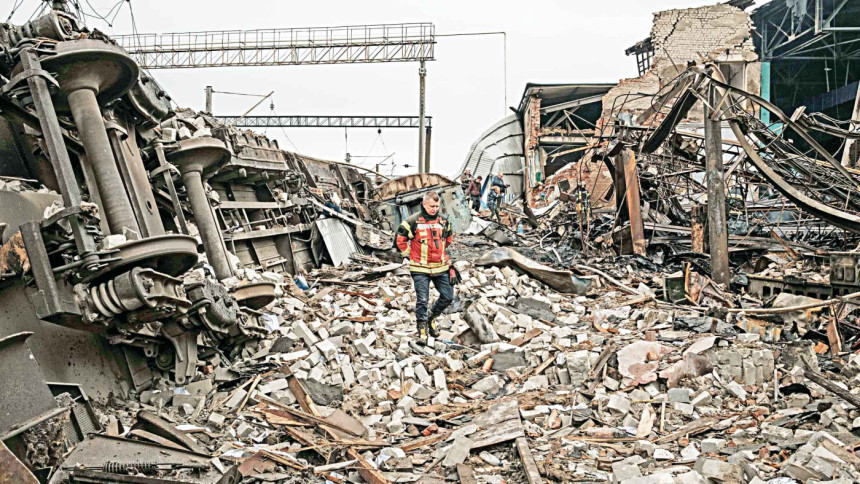 "This farce in the occupied territories cannot even be called an imitation of a referendum."
Moscow was poised to annex a swath of Ukraine yesterday, releasing what it called vote tallies showing support in four partially occupied provinces to join Russia, after what Kyiv and the West denounced as illegal sham referendums held at gunpoint.
On Moscow's Red Square, a tribune with giant video screens has been set up, with billboards proclaiming "Donetsk, Luhansk, Zaporizhzhia, Kherson - Russia!"
President Vladimir Putin could proclaim the annexation in a speech within days, just over a week since he endorsed the referendums, ordered a military mobilisation at home and threatened to defend Russia with nuclear weapons if necessary.
The Russian-installed administrations of the four Ukrainian provinces yesterday formally asked Putin to incorporate them into Russia, which Russian officials have suggested is a formality.
"The results are clear. Welcome home, to Russia!," Dmitry Medvedev, a former president who serves as deputy chairman of Russia's Security Council, said on Telegram, after the release of the results.
Russian-backed authorities claim to have carried out the referendums over five days on territory that makes up around 15 percent of Ukraine.
Residents who escaped to Ukrainian-held territory in recent days have told of people being forced to tick ballots in the street by roving officials at gunpoint. Footage filmed during the exercise showed Russian-installed officials taking ballot boxes from house to house with armed men in tow.
Russia says voting was voluntary and turnout high.
"This farce in the occupied territories cannot even be called an imitation of a referendum," Ukrainian President Volodymyr Zelensky said in video address overnight.
Denis Pushilin, the Russian-installed leader in Donetsk, one of two Ukrainian regions Moscow had previously proclaimed independent states, said he was on his way to Moscow to complete the legal process of joining Russia.
"Now we are moving to a new stage of military action," he said, amid speculation that Putin is set to change the status of what he has so far called a "special military operation" to a counter-terrorism operation.
The Russian annexation plan gathered pace as leaking gas bubbled up in the Baltic Sea for a second day after suspected explosions tore through undersea Russian pipelines on Tuesday. The Nord Stream 1 pipeline, once the main route for Russian gas to Germany, was already shut but cannot now be easily reopened.
Nato and the European Union warned of the need to protect critical infrastructure from what they called "sabotage", though officials stopped short of saying who they blamed. The Kremlin said any theory that might point the finger at Russia for blowing up its own pipelines would be "stupid".
The United States is preparing a new round of sanctions to punish Russia for the annexation move and a $1.1 billion arms package for Ukraine that will be announced soon, US officials said.
The United States will introduce a resolution at the UN Security Council calling on member states not to recognise any change to Ukraine and obligating Russia to withdraw its troops, US envoy Linda Thomas-Greenfield said.
China told the United Nations Security Council on Tuesday that "territorial integrity" should be respected after Moscow held the annexation referendums in regions of Ukraine.
The head of Russia's upper house of parliament has said the chamber could approve the regions' accession as soon as October 4.
The annexation is part of a huge escalation strategy announced by Putin last week, along with the swift call-up of hundreds of thousands of Russian men to fight, and a new warning on nuclear weapons, which he said was "not a bluff".