Russian missile attack: 10 killed at shopping mall in Ukraine
40 injured; Zelensky urges world powers to help end war by winter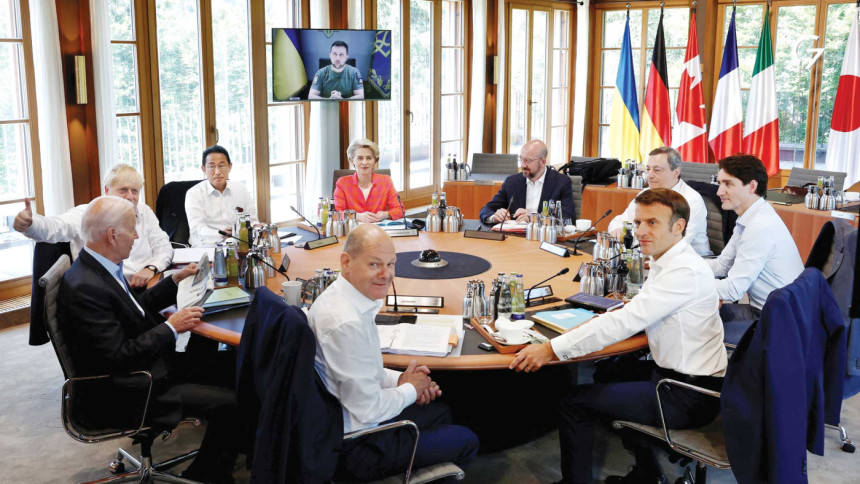 Two Russian missiles slammed into a crowded shopping centre in the central Ukrainian city of Kremenchuk yesterday, killing at least 10 people and wounding 40, the regional governor said.
Ukrainian President Volodymyr Zelensky said more than 1,000 people were in the shopping centre at the time of the attack, which witnesses said caused a huge fire and sent dark smoke billowing into the sky.
A Reuters reporter saw the charred husk of a shopping complex with a caved-in roof. Firefighters and soldiers were pulling out mangled pieces of metal as they searched for survivors.
"It is impossible to even imagine the number of victims ... It's useless to hope for decency and humanity from Russia," Zelenskiy wrote on the Telegram messaging app.
Dmytro Lunin, governor of the central Poltava region, told Reuters that 10 people had been confirmed killed and that rescue workers would keep searching through the smouldering rubble for two days, with more bodies likely to be found.
"It's an act of terrorism against civilians," he said separately, suggesting there was no military target nearby that Russia could have been aiming at.
At one point, paramedics rushed into the building after rescuers called out "200" meaning they had found one or more bodies in the building. Reporters were later pushed away from the scene as air raid sirens wailed again.
Meanwhile, Zelensky urged world powers to do their utmost to help end Russia's invasion by the end of the year, as G7 leaders planned new sanctions and vowed to support Kyiv "as long as it takes".
US President Joe Biden and his peers from the Group of Seven rich nations, meeting in the Bavarian Alps, pledged to tighten the economic screws on Moscow over its February 24 invasion of its neighbour.
The leaders put on a show of unity over Ukraine, even as the fallout from the war intensifies with soaring energy and food prices driving up global inflation.
"We will continue to provide financial, humanitarian, military and diplomatic support and stand with Ukraine for as long as it takes," the G7 said in a statement on the summit's second day.
Addressing the gathering via video-link, Zelensky urged leaders to help end the war before winter sets in and conditions for his troops become tougher.
He also pressed allies to "intensify sanctions" on Moscow.
The summit host, German Chancellor Olaf Scholz, signalled the G7's readiness to do more, saying: "We will continue to increase pressure on (Vladimir) Putin. This war has to come to an end."
Among the additional steps being discussed by G7 leaders is a price cap on Russian oil imports and sanctions targeting Russia's defence sector, reports AFP.
Washington meanwhile is planning to send Ukraine sophisticated anti-aircraft missiles, US National Security Advisor Jake Sullivan told reporters, responding to a long-standing request from Zelensky for more advanced weapons.
After kicking off their gathering on Sunday with a plan to ban imports of Russian gold, the G7 had also made progress in talks on a price cap on Russian oil, a senior US official said yesterday.
The summit of the G7 ends today. It will immediately be followed by a meeting of Nato countries in Spain, where Ukraine is again expected to dominate the agenda.
Nato said yesterday the military alliance would boost its high readiness force from 40,000 to 300,000 troops and send more heavy weaponry to its eastern flank following Russia's invasion of Ukraine.
Since failing to capture Kyiv early in the war, Russian troops have focused on the eastern Donbas region, where they have been gaining ground.